Overview
Lifecycle Status attributes help you define, track and report account lifecycles for accounts as it progresses through the overall journey of Onboarding, Adoption, Renewal, Upsell etc. For e.g. you may want to define an attribute "Onboarding Lifecycle Status" to track the Onboarding lifecycle for your customers that are currently Onboarding. You may also choose to define an attribute "Escalation Status" to track the Escalation statuses as the Account goes through various phases in Escalation.
This article includes the following topics:
Defining Lifecycle Attributes
Go to Global Settings > Data Modeler to create a new status attribute as shown below
Provide a Name and Description of the Attribute

Pick Attribute type as Status

Define the various lifecycle statuses for this attribute

Choose a color to display for each status

Remember to mark one or more statuses as End Stage

Finally link a Flow to this attribute to indicate the customer journey this is associated with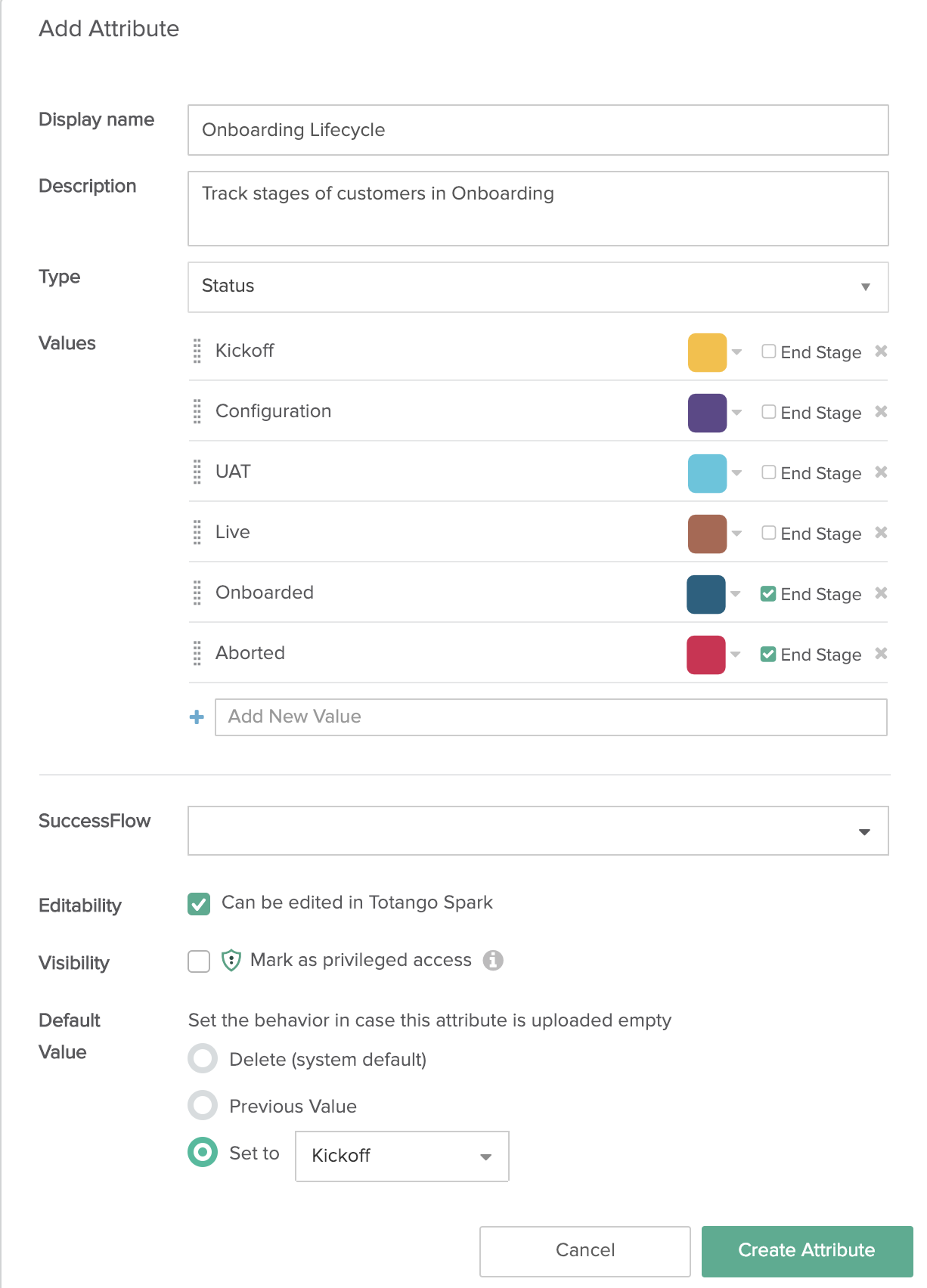 Once lifecycle status attributes are defined for specific Flows (Onboarding, Escalation, Adoption etc.) you can
View the grouped status view of accounts in segments within SuccessBLOCs in the Progress view of the Segment

Move accounts through various stages of the defined life cycle as they progress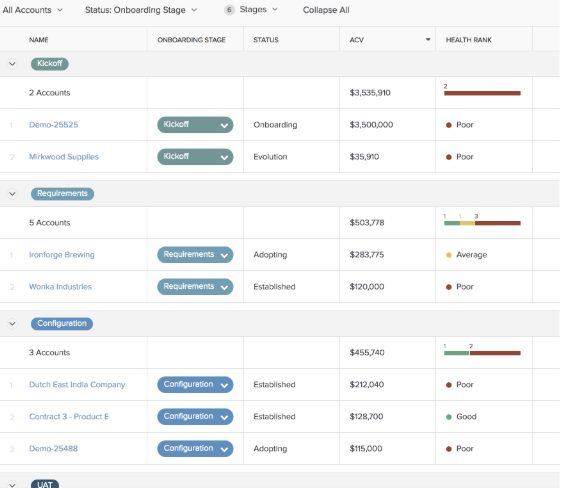 Once accounts are assigned to various lifecycle statuses the system automatically tracks the duration an account spends in each status. This cumulative data is available in standard fields that start with "Days in". For e.g. if you defined an attribute "Onboarding Status" with the following sub statuses "Kickoff", "Configuration","Implementation" and "Go Live" the system automatically offers the following attributes
Days in Onboarding Status - Overall duration of the account in this statuses
Days in Kickoff - The # of days an account is in Kickoff status
Days in Configuration - The # of days an account is in Configuration status
Days in Implementation - The # of days an account is in Implementation status
Days in Go Live - The # of days an account is in Go live status
Once an end stage is reached the counting of days stops. Moving the account to another stage after the end stage restarts the clock and it starts counting the days in a stage again.
Note: If the a stage (value of the attribute) is removed or made NULL, the clock counter will be restarted and all of the count up to that point will be reset. Or if the stage of an account is moved back to a previous stage, then the days of that stage will be reset.

Track and Report on Accounts in Various Status' of the LifeCycle
You can leverage these Lifecycle status attributes in Scorecards, Segments, Reports, SuccessPlay and Campaigns. These attributes can be leveraged to help you surface trends on accounts stuck in various lifecycle statuses or trigger tasks for your CSM team to take action so they can ensure that the customer is progressing in his journey.
Using the attribute in Scorecards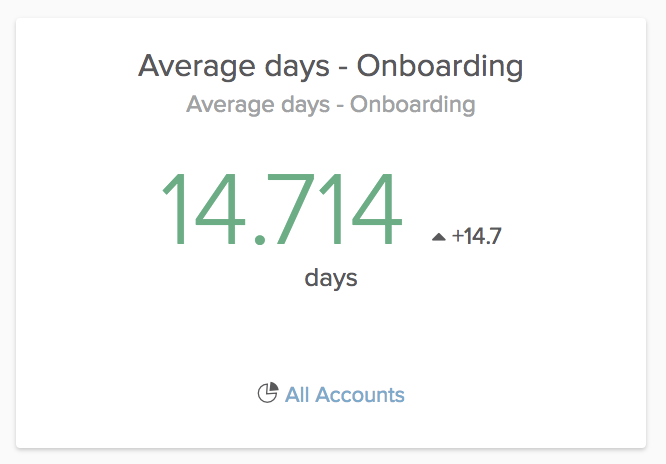 Using it in Segments
The system offers the following operators for Lifecycle attributes
is one of

Use this to find accounts in one or more stages and optionally add more precise criteria if you are interested in finding accounts that have been in this stage for certain number of days

is not one of

Use this as the negation of the above option

Changed

Use this option to find accounts that changed in a certain window and option provide a specific From or To stage

Completed

Use this to find accounts that completed a certain lifecycle based on stages marked as End stage

Note an account can go through the lifecycle several times and the system counts the days in stages for each cycle and the counter is reset once an account is moved to a stage marked as End stage

Does not exist

Use the Does not exist operator to find accounts that don't have a value set. This is denoted by "None" in the UI.

Use the Days in metrics to measure, monitor and stay on top of accounts to help you achieve the desired business outcomes.
FAQ:
Question: Can I reorder, rename or disable stages once they are created?
Answer: Stages within the attribute can be reordered initially but cannot be changed after they are defined. Individual stages can be however be renamed or disabled. Once a stage is disabled it cannot be set on newer accounts but can still be queried in Segments as segment criteria.
Question: Can I update Lifecycle Status attributes using API or CSV?
Answer: Yes, you can use any available integration (API, CRM, Data Warehouse or CSV), same as any attribute. Please remember that the updated values must comply with the predefined stages (otherwise the update will fail).
Question: Why my account doesn't have a value for Days in Lifecylce?
Answer: Please note that we do not calculate Days in Lifecycle for canceled accounts.