Overview
Once a SuccessBLOC is created, users can start creating content such as Segments, Reports, SuccessPlay's and Campaigns within it. User's can also choose to move or copy contents that were previously created into the SuccessBLOC with a single click.
A Global Admin, Team Admin or Collaborators can create new content (Reports, Campaigns or SuccessPlay) within a SB or update or delete any existing content in the SuccessBLOC. A SuccessBLOC is only visible to them.The entire Team members only see and access content in the SuccessBLOC once the SuccessBLOC has been published. Team members who are not admins or collaborators cannot modify existing content or create new content within the SuccessBLOC. They can however create private Segments.
This article includes the following topics
Creating folders in SuccessBLOCs
Creators and or Collaborators of SuccessBLOCs can now define folders in the following tabs
Segments
Reports
Assets
SuccessPlays
Campaigns
Click on + sign and create a folder with a name and Description
Folder names can be 255 characters long
Upto 5 levels of nested folders are supported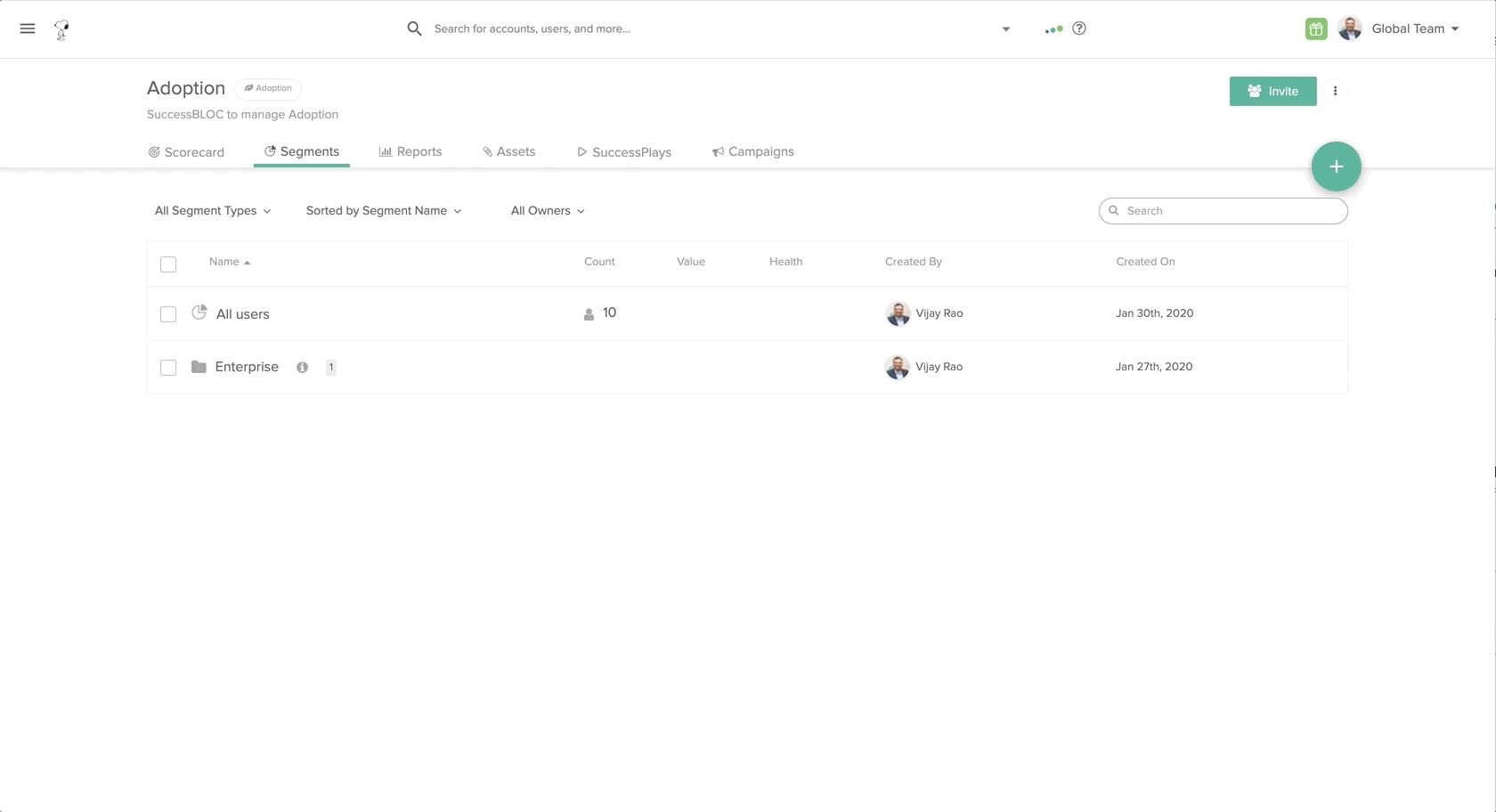 Moving existing content into folders in SuccessBLOC
Simply select the segments or reports you want to move into folders using checkboxes and choose the folder you want to move the content to.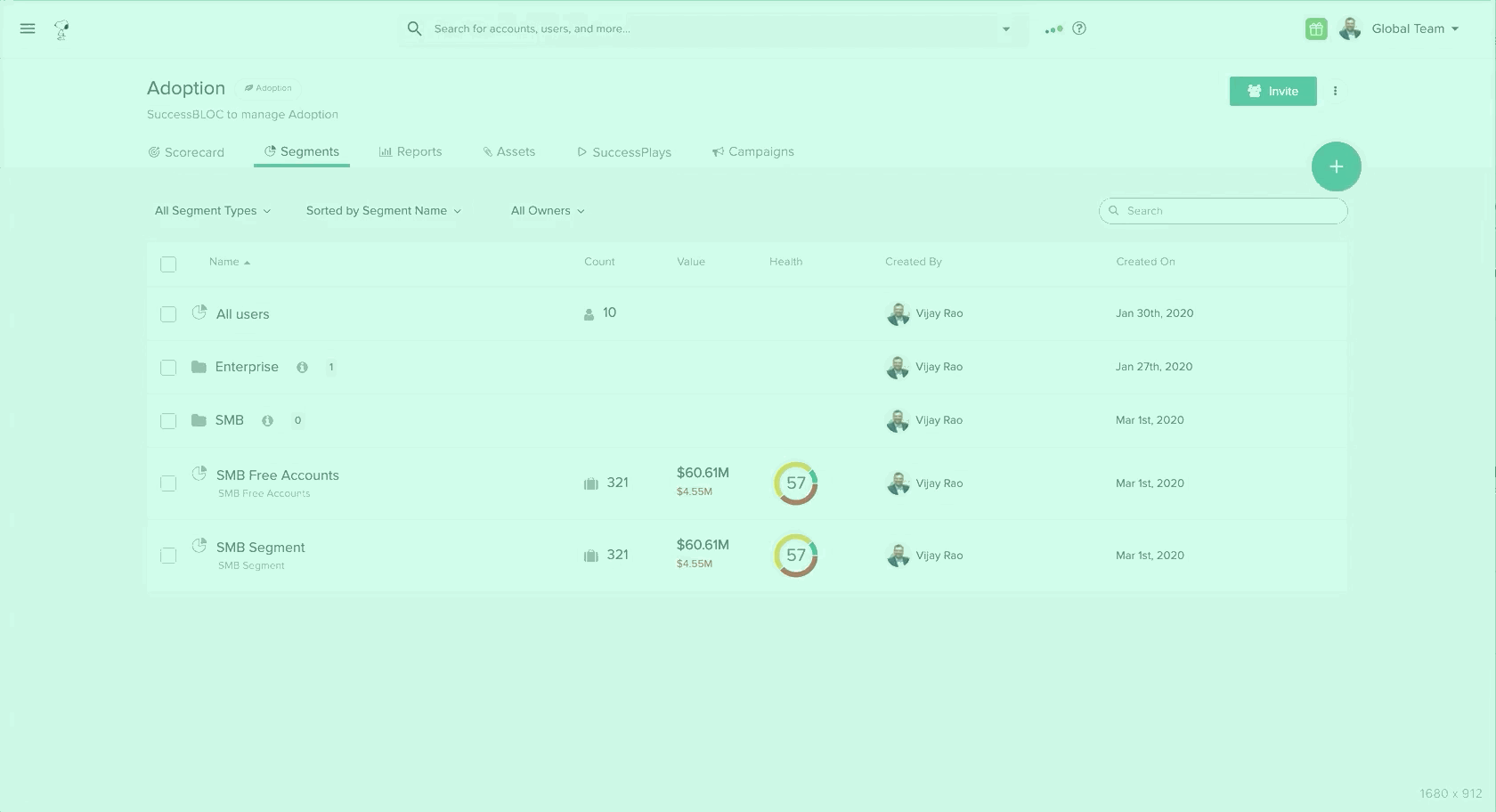 How to move / copy content to SuccessBLOC
An organization using Totango already has content such as Segments, Campaigns, SuccessPlay (SP) and Reports in use. Content that has already been created, can be easily copied or moved to a SuccessBLOC (SB).
Moving the content moves it from Tools to the SB

Copy option creates a copy in the specified SB with the original item still present in Tools.
If a particular content is being used by multiple teams, make a copy instead of moving it, however if the content is being used by the one team that will be using the SB you can choose to move it.
Note:
The SP and Campaigns are copied over and set to Disabled state.

User has to manually enable them. The Segment criteria must be updated to reflect the specific Team instead of all teams.
Move SPs/Campaigns
| | | |
| --- | --- | --- |
| | In Tools, before move | In SuccessBLOC, after move |
| Name | ABC | ABC (same as before) |
| Status | Enabled | Disabled |
| Segment | All paying accounts | All paying accounts (same as before) |
| Visibility | All teams | Only team that has access to this SuccessBLOC |
Go to Tools > Segments
Pick the SB to copy the Segment

The copy of the Segment is successfully moved to the SB

The following map shows who can move or copy content to a SuccessBLOC
| | | | | |
| --- | --- | --- | --- | --- |
| | Global Admin | Team Admin (Owner) | Collaborator | Team member |
| Move content to SuccessBLOC | ✔ | ✔ | ✔ | ⨯ |
| Copy content to SuccessBLOC | ✔ | ✔ | ✔ | ⨯ |
Known Issues
Creation of folders is not supported in other tabs besides Segments in Global SuccessBLOC