Overview
The ability to customize the Account Profile enables you to present the relevant data for each account type and each team. Each account type that you use in your hierarchy may have different data points that are important, and each team may have different data points that are important for them on those account types.
In order to customize this layout, you must have the appropriate application permissions or be a Global Admin.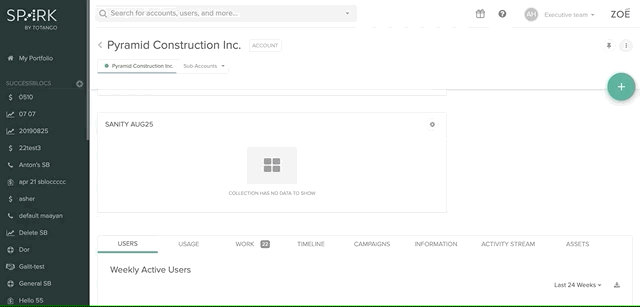 Topics covered in this article:
Customizing what sections are shown
Once you have decided which data you would like to show for an account type, you can start customizing the account profile. This activity can be done only by global admin or team admin.
If you will be customizing by team as well, switch to the team that you want the settings to apply to before you begin. If you will be applying the changes to all teams, then you can do this from any team.
Click to open the settings menu

You will have options for the Layout, Visibility and External Links
Layout
Account Type & Team - As mentioned, if you are changing the layout to be different by team, switch to the team where you want these changes to apply first. Same with Account Type, make sure you are on an Account Profile for the Account Type where you want the changes to apply first.
What type of account is this? - You will need to select if this is an 'ultimate child' account (meaning the very bottom of the hierarchy) or a 'parent' account (anything that is not an ultimate child. This not only allows you to customize the levels of this account differently, but will also present you with different customization options).

Profile Header - Select if you want the header to be visible or not. This might be useful for certain account types or child accounts where the important attribute information is actually housed at a different account level. Read more about how to Enhance Account Profile Header through customization.
Medium Widgets (Left)

- This refers to all of the widgets on the left side of the Account Profile.
Sidebar Widgets (Right)

- this refers to all the widgets on the right side.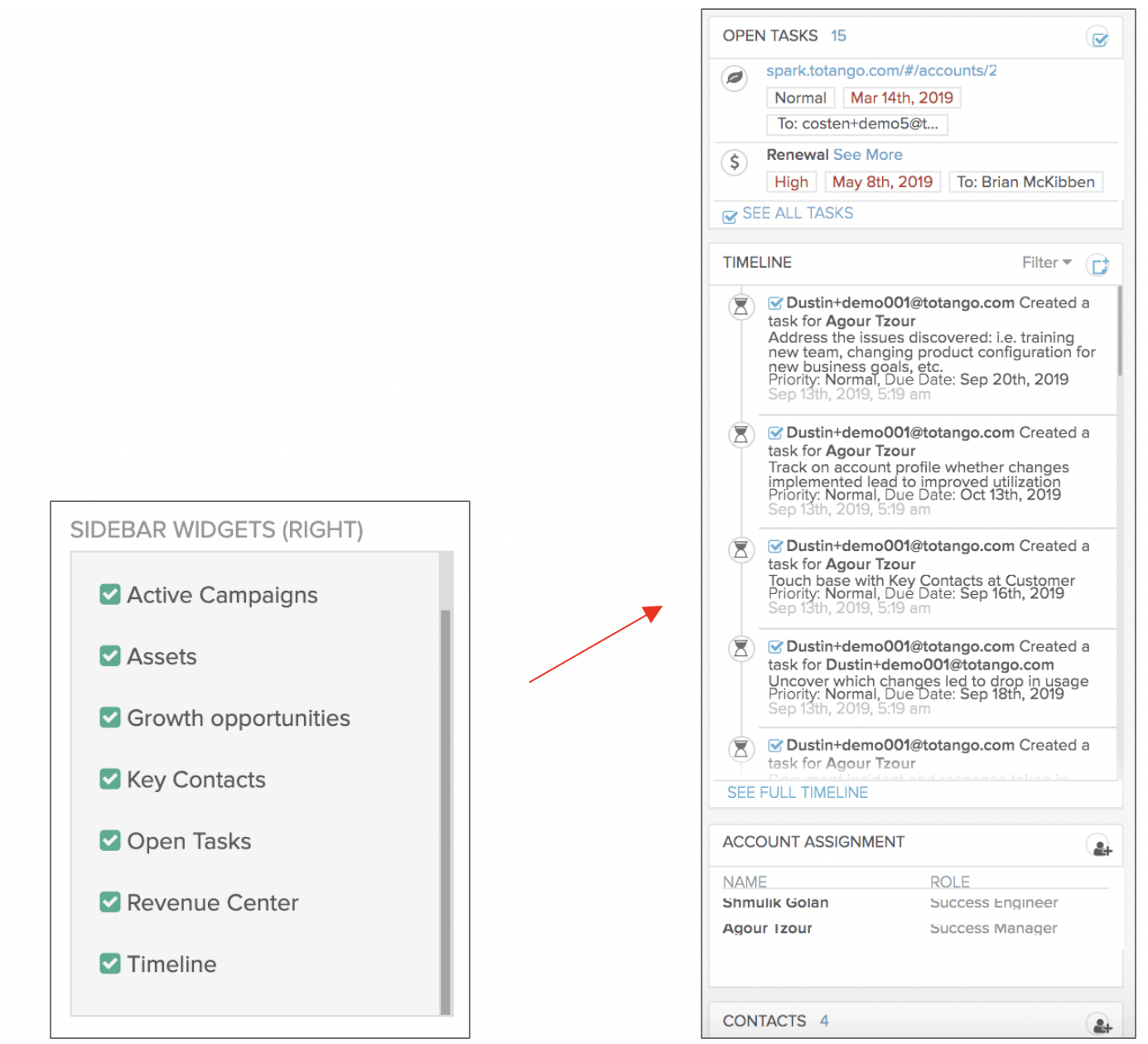 .
Tabs

- This refers to the tabs that are visible at the bottom of every Account Profile. You can select which tabs you want to show here.
Visibility
Here you are can mark which Collections or Contacts are privileged access - meaning they are only visible to the users that have full access to these accounts based on the Team's Extended Scope Settings. For more about Privileged Access at the attribute level, check out this article.
External Links and Tabs
Here you can configure third-party system links that you would want to make available for users directly from the account profile. Simply provide a name, logo, and a link pattern using account specific attributes to make the link dynamic per account (such as sf_id)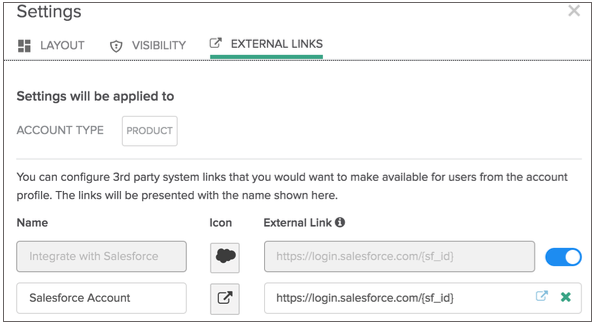 You can also embed 3rd party applications (PowerBI, Looker, and other analytic applications) as custom tabs within Totango. You can define up to 3 tabs per account type and these appear in the Account Profile. The links can be dynamic so the data displayed varies for every account.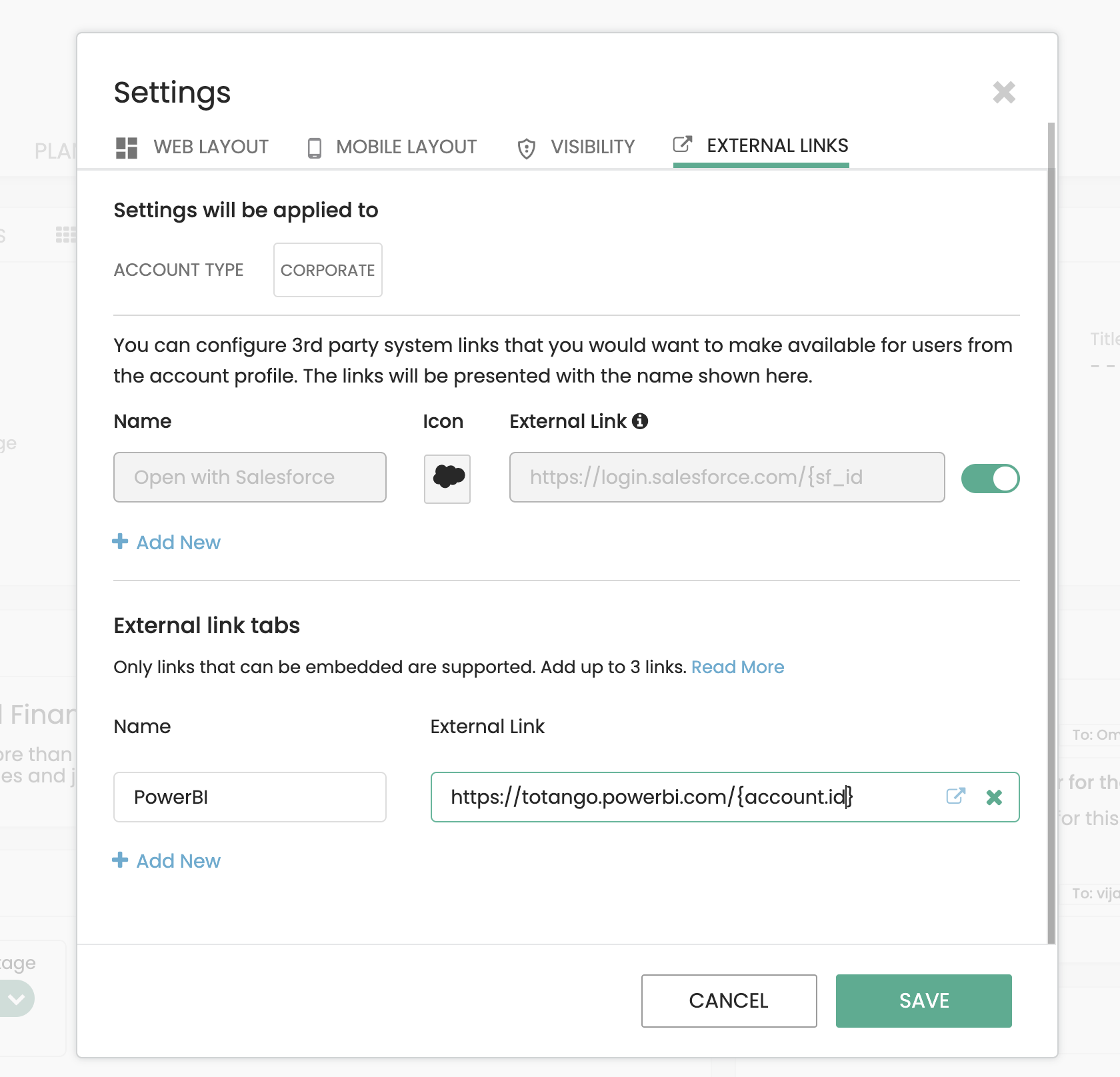 Note: Only Embed URLs can be added here. Regular URL's may be blocked by those applications.
Customizing Individual Widgets
If you have the appropriate application permission to update the widget configurations or if you are Global Admin, you will see a settings wheel on the widgets that can be individually customized. Keep in mind when you are adjusting these setting they will only apply to the account type that you are currently on and you will have the option to choose if the settings apply to the team that you are on - on for All Teams.
In order for the changes to apply to multiple account types, or teams (but not all teams), then you will need to go to each of those account types and teams to apply the changes.
Please note, when adding a column to display an attribute to the Product/Sub-Account widget, it will only display if that attribute is actually available on the Product/Sub-Account.
Learn more about attribute trend charts available on the Account Profile!