Zoe enables everyone in your company to participate in customer success.
Zoe enables:
Access: customer data

.

Participation

: Enlist others by sharing information and customer-centric causes.

Impact

: Engage the whole company to take action with fast turn-around that impacts your customers.
Zoe Direct is a web solution as part of the Zoe product line. All Spark users will automatically have access to Zoe Direct.
How to invite users
You can invite users to Zoe by inviting every user personally from Spark - Totango Users page. You can invite a user by going to the 'Totango Customer Success Center' tab in the Totango Users page and select their access while inviting them.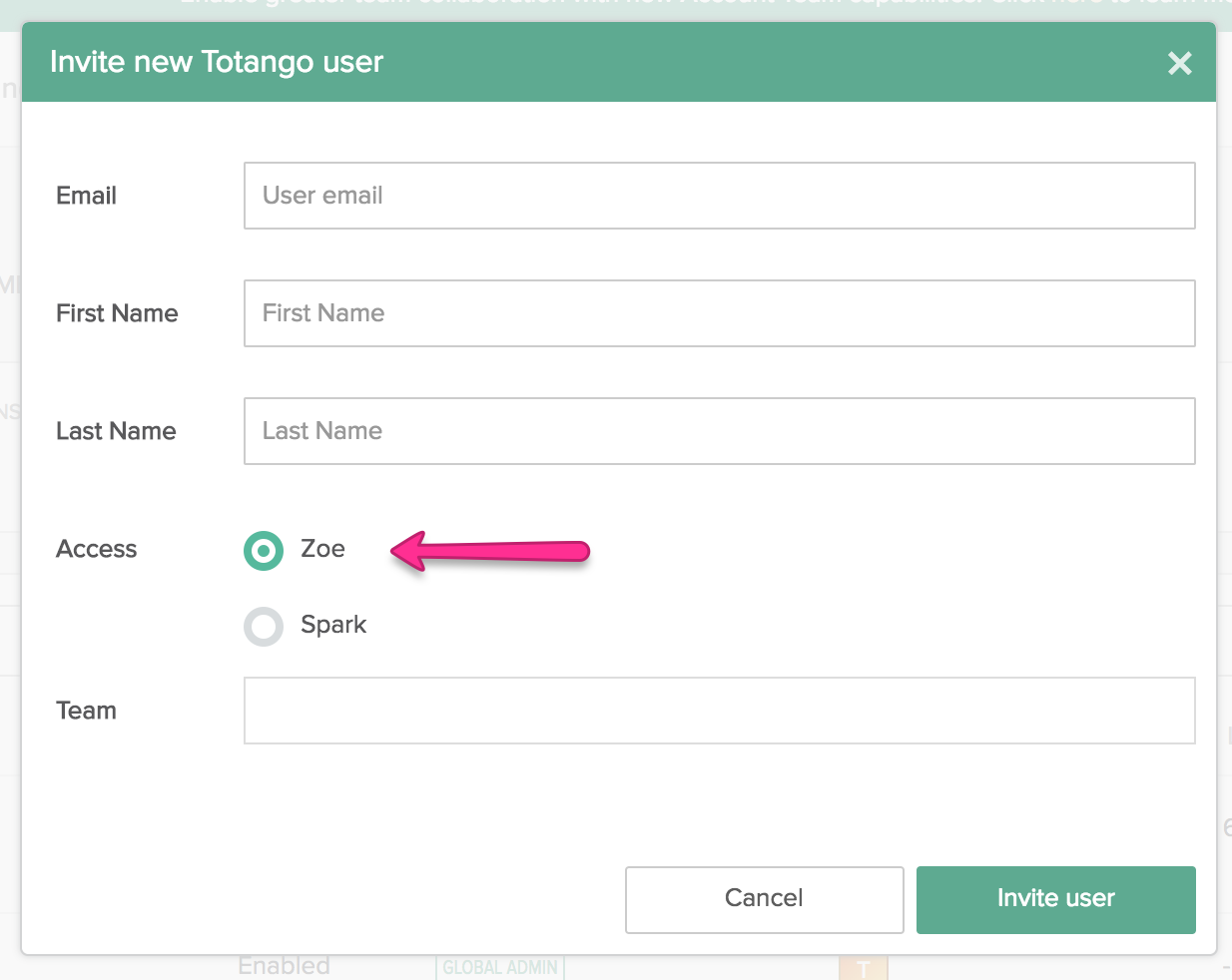 An invitation email will go to the user.
Users can create a password or login with Salesforce or Google credentials.
 Zoe Direct Capabilities
How to login to Zoe Direct
Authorized Zoe users can log in to Zoe via zoe.totango.com. 

A Zoe user is able to:
Receive notifications about the changes to the accounts in their team and act upon them.

Work on their tasks

Pin important accounts to attention and revisit them in future.

Search for accounts and view account information like health, subscription information, usage metrics, product in use, works open/done on the account, engagement with the customer, support information, account team.

Search for segments and view the segment.
What accounts can Zoe users see?
Zoe users are authorized to see all the accounts of the team they belong to. If they belong to multiple teams, they can switch between teams and view those accounts.

Notifications
Zoe users receive notifications about new touchpoints, tasks assigned to them or completed and impact steps created on the accounts.

They can take further action on the account after reading the notification by:
Adding a touchpoint

Creating a task for themselves or for others

Pin the account for later.
Zoe Users receive notifications on all the accounts of the team by default. They can narrow it down by adding additional criteria on it.
 Use the filters on left of this window to change the criteria on which accounts you want to receive notifications.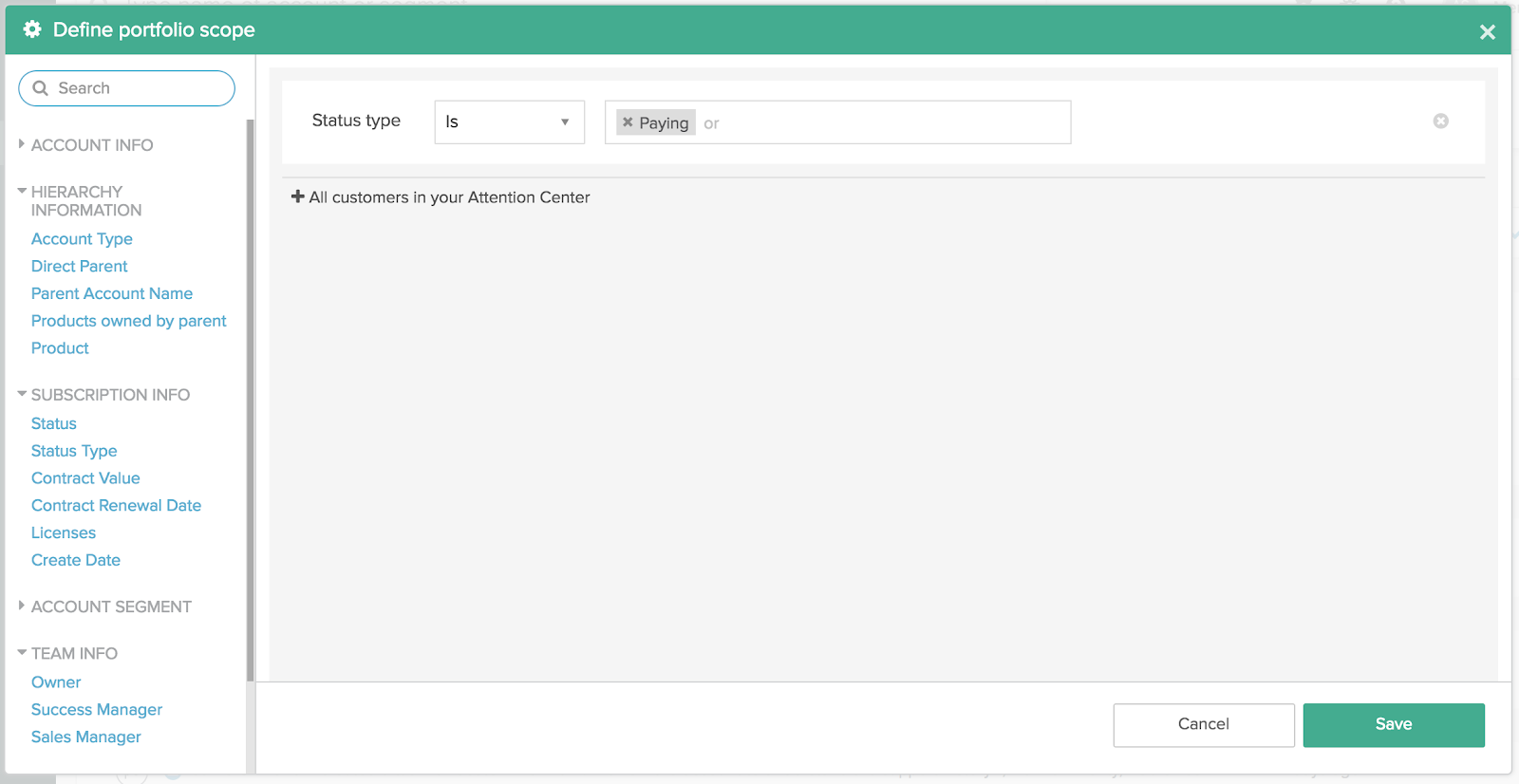 Tasks
How to work on my tasks?
All tasks assigned to you are available on the page "Tasks" from the menu on left.

You can also view tasks that you assigned to others by changing the setting on top of this page.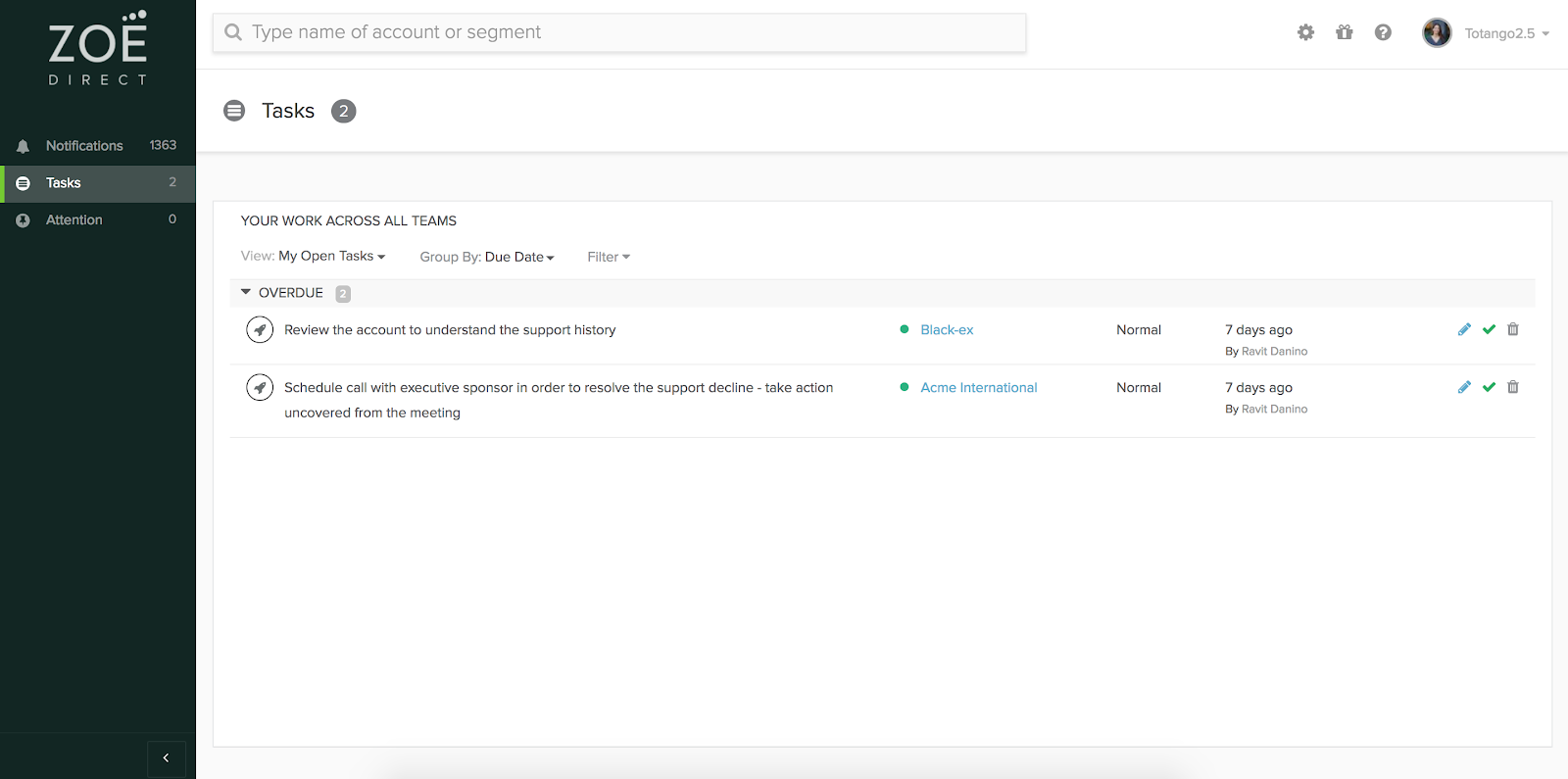 Read more about tasks here
How to assign a task?
A task can be assigned to a Zoe user by clicking on the "Add Task" icon from the account, the notifications, from another task.  


A task can be assigned to a user by user's name or by their role on the account team.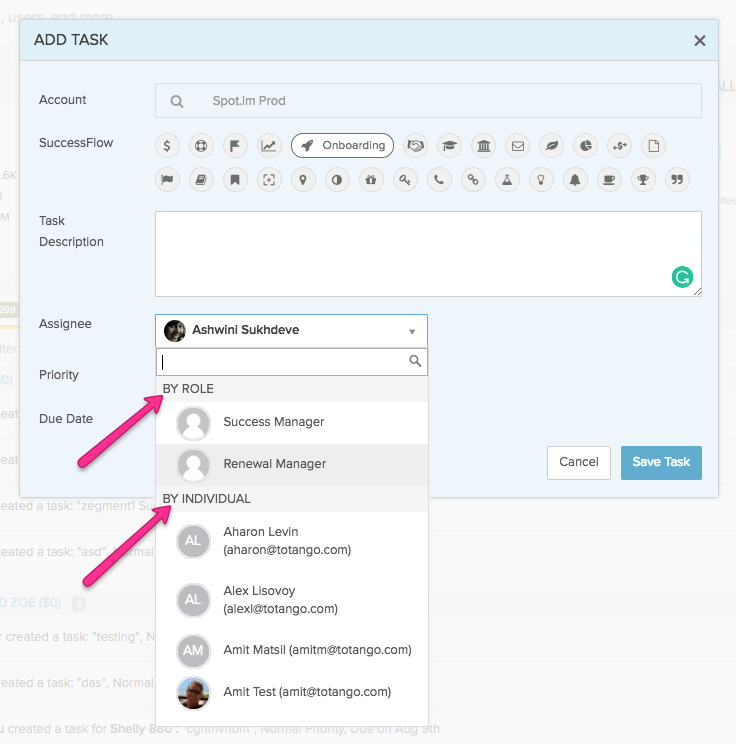 Segments
Segments are lists of customers that help you look at customers based on certain criteria. For example: all referenceable customers.  Segments are created by Totango users and made available to Zoe users for consumption. You can search for segments from the global search on the top of the app.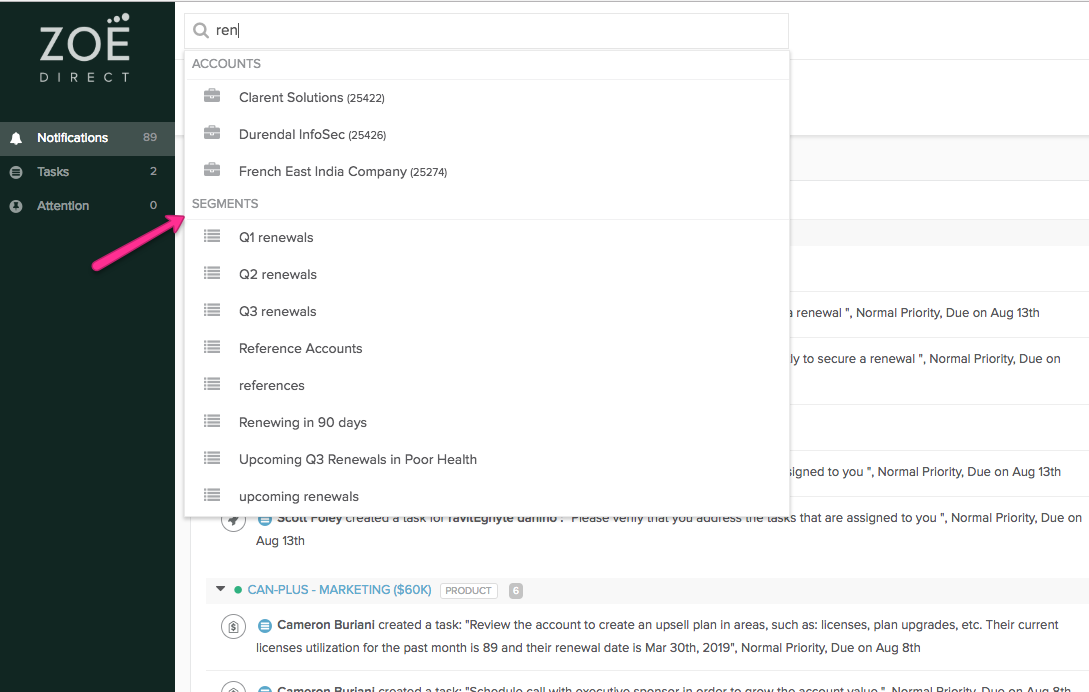 Working with segments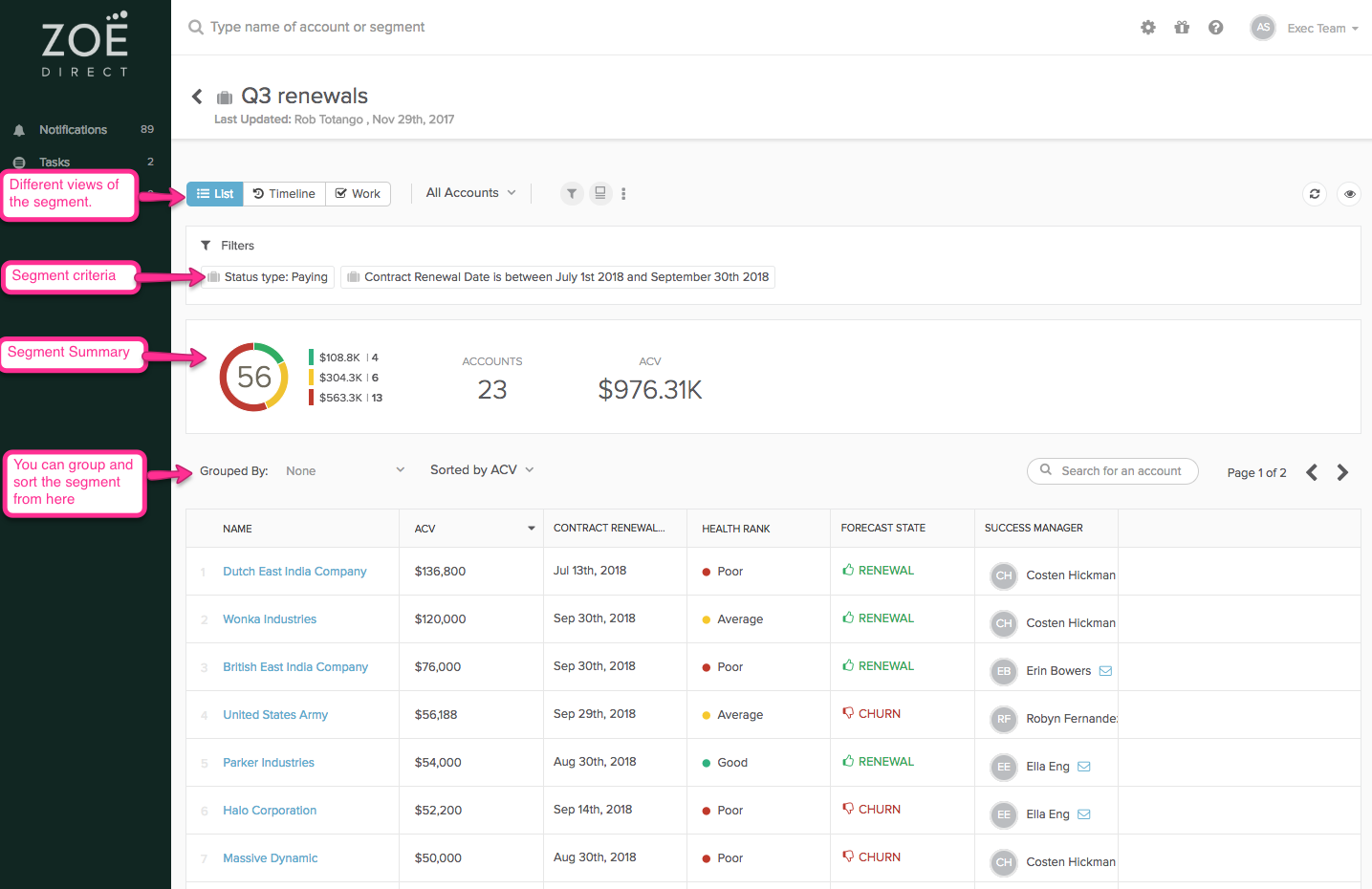 Every segment has three views. Each view is focussed on a specific activity.
List view
You can use this view to analyze and group the segment by different criteria. This view is meant to provide basic information on the account.



Timeline view




You should use this view when you want to look at the engagement on the accounts within the segment. This view will help you understand the background of the accounts while you are working with them.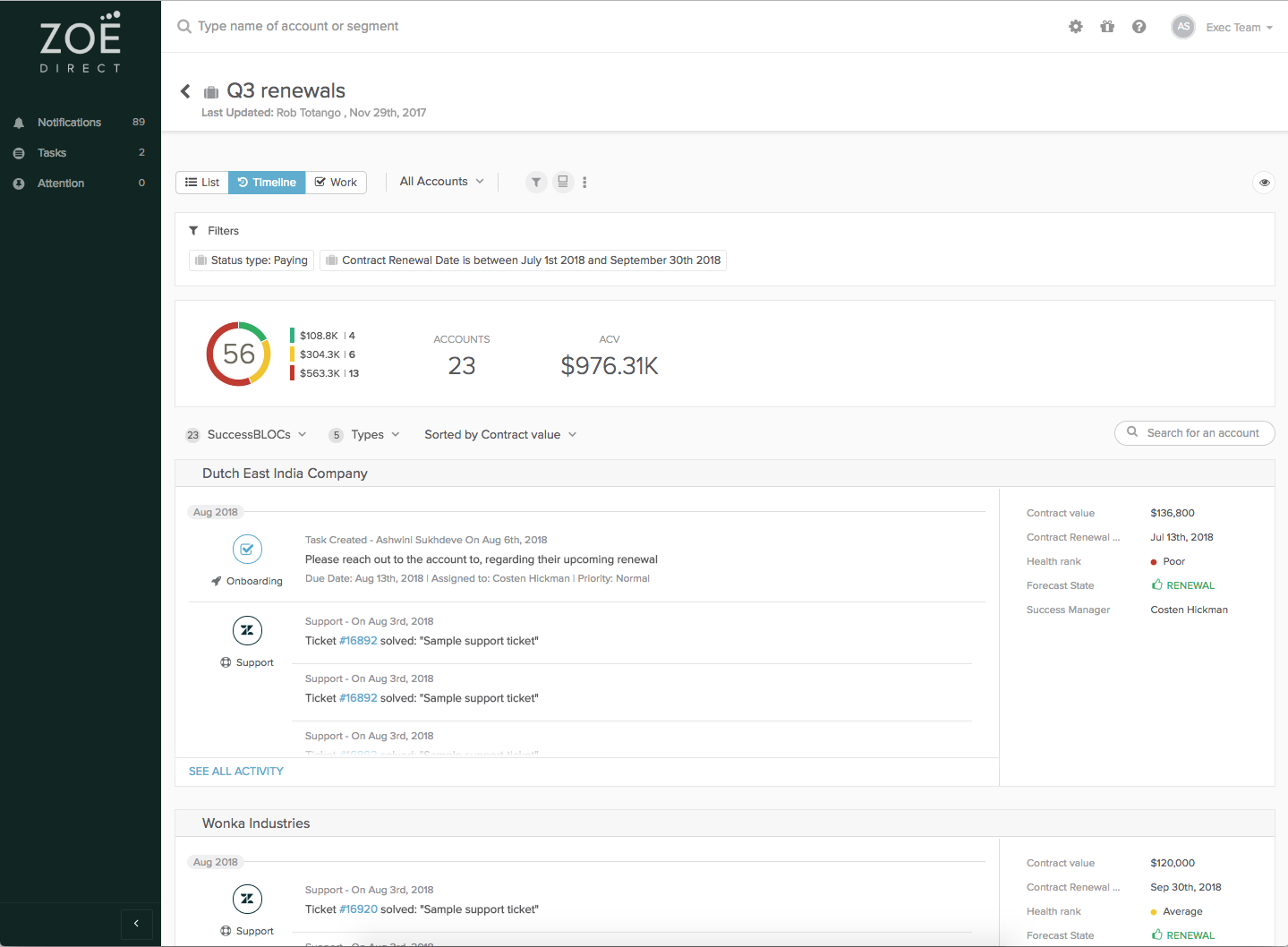 Tasks view
You should use this view the work pending/completed/overdue on the accounts of the segment. This view is also useful when you want to finish your tasks for a given segment of accounts.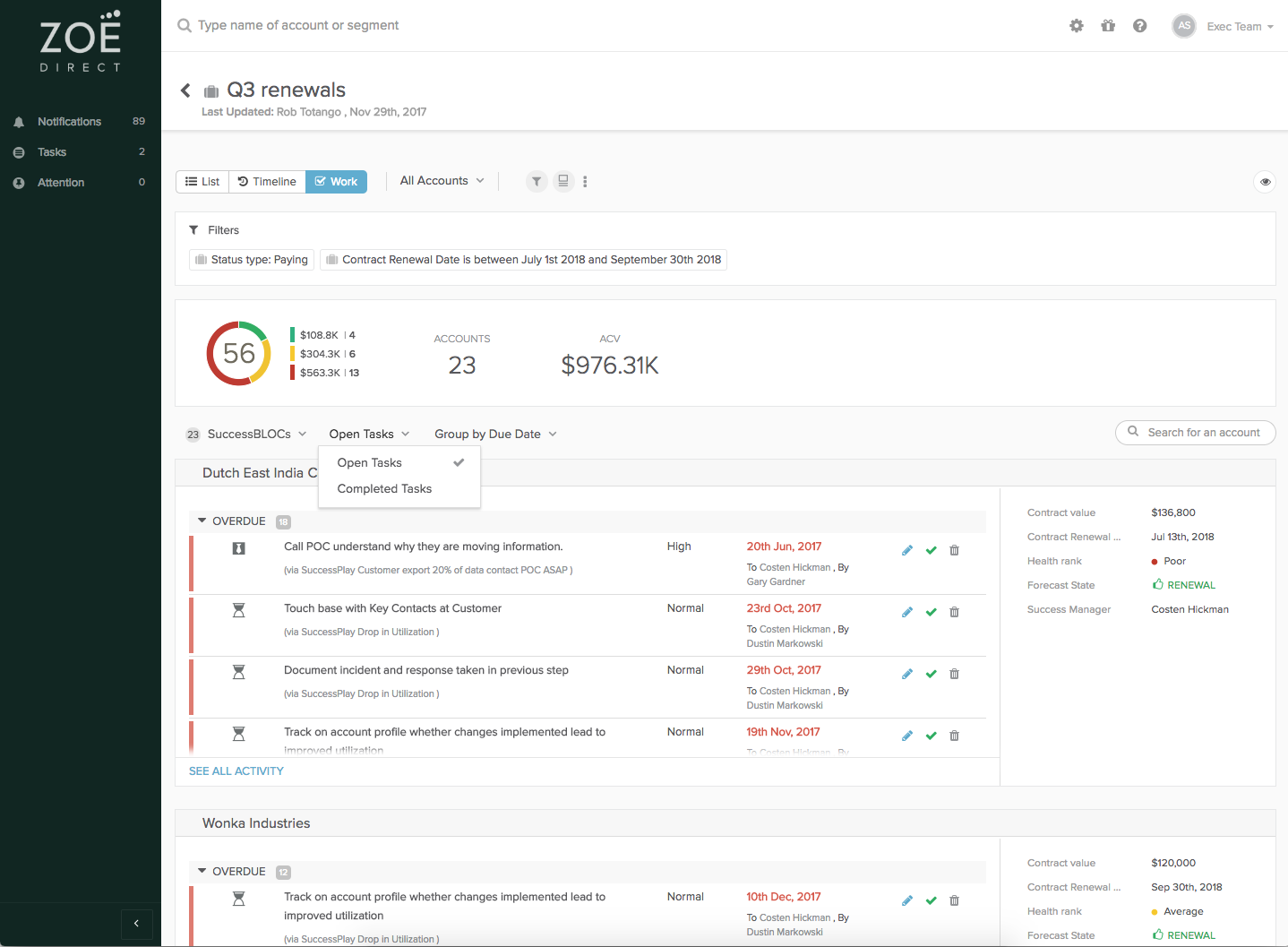 Account Profile
Account Profile provides a quick as well as a detailed view of the customer to get a clear understand of the customer's status.
Full details here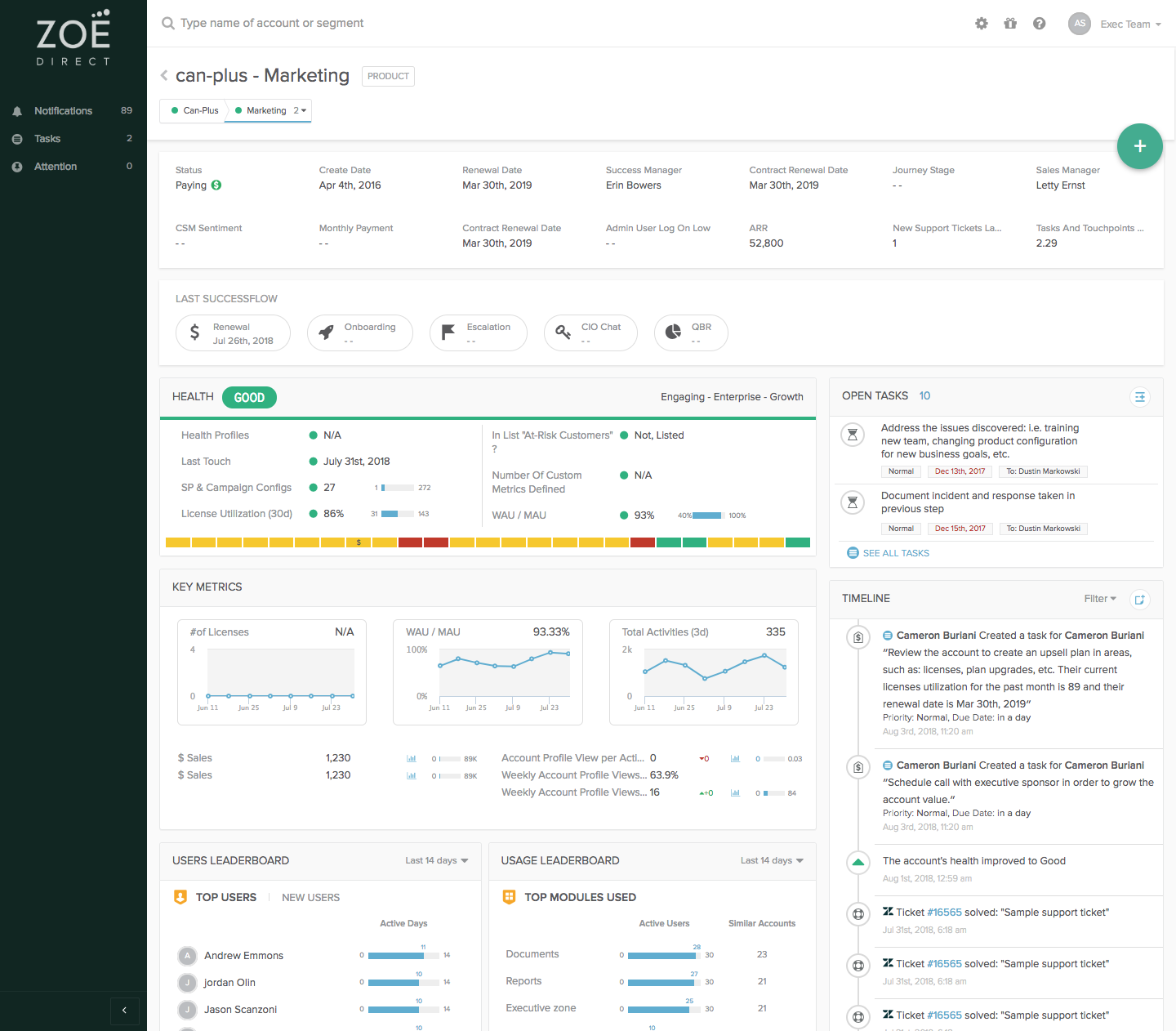 Renewal Use Case
Let's see how a Renewal Manager can stay on top of his work using Zoe and keep everyone informed about the work he has done.
When a task gets assigned to the renewal manager (either via Zoe or Spark), the renewal manager receives an email notification and can start working right from there.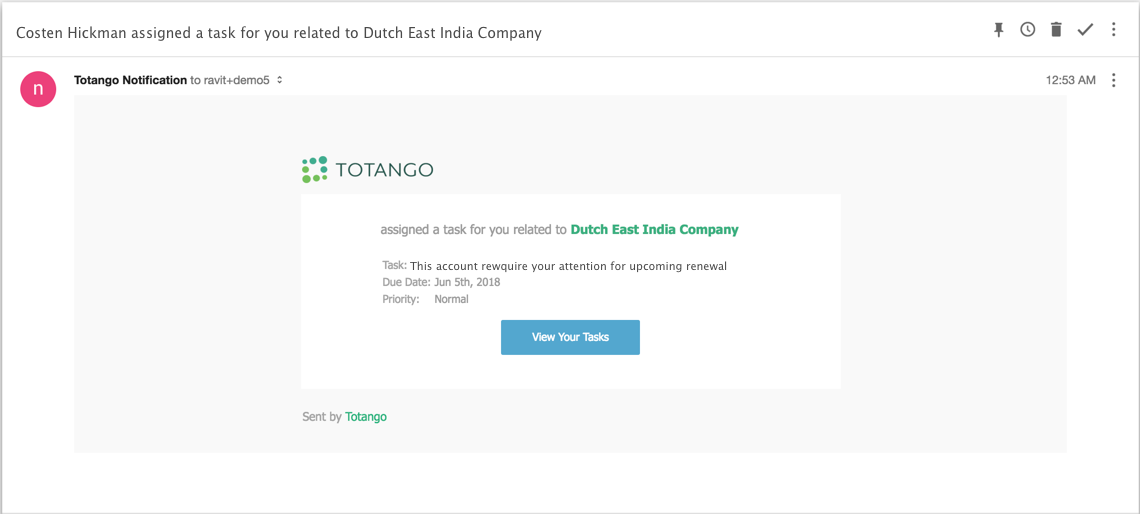 The renewal manager logs in to Zoe and finds the task assigned to him under that account on the Tasks page.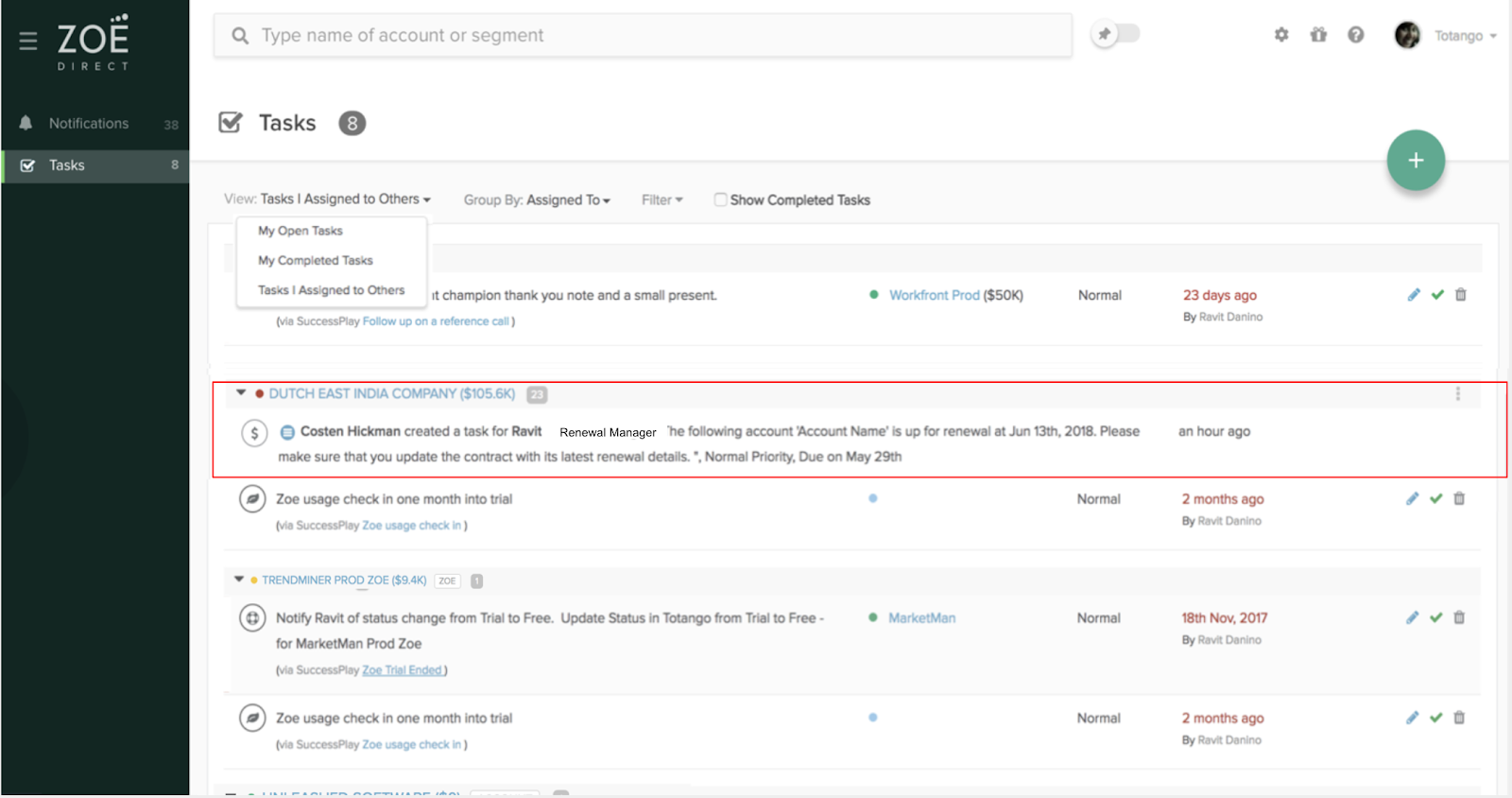 The renewal manager takes note of the task and marks it complete when he is done with the task.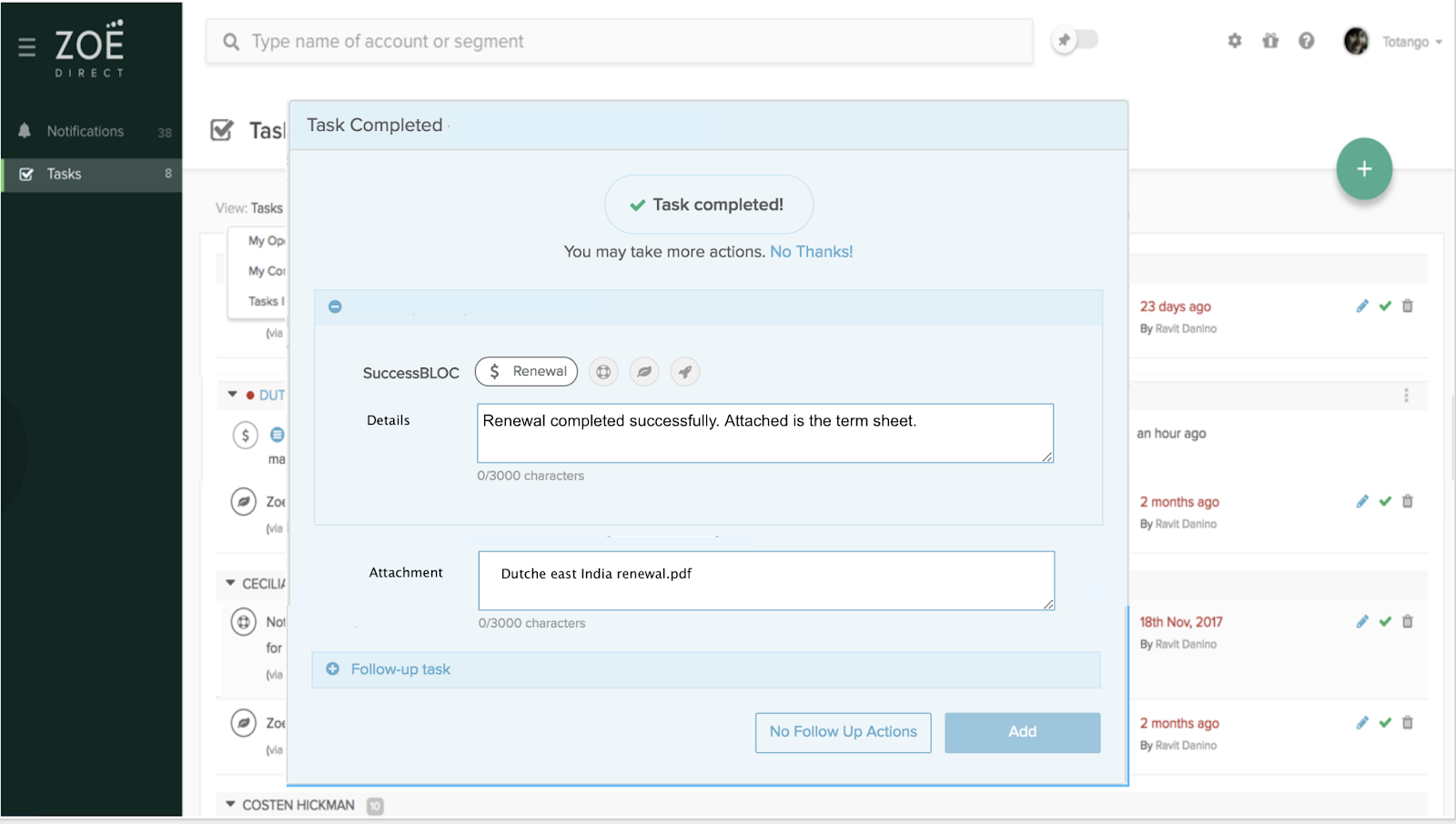 Once the task is completed, the team is notified with the details via notifications and on the account profile.