After a successful Zoe for ServiceNow installation, you need to configure Zoe app to pull data from your Totango, this article will describe the configuration steps needed.
Setup Totango token
Open ServiceNow Zoe application settings, and set "totango_insights_token" system property (x_totan_zoe_by_tot.totango_insights_token) to the token below. It will enable ServiceNow to access your Totango.


The Totango token can be found and re-generated in your Totango user profile.
Incident.Caller Field
Since the connection between ServiceNow and Totango is based on user email, as a ServiceNow admin, you should define Totango insights macro as a reference to the Incident.Caller field.


How to do it?
Go to the "dictionary" entries page (search for "dictionary" on the left menu), search for the caller_id field in the incident table.


Add Totango insights macro as a reference to the caller field by adding the UI macro name to the attributes field: ref_contributions=x_totan_zoe_by_tot_totango_insights_macro

If the attributes field already contains a reference another UI macro, just add the Totango insights UI macro to the same reference (separated by semicolons), for example:

ref_contributions=user_show_incidents;x_totan_zoe_by_tot_totango_insights_macro


Add "company" text to the Dependent field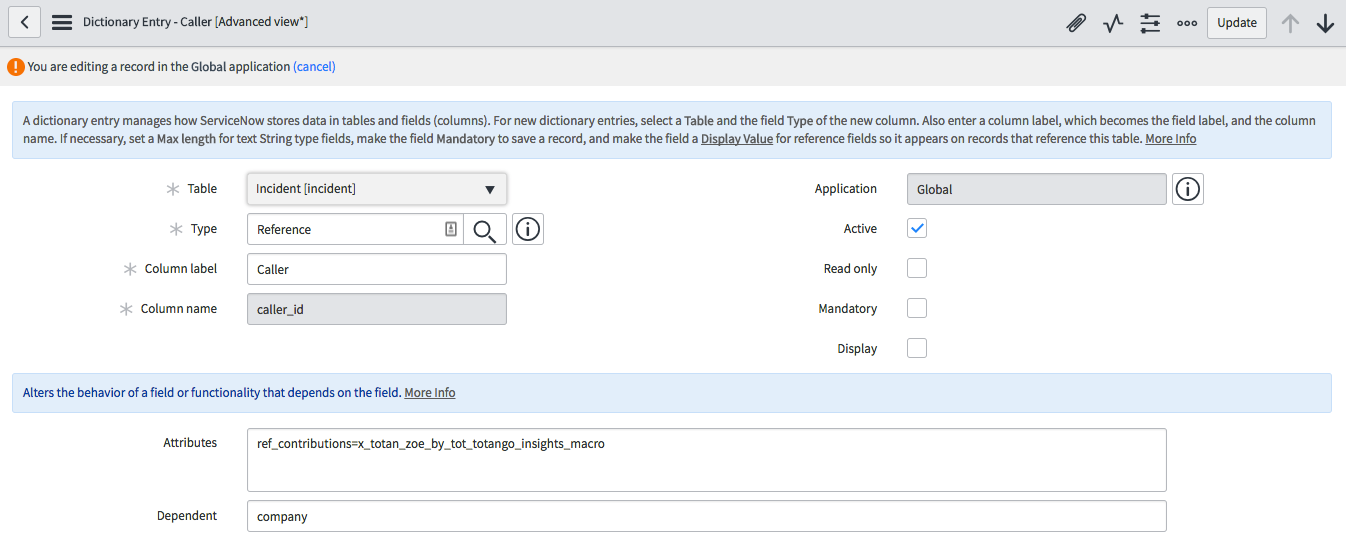 Configuration Testing
For more information, contact your CSM.