Overview
Totango's Zendesk Integration provides the perfect solution for customer success organizations that use Zendesk as their help desk system. It connects the data from both systems to provide richer customer context for Customer Success Managers in Totango.
This knowledgebase article will provide the technical information you need to easily connect Zendesk to Totango using a self-service wizard, and is aimed towards admin users and anyone interested in learning about Zendesk integration advanced topics.
This article follows the previous knowledge base article on how to have a Full Visibility Of Your Zendesk Customer Support Data in Totango, please read it first.
Topics covered in this article:
How to integrate Zendesk to Totango?
Use Totango self-service wizard to connect Zendesk support ticket data to Totango, integration can be made by Zendesk admin users only.
Open the Customer Data Hub page in the Global Settings> Data Management menu, and find the Zendesk card.

Hover on Zendesk card, and click "connect"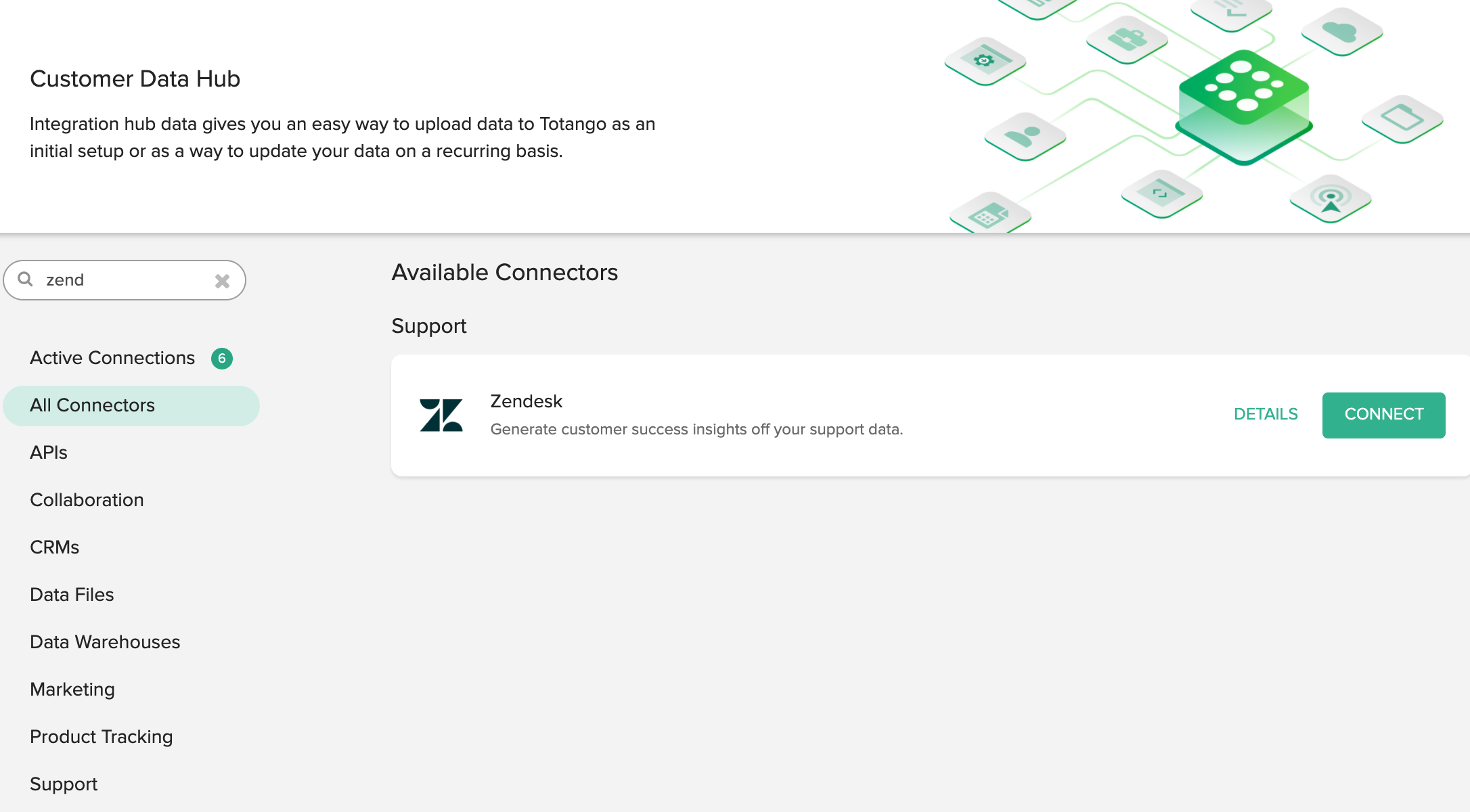 The wizard has 2 main phases: connecting to Zendesk (authentication), and integration settings.

Connect to Zendesk
The Integration requires administrator rights in Zendesk.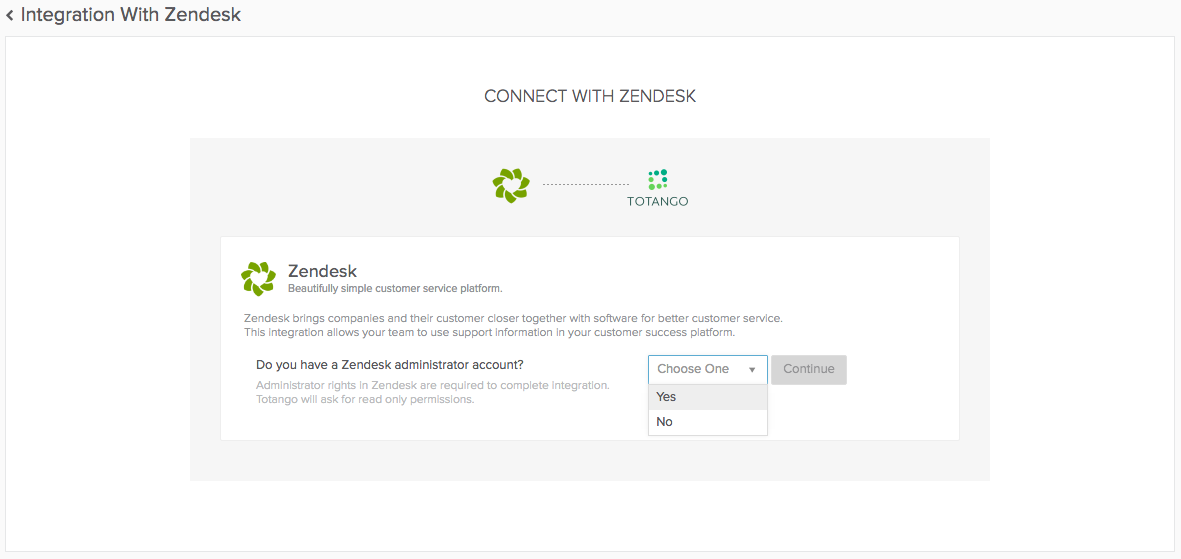 Enter your company's Zendesk subdomain (no need to add ".zendesk.com"), and click on "Authenticate".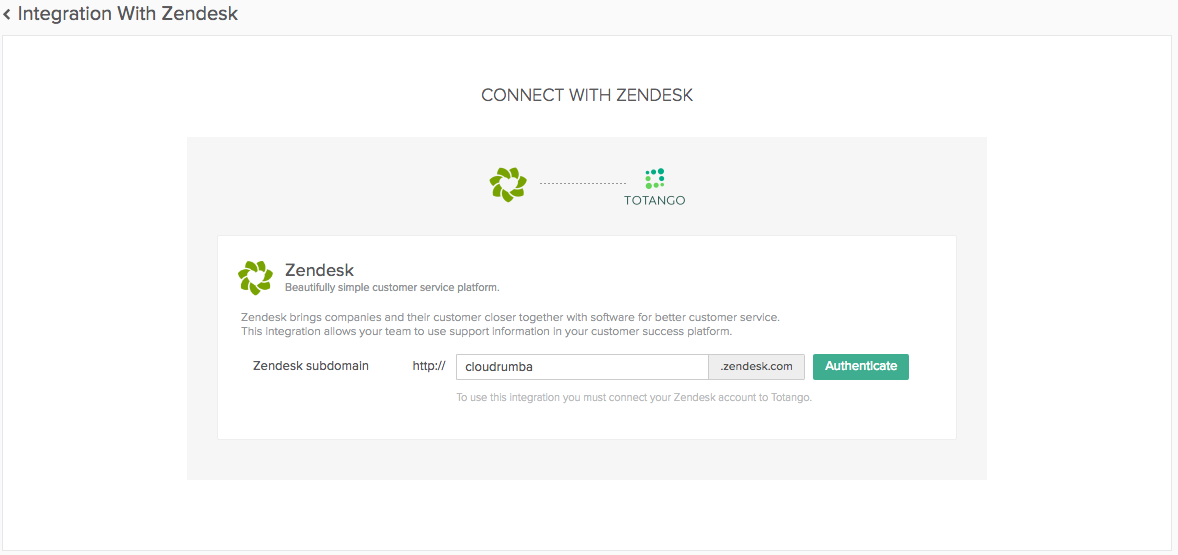 Authenticating is done using a standard oAuth process, you are able to connect using Zendesk's user and password or your Google account.
If you already have Zendesk application open in the same browser, your user and password will be used automatically.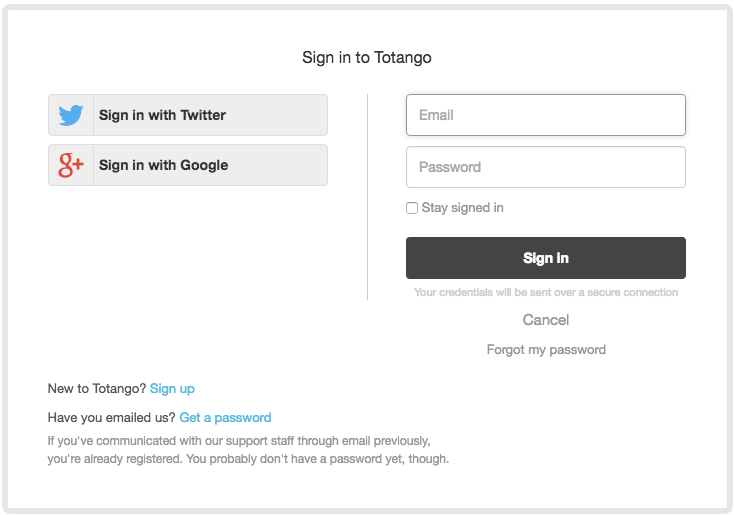 Integration with Totango only requires read-only permission.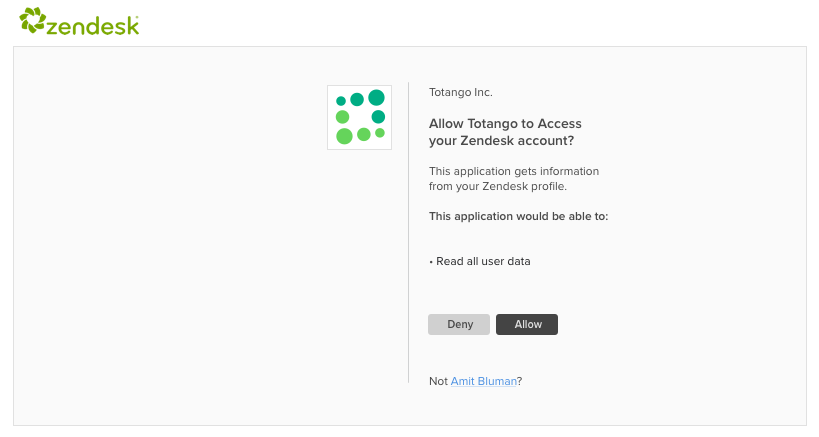 Connecting to Zendesk is done, and now you have to configure the integration settings.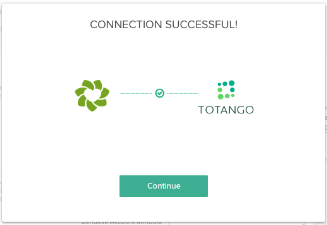 Zendesk integration settings
The most important setting is to define what are the matching keys between every organization in Zendesk and an account in Totango, this will allow Totango to sync the right organization data to the corresponding account in Totango.

Any organization object field from Zendesk can be used, and any textual account attribute in Totango.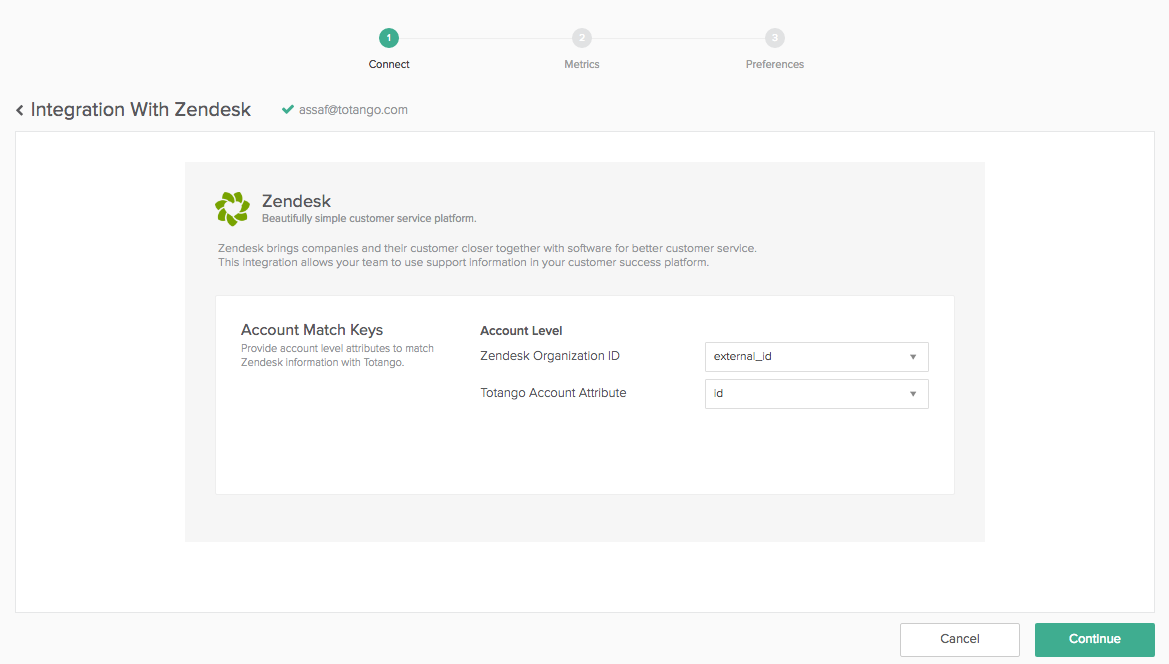 In the next setting step, you will set up the timeframe to calculate the number of tickets created, and decide if you want to have satisfaction score metrics synced to Totango.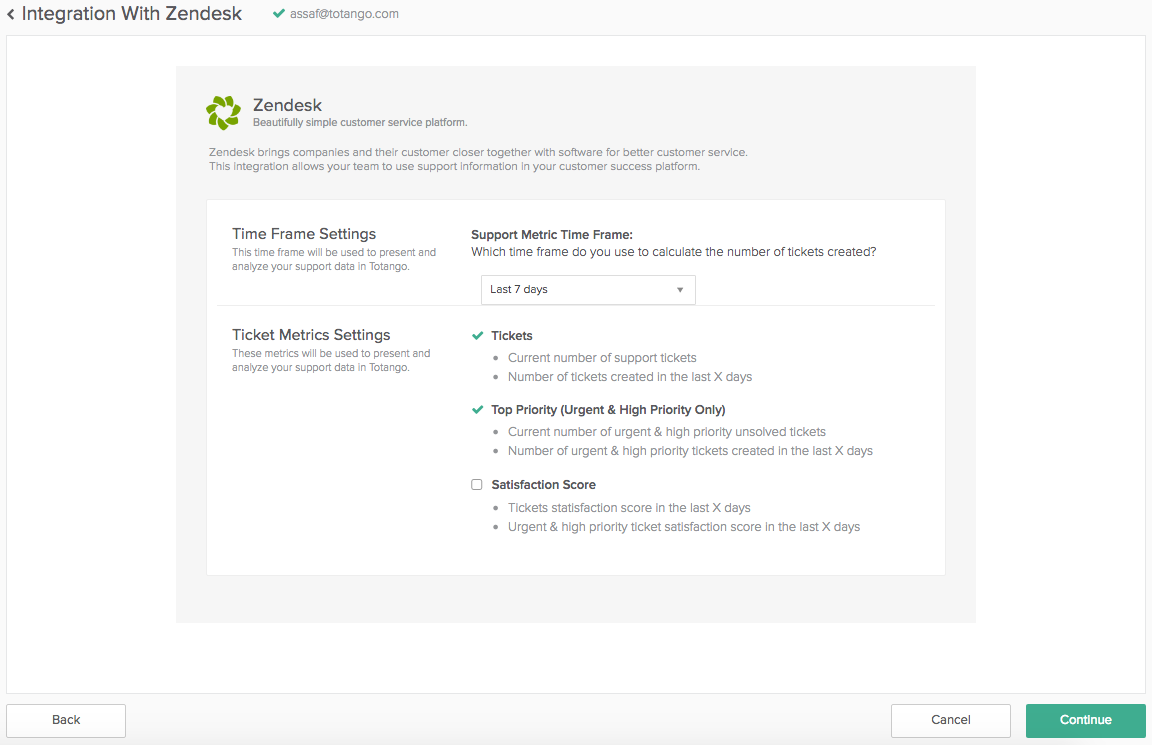 In the last setting step, you will review the notification settings (which fields will be presented, and when a notification is created).
Once clicking on the "Save and Sync" button, the entire timeframe data will be synced into Totango.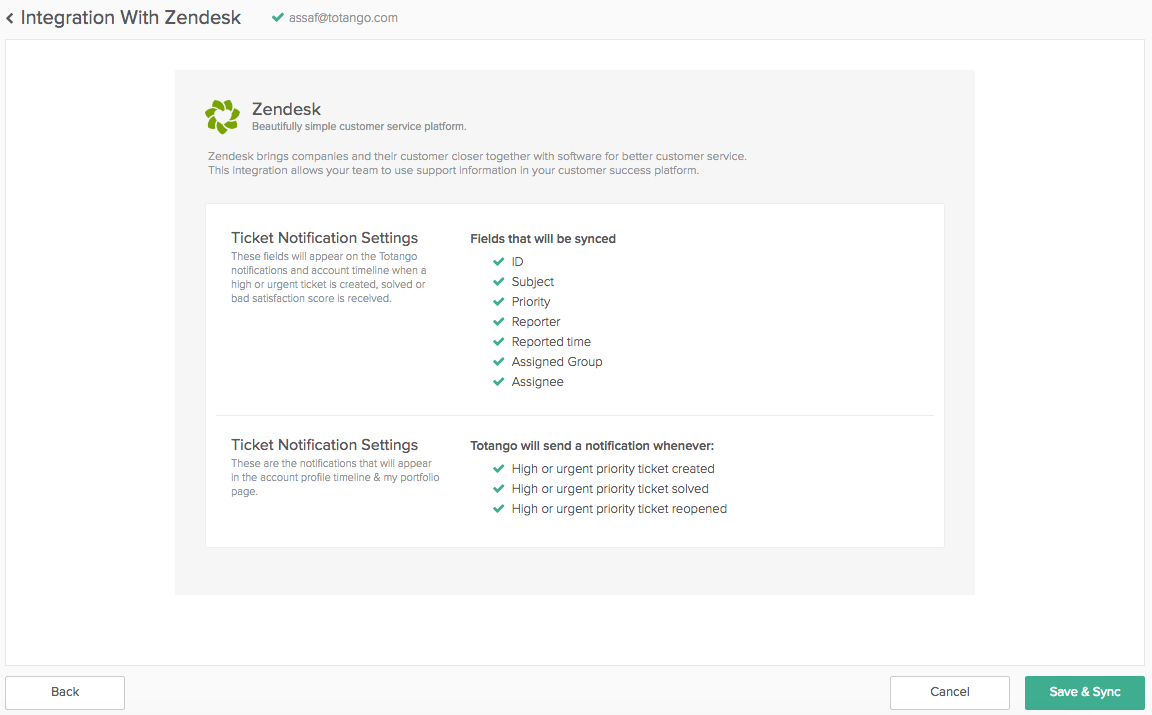 Zendesk support data is now syncing into Totango.



In order to have an up to date data, incremental sync will occur automatically every hour.
What are the different ways to match Zendesk organization data to Totango accounts?
Zendesk integration is based on matching Zendesk organizations to Totango accounts.
You can store the Zendesk organization matching key in Totango, or to store the Totango account matching key in Zendesk.
A matching key can be any reliable key, for example, organization id, organization name, domain name, third party account level id (like Salesforce).
Please keep in mind that for every new account, you will have to add the matching key either automatically using scripts or manually.
Account level matching limitations:
Account matching field is case sensitive.
Account matching attribute must be a text attribute.
The integration will not match a Zendesk organization which matches more than 1 Totango account.
Can I match a Zendesk user to a Totango user?
Totango will match the users from Zendesk to Totango automatically.
Using the account level matching, Totango will monitor every Zendesk user and if this user exists in Totango, the support data will be attached to this user (using the user email as a key).
However, there is no way to match only user data from Zendesk to Totango, it must be connected first at the account level.
Can I choose the support metrics which are synced to Totango?
The support metrics are pre-selected for you, you can select if to sync satisfaction score data into Totango.
My company uses Zendesk SLA, can I sync this data to Totango?
SLA related data is not synced.
Can I sync Zendesk ticket custom fields?
No. Only out-of-the-box Zendesk ticket information is synced.

Can I change the ticket notification settings?
No. Ticket notification settings cannot be changed.
Can I view the Zendesk integration status?
Yes.
The Zendesk integration status page is very informative and actionable.
You can review the sync status: last sync state and time, and next scheduled sync time.
Zendesk data is synced into Totango every hour, you can pause the sync or sync it now.
You can review the matching rate statistics, which will help you monitor the unmatched accounts (no Totango account was found to match the Zendesk one).

By clicking on the "details" link, you can also download the list of unmatched accounts and review it.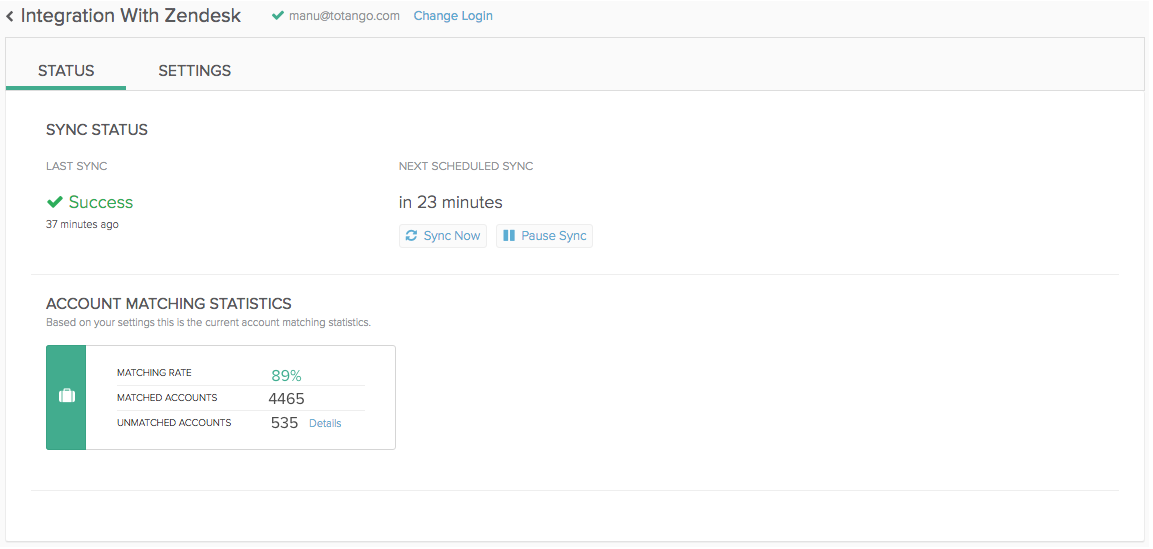 Can I change Zendesk integration settings?
Yes.
You can review the current integration settings in the status page -> settings tab, and even change them by clicking on "Edit settings".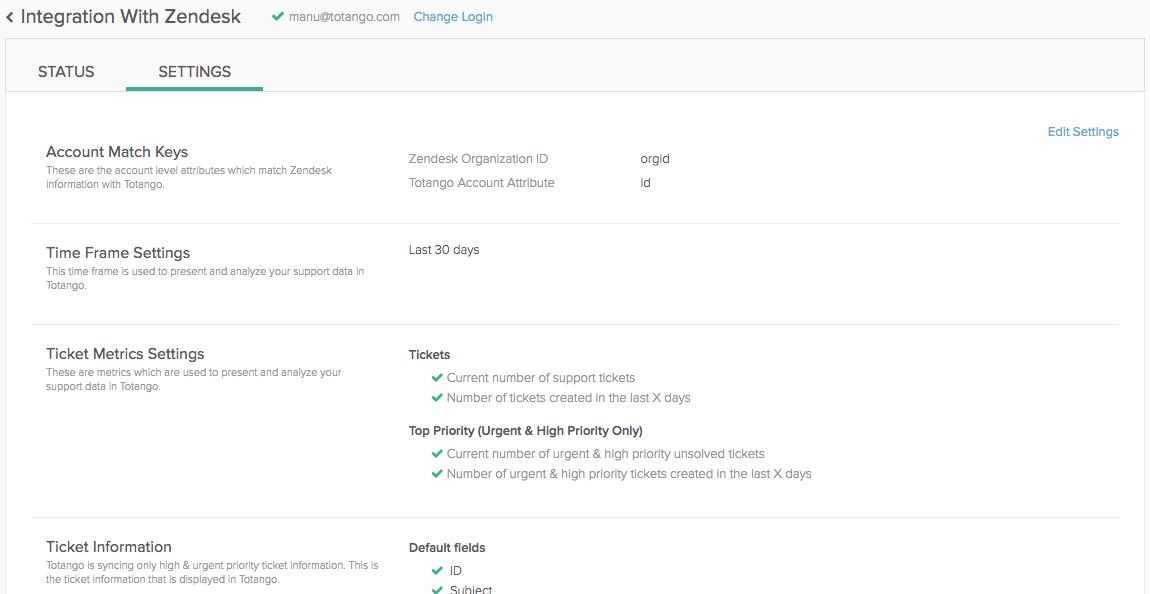 What should I do when Zendesk Integration is failing?
You will be able to easily spot the failure once logging into the Integration Hub page.

For more details, enter the Zendesk status page.
If the account matching statistics are zeroed, then there is an issue with your credentials (like, Zendesk admin password expired, Zendesk admin user has expired,...), click "change login" to re-authenticate.
For any other issue, reach out to Totango support.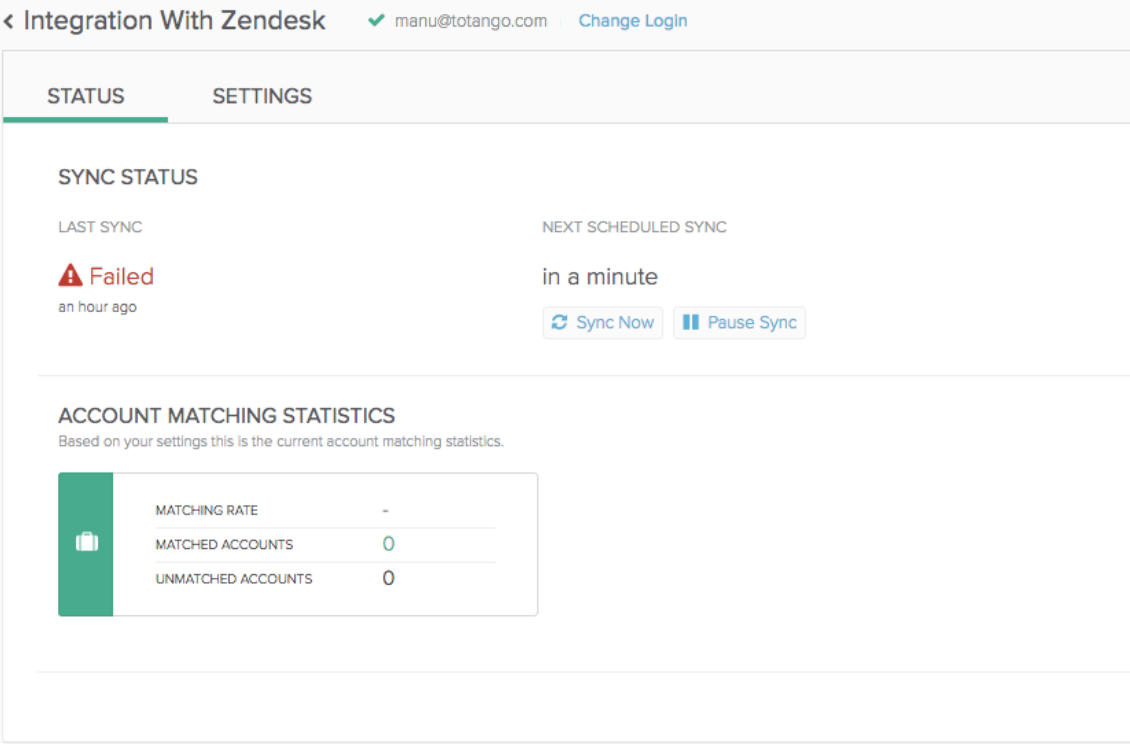 I changed my Zendesk admin password, do I need to change it in Totango as well?
Yes. You should re-authenticate the Zendesk integration in Totango.
Click on "change login" link in the Zendesk integration status page.

My Zendesk admin user is disabled or no longer exists, do I need to change it in Totango as well?
Yes. You should re-authenticate the Zendesk integration in Totango. see instructions in the previous answer.


I am maintaining my Zendesk, can I pause the sync with Totango?
Yes, you can pause your integration on the status page.





Don't forget to activate it later.
How can I change the support ticket data timeframe?
You can change all integration setting from the settings tab in the status page, click on "Edit Settings" link.

Account match rate is pretty low, can I fix it?
The match rate represents the number of Zendesk organizations that were matched to Totango accounts.
If your Zendesk has a lot of organizations that should not appear in Totango (for example, expired organizations), then maybe the match rate should be low.
You can easily download the list of unmatched accounts and review it.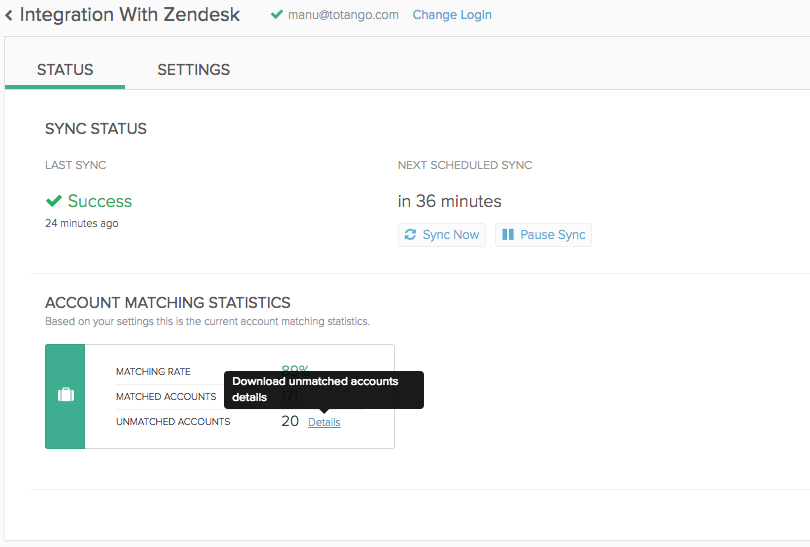 Which data is syncing in the hourly sync?
Every hour Totango syncs all the changes which occurred in your Zednesk support tickets since the last successful sync.
In addition, every night Totango's integration engine validates past year's data to verify that Totango and Zendesk are fully synced.
I fixed the wrong organization data in Zendesk, is there a way to delete and sync all the Zendesk data to Totango?
Yes, and it will be done automatically.
Totango integration engine performs a full past year data sync every night, your fixed data will be synced to Totango in the nightly sync, and you will be able to view it tomorrow in Totango.
I have 2 Zendesk subdomains, can I sync data from both subdomains?
No. Totango can only sync data from 1 subdomain.
Can I delete the Zendesk integration?
Yes. you can delete the Zendesk integration from the settings tab in the status page (at the bottom of the page).
Note, your Zendesk configuration will be deleted, and you cannot be undo this action.
Your support data (events and metrics) will remain in Totango.

Ready to see your Totango account data in your Zendesk tickets? Read about Installing the Totango App in Zendesk!