This knowledge base article will provide all the technical information you need to create an accurate, valuable, and powerful Revenue Center.
Totango's Revenue Center is an out of the box feature that monitors the financial data that you are already sending to Totango, and let you understand, analyze and plan your revenue growth.
This article follows the previous knowledge article on Revenue Center article, please read that first.
What's in this article:
Target audience
Permissions
How Revenue Center data is calculated
Prerequisites
Setup
Set Goal
Validate Revenue Center data
Fix your data using an Override mechanism
Add past data
Data freshness
How to sync forecast attributes to Totango
Limitations
Q&A


Target audience
Admin users or anyone interested in Revenue Center advanced topics.


Permissions
Only admin users can perform these actions: setup, override values, and set goals (these actions are explained in this article).
A user can only set a forecast for accounts he owns (as a success manager or sales manager), the admin user can set a forecast for all accounts.


How Revenue Center data is calculated
Revenue Center is already included in Totango's basic implementation elements, so no additional implementation is needed!
The whole dashboard is based on Status, Contract Value, and Contract Renewal Date attributes, which are already sent to Totango.
Status is monitored to help understand which accounts are converted to paying accounts and which are being canceled.
We monitor Contract Value changes to bubble up upsell, and downgrades.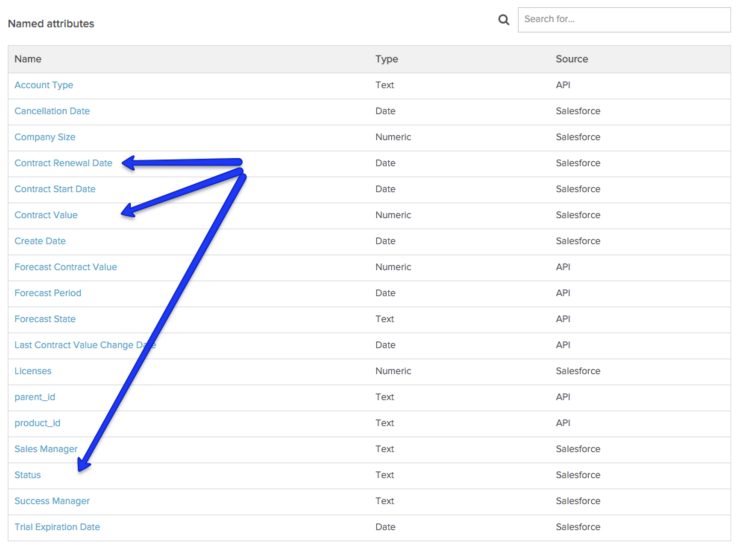 Note: If more than 25% of your accounts are without a contract value or status, you will not be able to use Revenue Center. If that is the case, your financial data will not be accurate. It is advisable to first fix the accounts Contract Values and Status before using Revenue Center.
Prerequisites
In order to have an accurate data, the 3 attributes mentioned above must be implemented in good quality (Status, Contract Value, and Contract Renewal Date).
In order to have past data in Revenue Center, sync Contract Start Date attribute.
If any of the override effective date attributes already exists in your Billing system, CRM system, or any other sources, it is important to sync it with the override effective date attributes (for more details, see "Override calculated data" section below).
The attributes are Cancellation date and Last contract value change date.
Setup
Follow the setup questions (according to your business needs) and Revenue Center will immediately reflect the setup parameters that you have defined.
The setup parameters are global, these settings influence all the users.
Financial year setup
The revenue data can be aggregated and presented in monthly or quarterly aggregation.
You can also easily define your financial year as a fiscal year. Simply set the first month of your fiscal year and the current fiscal year.





Select your churn rate formula
Typically, companies measure their churn rates in their own ways. You can choose what works for you.





Define contract value sent to Totango
We want to present the right contract value term in Revenue Center, so let us know if you are sending contract value as annual recurring revenue or monthly recurring revenue.



How to treat accounts without a renewal date
Companies often do not put in a renewal date and leave it blank to indicate that it is a monthly subscription contract.
In this setting, you can define how Totango will treat the account without a renewal date.





How do you want to perform forecasting
Revenue Center has the option to forecast per each account or for the overall company. Set the option that best suits your business.


Enterprise plan customers which implemented their account hierarchy will have the option to select the account level that Revenue Center should be based on.



Filter Revenue Center based on any attribute
You can choose up to 2 attributes to filter Revenue Center. These filters can belong to any account level attribute in Totango.




Set Goal
Goal is the customer success commitment to the company (it rarely changes in the period).
It is very easy to set the period goal. Click on "Set Goal" link in the company view table (available for admins only), and enter your upsell ARR goal and lost ARR goal.
Note: Goal set is for the overall company. At the moment, you cannot set a goal per CSM or team.


Validate Revenue Center Data
In order for you to trust the data in Totango, a validation process is created to help ensure the data is accurate
Move to the current period and review the QTD column data



Click on "Upsell ARR" cell to view the list of accounts and the change in contract value.

Compare the "Upsell ARR" account list to your CRM, upsell data spreadsheet or any other system of record.
If you want, you can download this account list as a CSV file for further comparison.



Continue validating the QTD data for different account segments and past period in the TRC tabular view.
Fix your data using an override mechanism
It is important to always have accurate revenue data.
But sometimes the data in your system of record or the data which is sent to Totango may be inaccurate.
Here are 2 mechanisms to help you set the data right.
Override actual data at the account level using effective date attributes


For cases where the account had been canceled and the cancellation was delayed being entered in the CRM system. This delay can cause a canceled account to appear in the wrong period. Revenue Center monitors the date when the change in status happened so the account will appear as canceled at this specific date.
Entering the desired "Cancellation Date" to Revenue Center will override any cancellation date and treat the account as canceled at the desired "Cancellation Date".
Entering the "Cancellation Date" is optional as it is used for fixing your churn data.




In a similar manner, you can override "Contract Start Date" to influence the starting ARR and starting accounts, or override the "Last Contract Value Change Date" to influence Upsell ARR, Upsell accounts, Downgrade ARR and Downgrade accounts.

You can change these date attributes from the Revenue Center, segments or account profile.

These are already defined as attributes in Totango. You can choose to sync it with your CRM or load it using Integration Hub.

Override actual data at the company level
If you do not need/want to drill down to the specific account level in order to override data, you can override past and current data at the company level instead. Click on "Override Values", and enter your values.
Add Past Data
If you need to analyze your financial data over time, and you are a new Totango customer, you can input your past data and consume it across Revenue Center (in company view, breakdowns, and trends). Use the "Override Values" at the company level option described in the previous section to do that.
Data freshness
Revenue Center data is updated on a daily basis, while forecasted data updates immediately once you set a forecast for an account.
Note: Totango is currently working on enabling an immediate recalculation of your accounts subscription data. You will be notified when you can change contract value, renewal date, or status attributes and have it recalculated immediately in Revenue Center.
How to sync forecast attributes to Totango
Forecast attributes are like regular account attributes in Totango. You are able to sync these attributes from Salesforce or Integration Hub.
There are 3 forecast attributes: Forecast state, Forecast contract value, Forecast period.

Forecast State: an account can be in one of these states: "renewal", "churn", "upsell", "downsell" - no other terms are allowed.
Forecast Period: the day when the forecast will take effect (usually the first day of a month / quarter). This attribute accepts a date format.
Forecast Contract Value: this is a numeric attribute. This attribute should be aligned with the forecast state attribute:
For each forecast churn, the forecast contract value must be 0
For each forecast renewal - the forecast contract value must be equal to the current contract value
For each forecast upsell / downsell - the forecast contract value should represent the new contract value (after the upsell / downsell).
Important: When syncing forecast data to Totango, every account must have 3 forecast attributes (Forecast State, Forecast Period, Forecast Contract Value).
An account without 3 forecast attributes will not be synced.

Limitations
There is no ability to set forecast when there are no renewable accounts for the period.



Cannot set forecast for an account without a contract value



Cannot assign goal to CSM or Team (only can assign goal per period at the company level)
Q&A
Q. I am a new Totango customer. What is the best practice to implement Revenue Center?
A. We recommend that you follow the onboarding process of Totango, lead by our customer success managers (CSMs). In addition, it is recommended that you fill Totango with your subscription date attributes. such as cancellation date, contract start date or last contract value change date.


Q. I am a new customer of Totango. How can I load past data to Revenue Center?
A. Align your accounts contract start date by syncing a contract start date attribute to Totango. You can also enter past data using the override mechanism (see "Add past data" section)


Q. Back Dating for when the contract was actually closed.
Use case: Sales gets the deal in on Dec 31st, but only updates the record in Salesforce on Jan 5th.
Revenue Center detects the contract value change on Jan 5th and understands that the contract was closed in Jan, when in fact it was in Dec.
A. In order to solve this back dating situation to accurately reflect the real deal date, just click on the "Starting ARR" QTD cell, and change the "contract start date" value in the dialog. Learn more about it in "Fix your data using an override mechanism" section.


Q. When I clicked on the upsell ARR value, a list of accounts appears. What does the telescope icon represent?
A. The telescope icon is a forecast indicator. The accounts with the telescope are the ones forecasted for an upsell, the other accounts are the ones that actually upsold.
In addition, the "contract value start date" is enabled when it is an actual upsell, not an upsell forecast (marked with the telescope icon).


Q. Can I download the list of upsell accounts?
A. Yes, simply click on the download icon in the upsell account list.


Q. When I download the renewable list of accounts, I see several additional fields, is it okay?
A. The renewable account list combines actual and forecast data, the downloaded file separate this data into different columns.






How to read the downloaded file?
Account1 contract value is $50K, Account1 does not have a renewal decision yet (Renewal state= "retention"), and is forecasted to upsell to $60K.
Account2 contract value is $5,000, Account2 upsold to $12,345, although he was forecasted to churn.


Q. Can I export the list of accounts forecasted to churn?
A. Yes, simply click on the download icon in the lost account list. You can also create a list of accounts with a churn forecast in Totango segments (using the Forecast State and Forecast Period attributes), and export it.


Q. I don't see any upsells, downgrades, or churn forecasted accounts, but still the forecasted net retention rate is 100%,
A. It seems like all your accounts are forecasted to renewal, in this case your forecast is that all your renewable customers will renew - and this is represented in the net retention rate