Feature Description
The revenue center is the place you will manage an end-to-end financial use case of customer success.
With revenue center you can plan, track, forecast and report on revenue from your existing customer base.

In addition, revenue center, allows you to analyze your renewal customers, churn customers, and plan ahead for coming months/quarters.
The revenue center is targeted for CSMs, CS VPs, Finance teams, and C-level executives.
Where to find Revenue Center?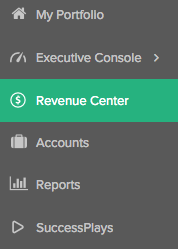 Feature elements
Top messages:

While preparing, monitoring and analyzing your revenue data, we may come across some data discrepancies.
The highlighted messages show what the data discrepancies are, so that you can resolve them quickly to make sure accurate and up to date data is found in Revenue Center.
You will also be notified about data discrepancies, and missing forecast.
By clicking on a message, you can review the account list, set the missing data element, or get your team to work on that (using SuccessPlays).


Timeline:

At the timeline, you can preview your company revenue performance.
You can view past, current and future net retention rates, and ending ARR (for current and future periods, it will be the forecasted ending ARR).


Renewables:

Renewables are the accounts which are about to be renewed during this period (include all accounts with a renewal date in this period, and your monthly subscription accounts, which are identified by not having a renewal date).
You can review the number of accounts, their revenue, and the portion of them out of your customer base.


Risks and Opportunities:

This portlet incorporates the 2 most important actions to help reach your goal:
1. Opportunities -  the accounts which are forecasted for upsell, but did not make any decision yet.
2. Risks - the accounts which are forecasted to churn or downgrade, but did not make any decision yet.

By clicking on each value, you will be able to review these accounts, and create a SuccessPlay to help your team "save" these accounts or push the upsell opportunities.


Growth gauge:

This gauge displays your performance growth. Growth is calculated using Upsell ARR - Lost ARR.
The growth gauge is built on "Moving the needle" paradigm - see what is your actual, forecasted and goal growth.


Tabular view
The tabular view represents the 3 perspectives of the Revenue Center:
Actual (quarter to date) – your actual financial data up to date, the actual information is updated whenever a new information is sent to Totango.
Forecast – how the current period will end.
Forecast is calculated by aggregating the actual data with the forecast you manually set.
Whenever you get a new information, you should update the forecast.
Goal – represents the customer success commitment to the company (usually it rarely changes during the period)

For each perspective, you can find $ value, number of accounts, and performance analysis. The explanation for each formula can be found by hovering near the formula name.

Actual vs Goal column lets you understand the gap from the goal in $ value. You can switch to Forecast vs Goal by clicking on the link below the header.


My accounts filter:

A CSM can filter the whole page to display his own accounts only.


Filters:

You may filter the whole dashboard by any account level attribute (admin can define these attributes in the setup page).
The filters apply to everything in Revenue Center (company view, breakdowns and trends)


Breakdowns:

Clearly understand your CS priorities (with relation to a company's financials), you can view a revenue breakdown by success manager, status and health profile.


Trends:

For time based analysis, use the trends tab to analyze net retention rate, ARR overtime, and revenue summary.



You can also switch to tabular view or override different period values from the trends tab as well.


Export:

If users would still like to continue to analyze their revenue data in spreadsheets or export the data to other systems or dashboards, you can easily do so (exporting all the selected period data) with a click of the export action button.


Forecast Page
Forecasting can be done per each account or per the whole company (admin can set it up).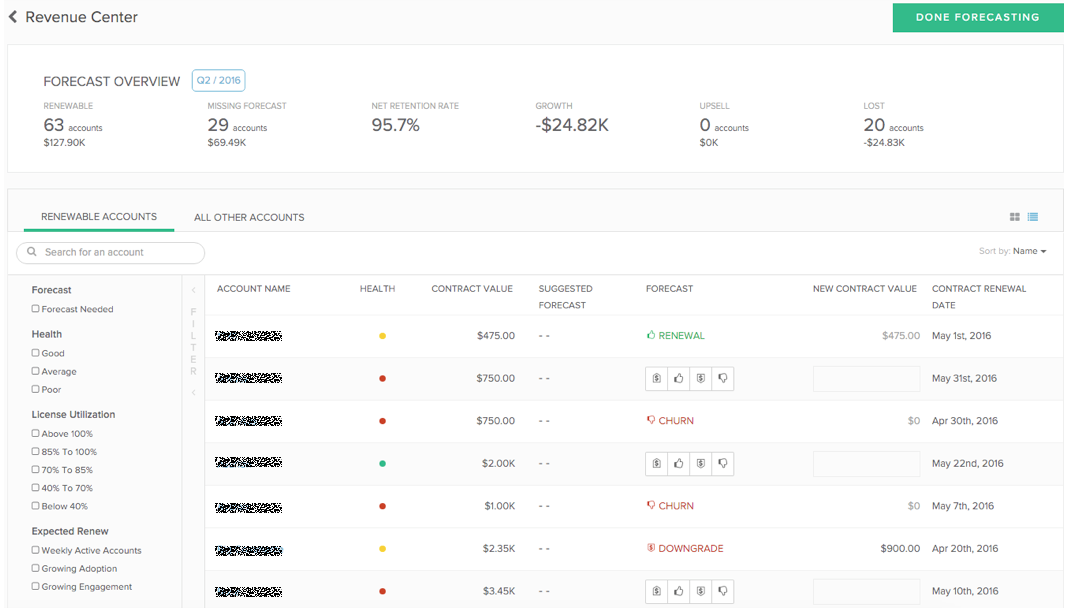 In the forecast page, you can set forecast per each account.
The accounts displayed are the ones with a renewal date for the selected period in the first tab, and other accounts in the second tab. By default, only the needed forecast accounts will be displayed.
You can review the accounts in the list, set your forecast  and the forecasted amount per each account.
It is recommended that you filter the account list first, using the filters on the left, and then set your forecast per each account.  The forecast summary header will immediately reflect any forecast you have assigned to an account.

Note: You will NOT be able to set forecast for accounts that have no contract value.|


Revenue center in your portfolio

In my portfolio page, there is a new portlet that will help you complete your forecast for the current period.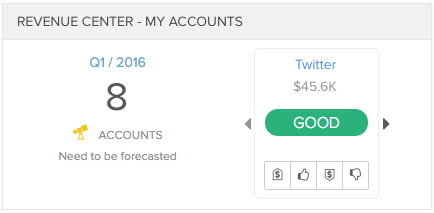 After completing all your forecast, you will be able to see all  your risks and opportunities.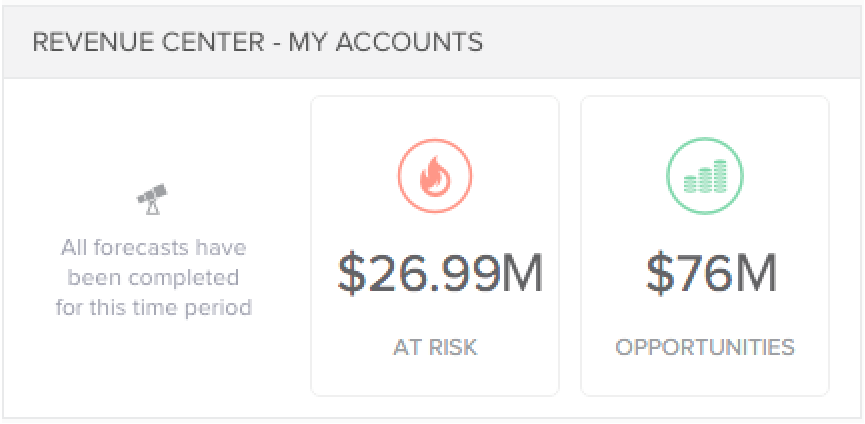 Revenue center portlet presents the data of your accounts only. The overall company data will be presented to admins.


Forecast in Account Profile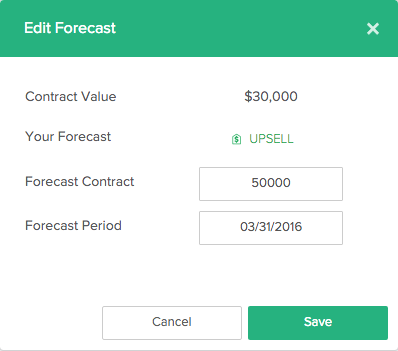 Forecast are available to you every time you reach out to your customer or just for review.
The customer forecast can be found as a smart label in the account profile.
The smart label displays the current forecasted period of your customer and notify you if the account needs to be updated. It will also let you set forecast for any period (by clicking on the smart label).


Other Resources
For more information, contact your CSM.