Overview
Email-to-Touchpoint provides a new way to record activity in Totango directly from your inbox.
Organizations and team leads interact with customers in many ways and using many different systems. Customer data and interactions need to be recorded accurately and efficiently in these systems. While email is the primary tool for customer interaction, it is important to capture this communication in other systems like Totango & CRM software.
CS teams and executives benefit from being able to record customer emails as a touchpoint directly from their email client without the need to switch between screens. The touchpoint is viewable on the account timeline within Totango.
Key Features
Record a meeting summary or touchpoint by simply sending an email to touchpoints@totango.com
Recording email interaction via cc/bcc touchpoints@totango.com
Recording customer email via forwarding to touchpoints@totango.com
Touchpoint Synchronization with Salesforce: With our integration, you can sync the touchpoint activity into Salesforce
Benefits
Save time by reducing the need to move from screen to screen
Record customer activity once and sync across your systems - no need to enter data twice!
Getting Started
There's 3 ways to utilize the Email-to-Touchpoint.
1. When you need to log a customer interaction, you can simply type your notes in an email and include the email address of the customer in the subject line. Send to touchpoints@totango.com and your notes will be recorded as a touchpoint on the Account Timeline.

2. If you want to log an important customer email (e.g. customer feedback) you can forward the message to touchpoints@totango.com and the message will be recorded as a touchpoint on the Account Timeline.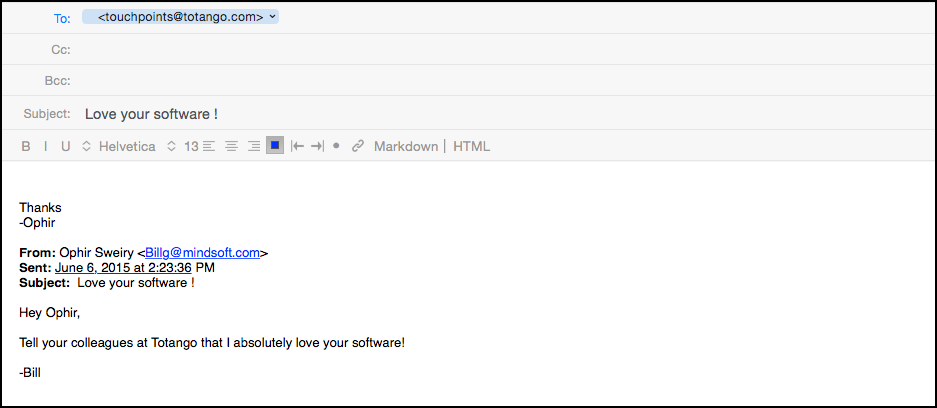 3. If an email you're sending to a customer needs to be logged as a touchpoint, you can bcc: touchpoints@totango and the message will be recorded as a touchpoint on the Account Timeline.

In the event that the touchpoint was not able to be logged because Totango could not identify the user, you will receive an email letting you know and the reason it was not logged.
Troubleshooting Error Messages
Here are 2 error messages that you may receive and how to fix them.
1) Email is associated with more than 1 account
In the event that more than 1 account have the same contacts the system determines the account to log the touchpoint in this order
Find the account that has a previously logged touchpoint in the past 1 week and log it against that account
If 1 does not yield a result the system tries to find an account that has any touchpoint logged in the past 1 week and logs the touchpoint against that account
If both of these steps don't yield a result in breaking the tie between accounts with duplicate contacts an error message email is sent back to the user.
Resolution: Make sure the user's email address is only associated to one account in Totango and resend OR log touchpoint manually within Totango.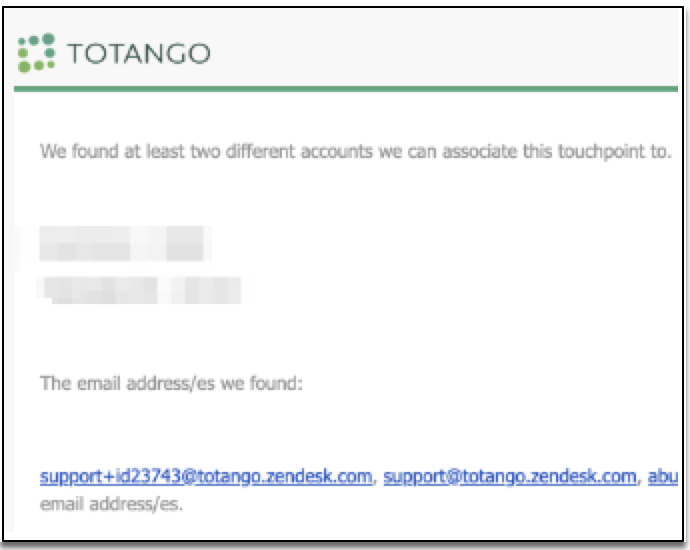 2) Email address is not associated with any account
Resolution: Make sure the user's email address matches the email address in Totango exactly and resend OR log touchpoint manually within Totango.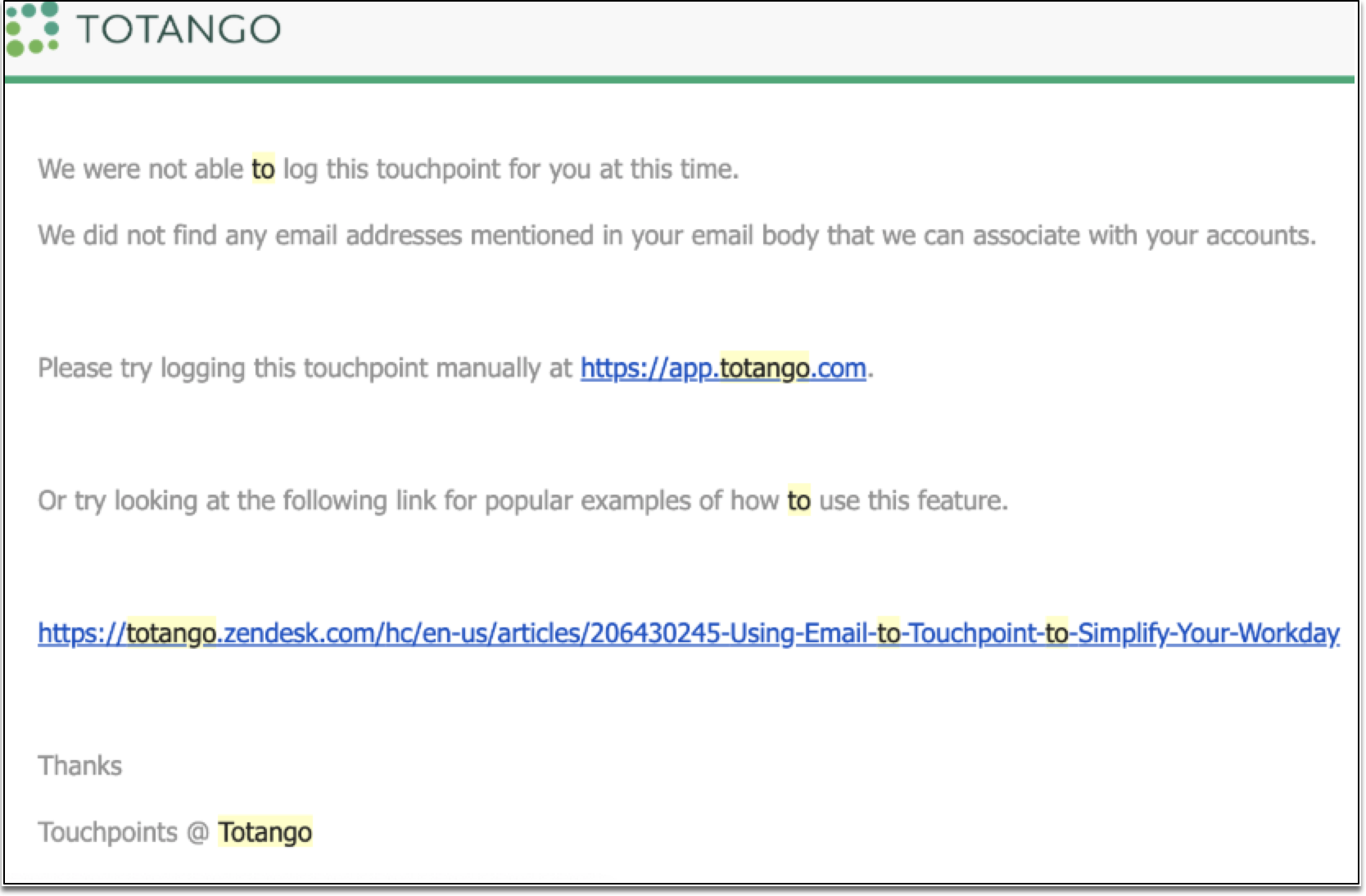 Requirements
You MUST have the exact email address of the customer (as it appears in Totango) in the "To:", "Cc:", "Subject" line or email text.
Unless you use user email as the user ID (which is case insensitive) OR all user emails in Totango are in all lower case - the email casing in the outbound email must match exactly as what is in Totango.
The customer email address must belong to a user that Totango has tracked at least once.
Touchpoints are recorded in plain text and attachments are not recorded
The sender of the email must be a user with a Totango login.
This feature will only record the most recent reply in the thread, anything below the first detected signature will not be included.
Emails sent must be properly encoded as UTF-8 otherwise some characters might not appear right in the Account timeline.
Touchpoint will not be recorded for an email that has + extension.
FAQs
Question: How can I change the SuccessFlow that email touchpoints are logged under?
Answer: Touchpoints created via Email-to-Touchpoints are automatically logged under your instance's default SuccessFlow.
---
Question: Why is my touchpoint not saving and I have not received an error message?
Answer: If your email was empty, it will not log a touchpoint.
---
Question: I am getting an error message that the email is associated to more than one account, but I only see it associated to one account.
Answer: If you keep contacts at multiple levels of your account hierarchy (parent and child for example), this will be counted as multiple accounts and the touchpoint will not be logged.
---
Question: What if I am sending the email to the customer and BCC'ing touchpoints@totango.com, but I am not the account owner. Will the touchpoint still be logged?
Answer: Yes, as long as you are a Totango User.