Customer Success Campaigns
Totango Customer Success Campaigns is a new customer success engagement and customer success marketing tool that brings the power of user communications directly to the Totango platform.
With Customer Success Campaigns by Totango, email automations and traditional campaigns have never been easier.  Some of the benefits include:
Programmatically affect customer health or impact user behaviors with hand crafted messages and content automatically personalized for each user.

Scale 1 to Many programs by leveraging email engagements.

Push messages/content to the right audiences at the right time.

No need to build or configure integrations with email marketing tools.

Use the richness of account and user data already in Totango in order to have a more targeted customer success marketing program.

 


Why Campaigns?
Communication and active engagements with your customers are both key to retention and often the gateway to upselling. However, scaling the appropriate engagement model can be a major challenge. By automating some of this communication, you will be able to drive desirable user behaviors or improve customer health at scale via beautifully crafted and personalized emails.
Previously, organizations were required to coordinate with other departments, rely on third party integrations, and weave together data in a messy spreadsheet just to be able to send emails and measure outcomes. With Totango Campaigns, this can now all be done within Totango.
Feature Capabilities
Powerful Segmentation.

Segment your users without having to export/import data to a different system.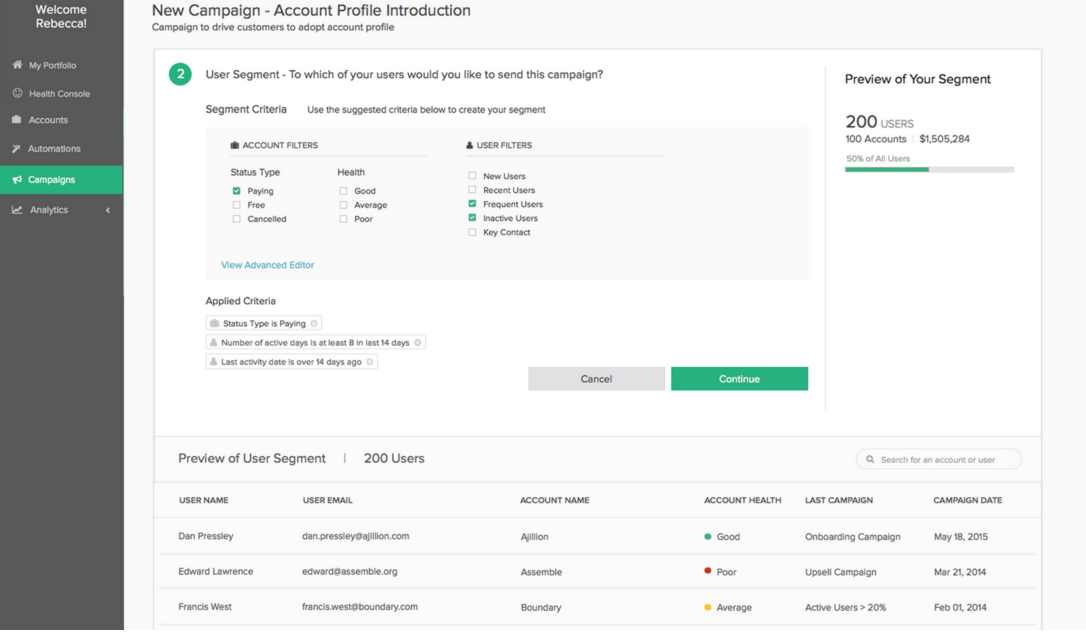 Account-level and user-level campaigns.

Send a campaign to Key Contacts of an account or to all end-users.

Personalize with Data.

Insert custom data points that are being tracked within Totango in order to truly personalize your emails (limited). Just type "$" in the editor and select from a list of attribute variables you'd like to insert.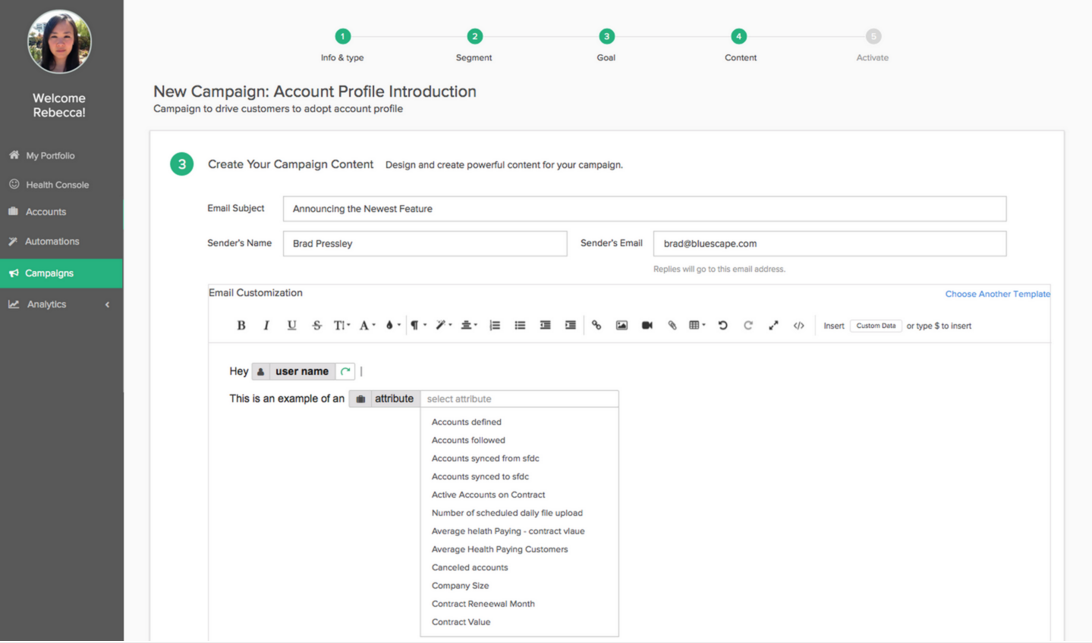 Beautiful templates.

Customize your emails with beautiful templates that are provided out of the box. You don't have to be a marketer to configure a beautiful customer success campaign. Just select the template you prefer in our campaign editor and update the artwork to match your message.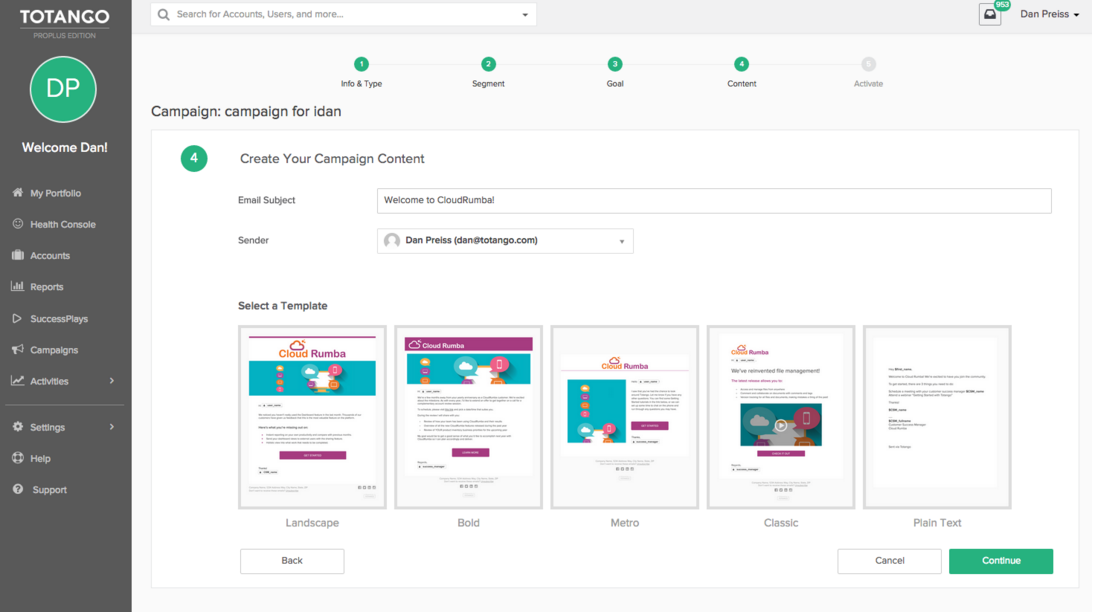 Goal Effectiveness.

Visualize, track, and measure the impact of your campaigns by identifying desired outcomes. Track true effectiveness of the message and amplify messages that work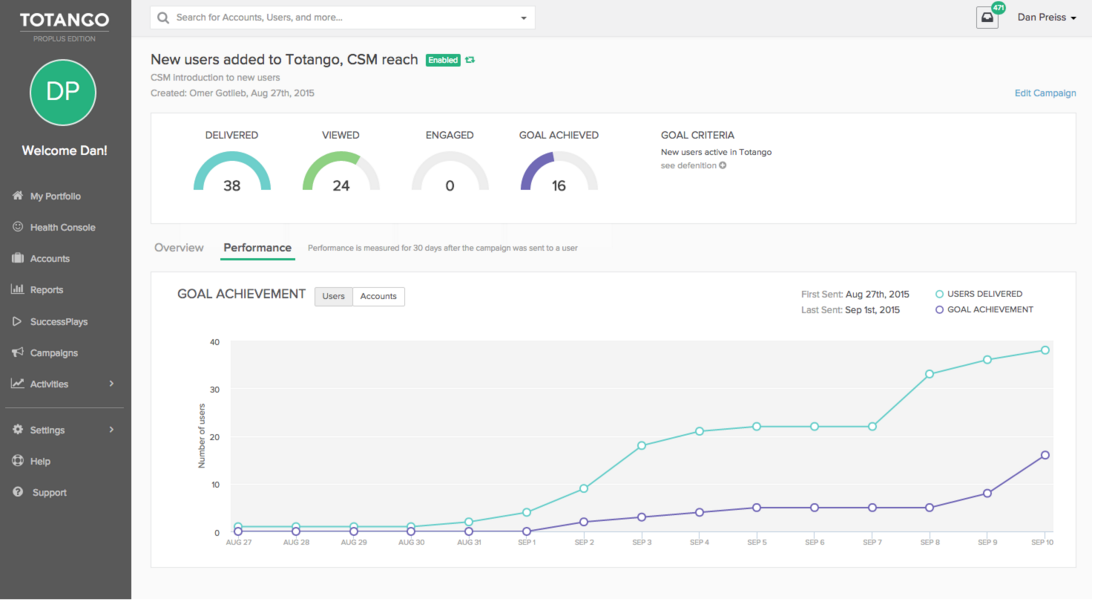 Getting started
Campaigns can be configured and sent by a Totango Admin.  However, all other users of Totango are able to navigate to the campaigns left navigation menu and view campaigns that have been configured.  These users won't be able to make changes to campaigns.
As a Totango Admin, you are also able to configure some basic campaigns settings by navigating to the campaigns settings area in the application.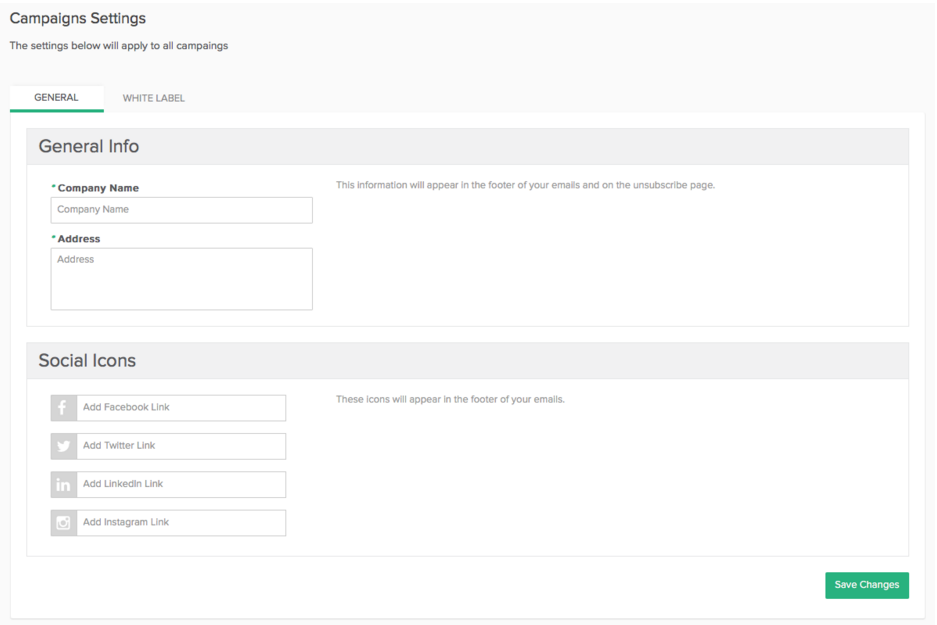 Additionally, you can configure white labeling of emails that are sent by Totango. Our default configuration will transmit campaigns from Totango directly to your users, however the "from" email address will be listed as campaigns@totango.co (not .com). As a best practice, we recommend that you update this default configuration and whitelabel Totango campaigns to your company email address.  If you choose to do that, just follow the steps in the "White Label" section of campaigns configuration area.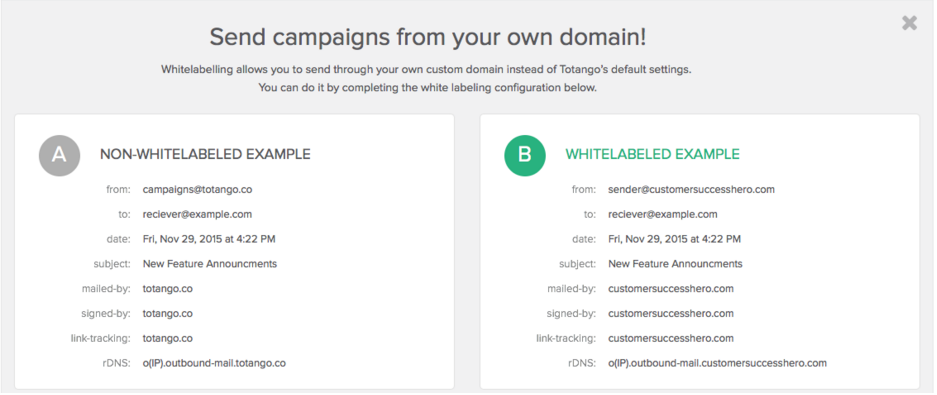 Enter the white label domain information in the settings screen and click "Save Changes".  After that, update your domain registrar with records and data that are presented to you by Totango application. You must validate the update with your domain registrar via Totango by clicking "Validate".  You will not be able to turn whitelabeling on unless all updates have been validated.
Once your click Validate, Totango will check your DNS records for relevant values. Please note: Depending on your DNS provider, changes you make may take up to 24h to propagate through the Internet. 
Note that some AdBlock Plus browser add-on filter subscriptions might block some areas of the Campaigns settings. Known filters are Fanboy's Social Blocking List.
Which User Attributes to use
You should make sure that user data in Totango includes information about user's name and email address. Consult your customer success manager if you need to update this data. Totango Campaigns requires a user email address so that we know who to send the message to.  It is also best for you to address the user by name - this is why we recommend that you load names of your users as well. Don't worry, later in this article we will show you how to configure the fallback for situations when some of your user attributes are not available.  Email is always required.  Do not sync names to the "Name" user attribute for the purposes of campaigns.  "Name" refers to the display name of the user. Use the "firstName" attribute for personally addressing your users.
You can also sync your previously collected marketing unsubscribe preferences to Totango so that users who have set those preferences via your marketing automation system don't get Totango Campaigns.  This is not the best practice because customer success campaigns are not coming from the same channel as your marketing communications.  Therefore, a user who unsubscribed from your marketing program emails should not be automatically unsubscribed from your customer success communications.  However, if you make this decision against our recommended best practice, you can populate a "yes" value to "Marketing Unsubscribe" user attribute. As a result, users with this attribute set to "yes" will be excluded from all of your campaign audiences.
Please be advised that Totango offers its own unsubscribe functionality and we will keep track of these user preferences separately from your previously loaded marketing unsubscribe preferences.
Step 1 - Create the campaign
You are now ready to create your first campaign.  Customers on Totango Pro Plus edition have access to create unlimited number of campaigns. However, customers on Totango Professional edition have access to one campaign, after which they can request information on how to upgrade.
Just navigate to "Campaigns" area of Totango and click "Create Campaign". Then follow our wizard in order to configure a campaign you'd like to send to your customers.
You will provide campaign name and description, and then select the type of campaign you would like to run.  We came up with some common campaign names, but feel free to create your own as well.
In the second step, you will need to select a segment of customers to whom you'd like to send the campaign. Click "Edit" next to Segment Criteria section and apply account or user segmentation for your campaign audience. You will be able to preview the users in the segment you configured below.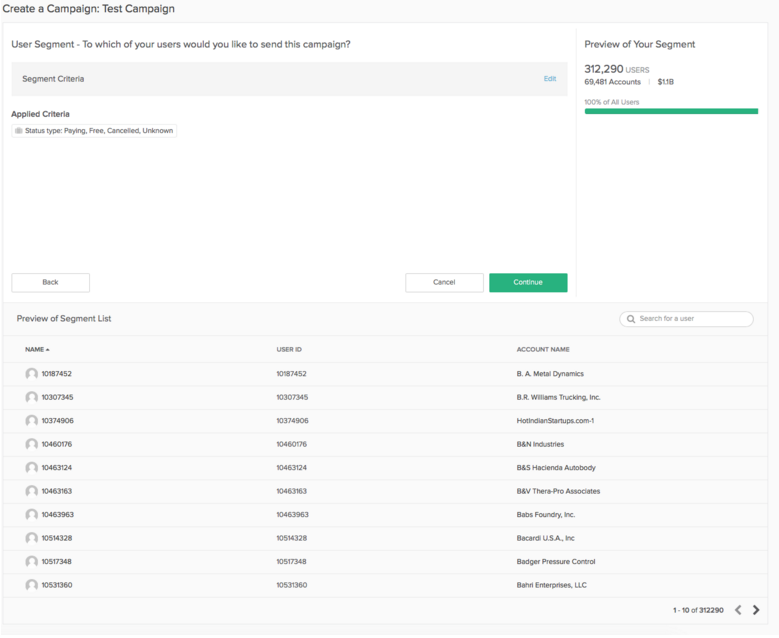 Step 2 - Set goal achievement criteria
One of the key advantages of using Totango Campaigns is ability to set goal achievement criteria that are more meaningful than your vanity marketing metrics.  For example instead of focusing on clicks and views, you will now be able to take a true customer success perspective and measure changes in user behavior towards the goal you are trying to achieve. This is where setting a goal comes into play.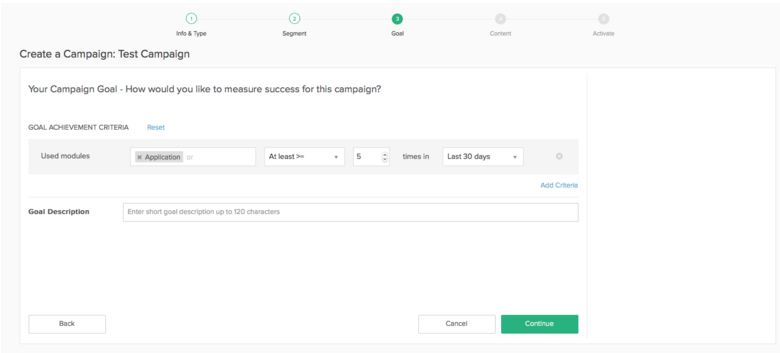 Step 3 - Define Campaign Content
In the next step, you will create content for the campaign you'd like to send.  You will configure email subject and sender, as well as select the template you'd like to use. You can configure sender by either role or by a specific individual user in your organization.  Configuring the sender by role will make the sender dynamic with respect to each user or account that receives the campaign. Doing so by users, will send a campaign to everyone from the same sender.
You can then use the editor on the left in order to edit the message content and other components of the campaign. When you are ready to preview the campaign, click the preview button.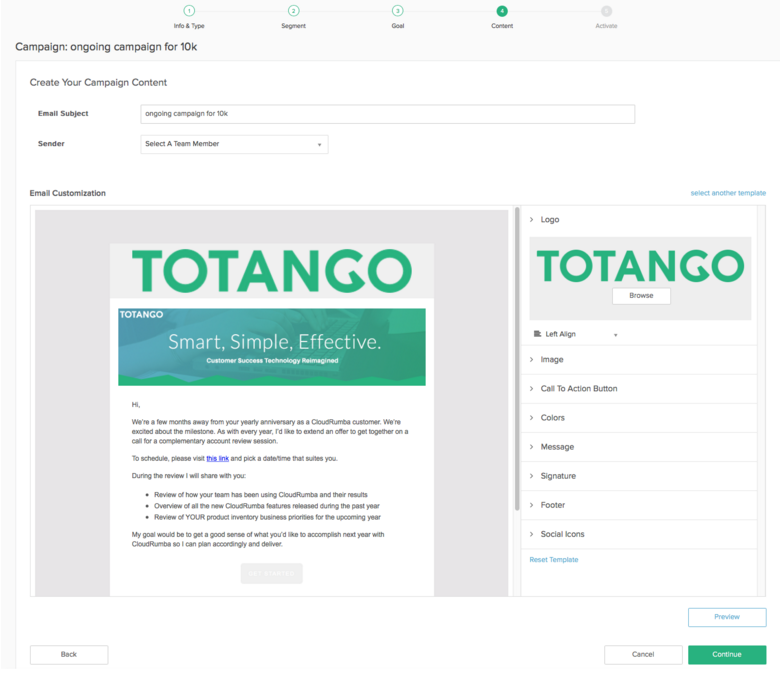 Step 4 - Activate/Schedule
Last but not least, you can activate the campaign or make it ongoing and schedule it. Ongoing campaigns are sent to users in real time as they enter the segment of users that you have defined. One-time campaigns are only sent once to the population of users that are in the segment you defined, as of the time you have deployed this campaign.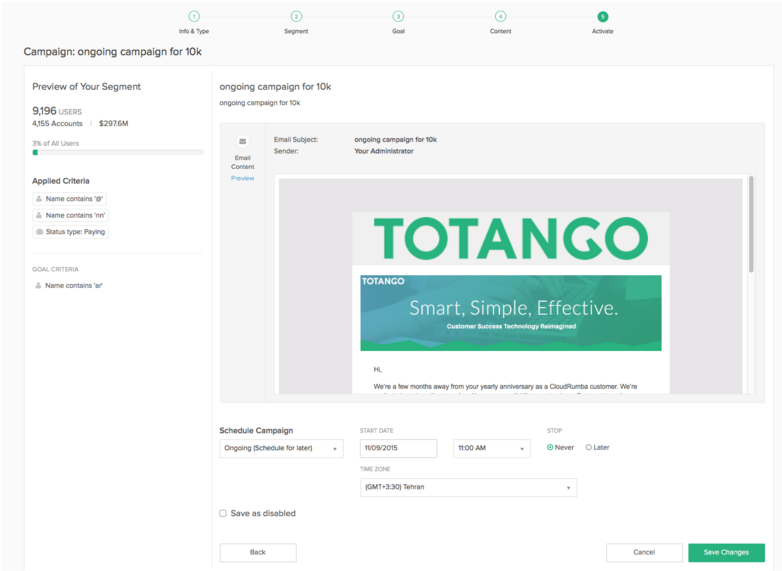 FAQs
---
When the segment criteria on an ongoing campaign is edited, do emails get sent again?
No, the emails are sent only to people who qualify for the new criteria, who did not already receive the email.
---
If a user enters the segment of ongoing campaign again, is the email sent again?
No, an ongoing campaign is sent to a user only once no matter how many times the user exits and enters the segment criteria.  
---
If a user exits and enters the segment of a recurring campaign again before it is scheduled to be sent, will the email be sent?
Emails from a recurring campaign are only sent when they are scheduled to be sent. In this case, since the user enters the segment before it is scheduled to be sent, the email will not be sent immediately. Eventually, if the user continues to stay in the segment when the campaign is scheduled to be sent, then the email will be sent to the user at that point.
---