Campaigns Overview
Totango Customer Success Campaigns is an engagement and marketing tool that brings the power of user communications directly to the Totango platform.
With Customer Success Campaigns by Totango, email automations and traditional campaigns have never been easier. Some of the benefits include:
Programmatically affect customer health or impact user behaviors with hand crafted messages and content automatically personalized for each user.

Scale one-to-many programs by leveraging email engagements.

Push messages/content to the right audiences at the right time.

No need to build or configure integrations with email marketing tools.

Use the richness of account and user data already in Totango in order to have a more targeted customer success marketing program.
Why Campaigns?
Communication and active engagements with your customers are both key to retention and often the gateway to upselling. However, scaling the appropriate engagement model can be a major challenge. By automating some of this communication, you will be able to drive desirable user behaviors or improve customer health at scale via beautifully crafted and personalized emails.
Previously, organizations were required to coordinate with other departments, rely on third party integrations, and weave together data in a messy spreadsheet just to be able to send emails and measure outcomes. With Totango Campaigns, this can now all be done within Totango.
Key Features
Create a new campaign from an existing SuccessBloc or from the Campaign navigation link in the Tools menu.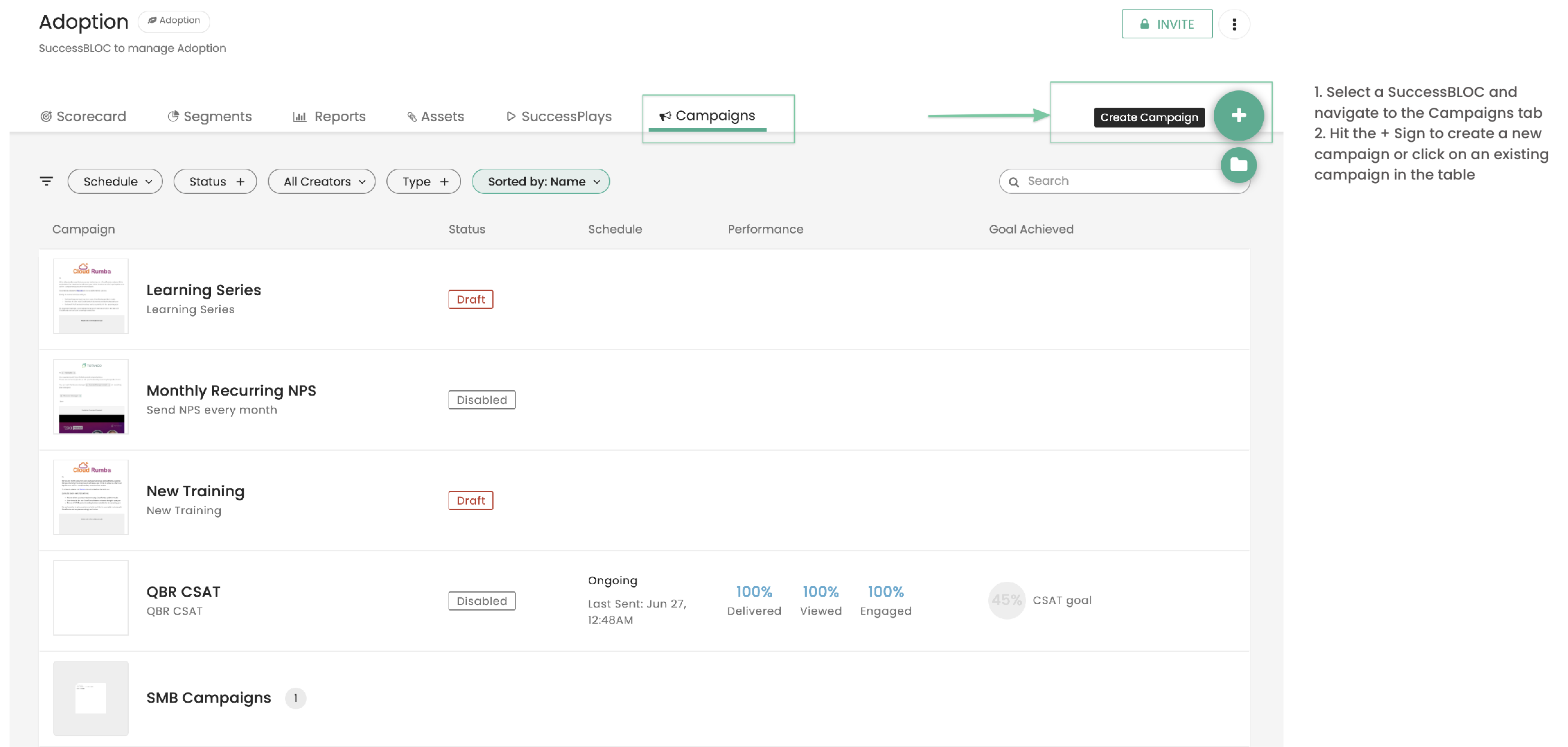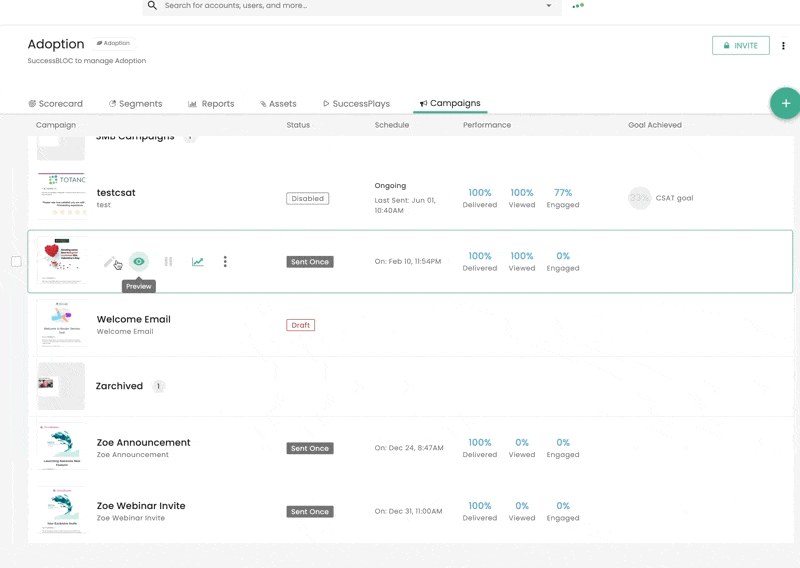 Take quick actions from the list page on hover.
Edit to edit a campaign
Hit Preview to preview a campaign
Hit the Play icon to enable a campaign
The campaign performance icon takes you to the performance page of the campaign
Preview Campaigns.
Click on the Preview icon to preview all the campaigns in the list. You can filter the list and the preview only shows campaigns in the filtered list.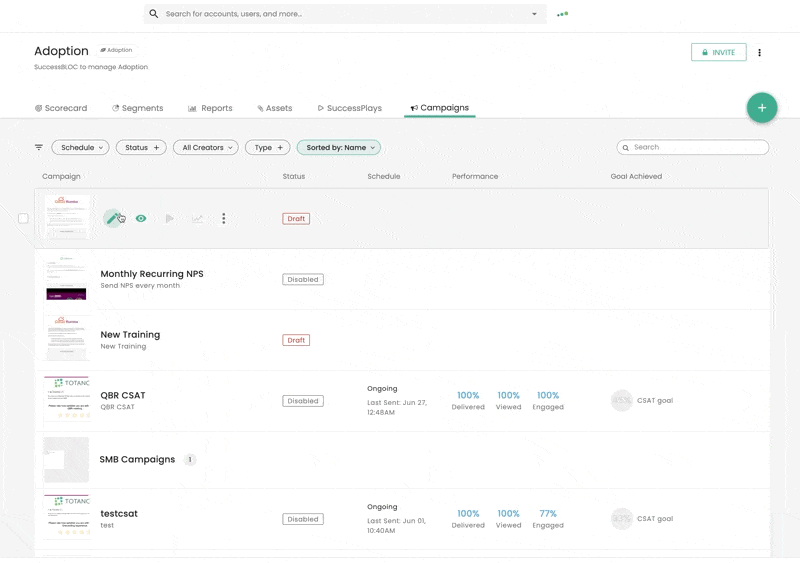 Powerful Segmentation.
Use Segments to define the customer group with which to communicate, without having to export/import data to a different system.
Send a campaign to Key Contacts of an account or to all end-users.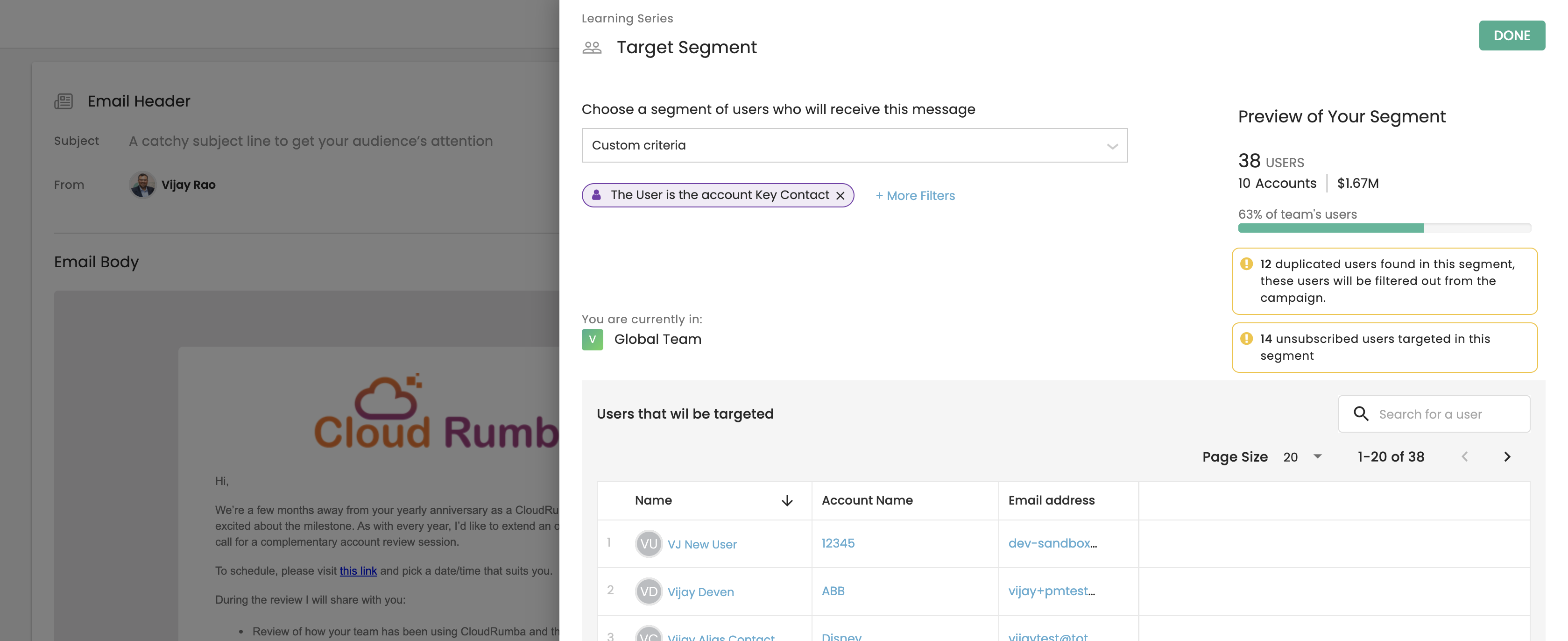 Personalize by defining your organizational design theme once
Define your organizational design theme once in Global Settings > Campaigns > Theme tag
Setup your logo, font type and background colors. Also define your button colors and if you want your buttons to be rounded or rectangular. This design theme will be defaulted to every campaign you create but you obviously have the choice to override it if you wish on a campaign by campaign. basis.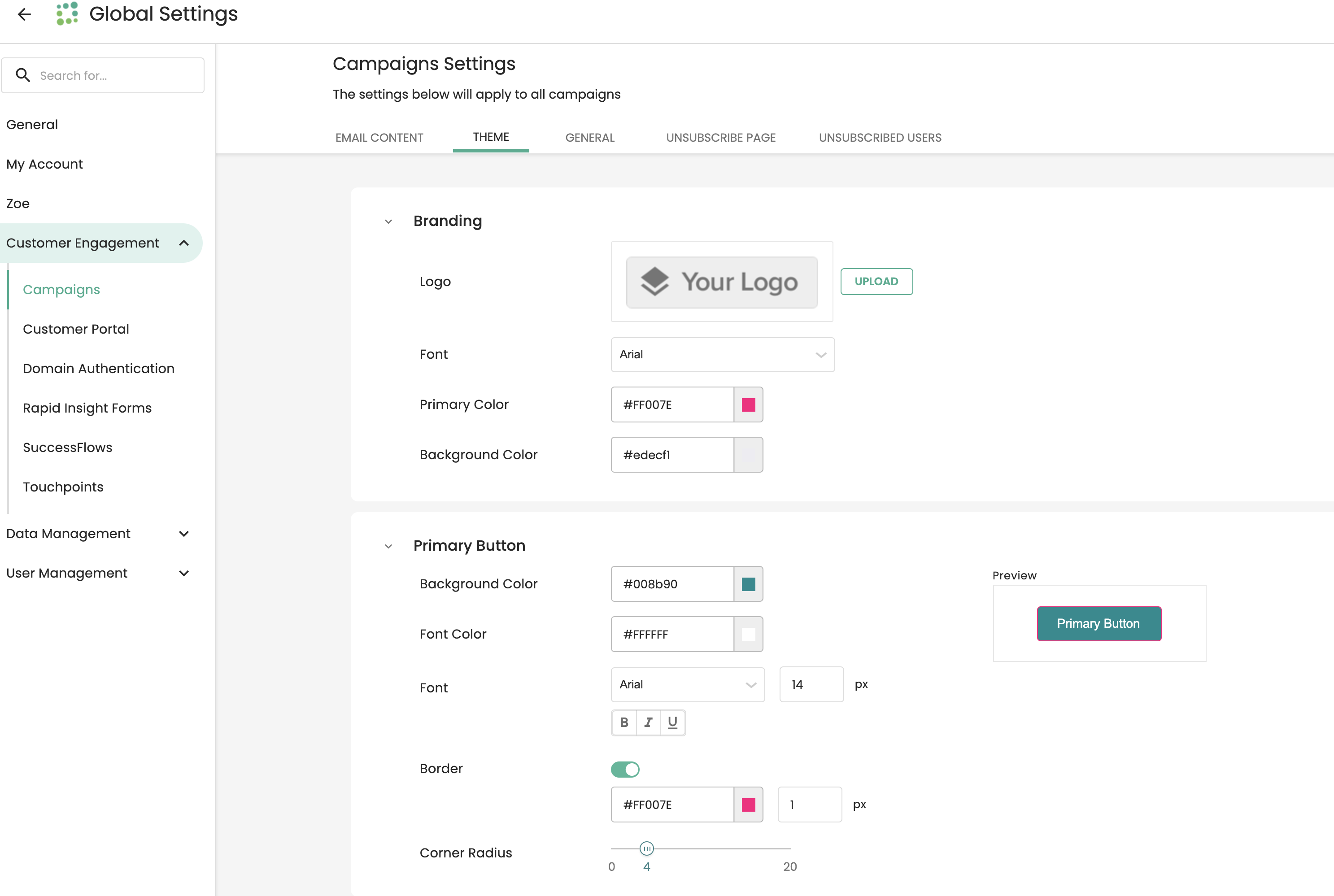 Personalize with Data.
Insert custom data points that are being tracked within Totango in order to truly personalize your emails (limited). Just type "$" in the editor and select from a list of attribute variables you'd like to insert.
Send the campaign from a specific person or from an account assignment role, create personal signatures and of course, white label your campaigns so that they come from your domain.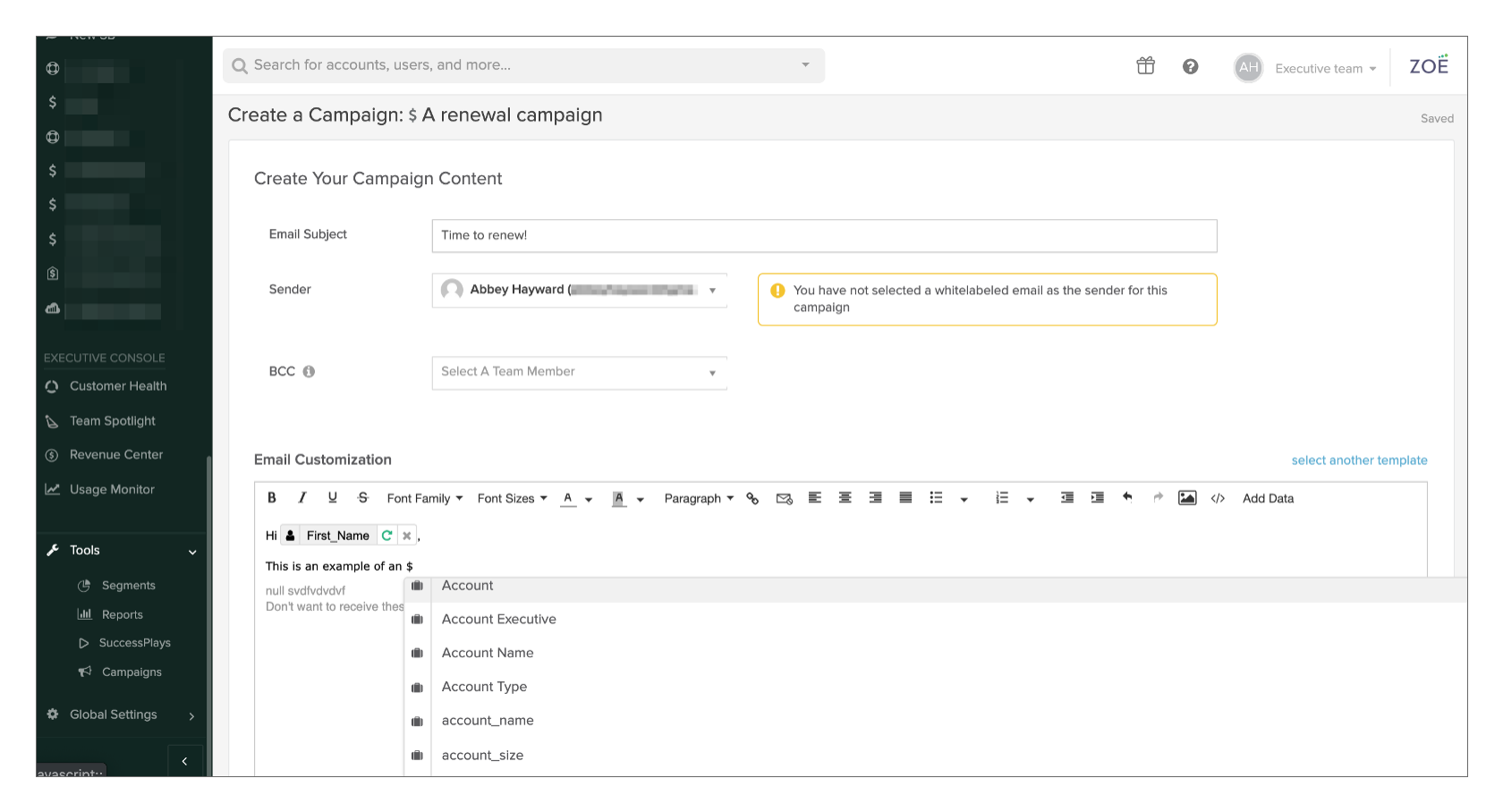 Beautiful Templates.
Customize your emails with templates that are provided out of the box. You don't have to be a marketer to configure a beautiful Customer Success Campaign. Just select the template you prefer in our campaign editor and update the artwork to match your message.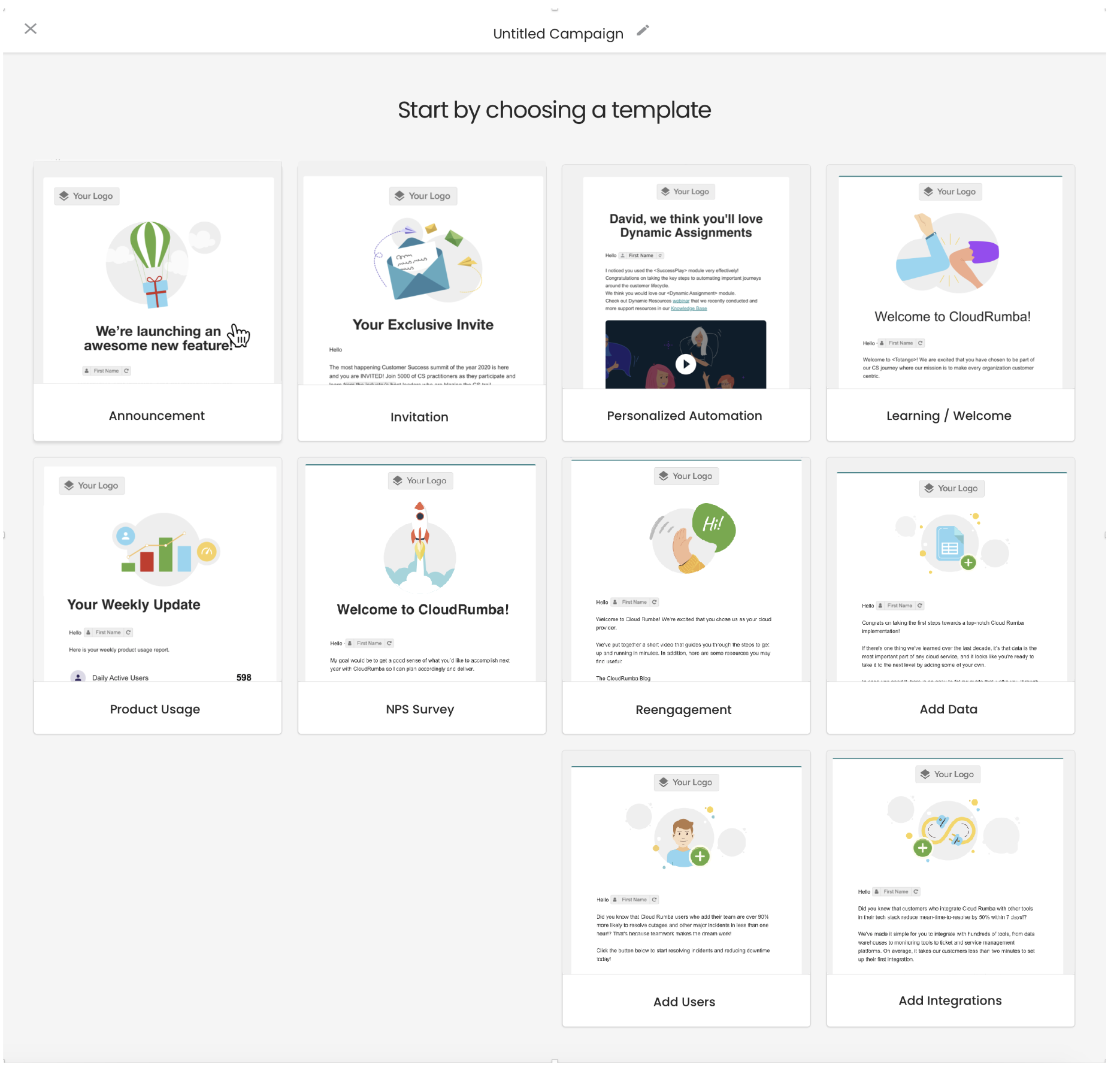 Goal Effectiveness.
Visualize, track, and measure the impact of your campaigns by identifying desired outcomes. Track true effectiveness of the message and amplify messages that work.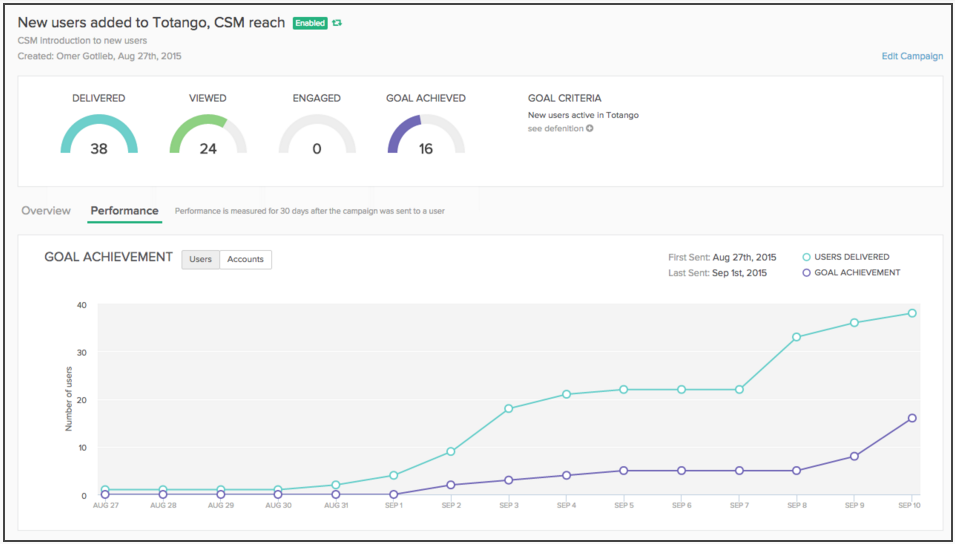 Flexible Scheduling.
Schedule your campaign in a variety of ways - sending immediately or at a later date, ongoing as users enter the campaign segment, or on a recurring basis.
Getting Started
Campaigns can be configured and sent by a Totango Global Admin, any Role that has been given specific permission to access "Tools" or the creator & collaborator of a SuccessBLOC.
Make sure you have the basic required user data in Totango.
Send!
Filtering Campaigns with no activity
Sometimes campaigns may be enabled but may not be sending emails for various reasons due to errors in Segmentation. The "Filter campaigns with no activity" filter should help you identify campaigns that have delivered 0 emails in the chose timeframe.