Overview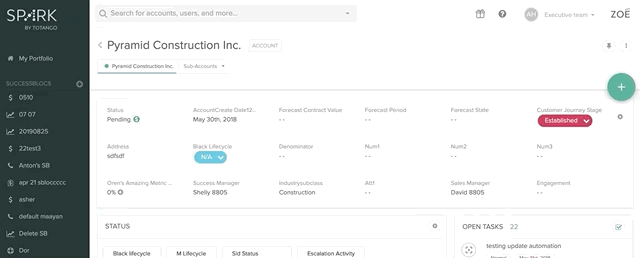 The Account Profile is the hub of customer data and lets your organization consume the most important customer information at a glance in a simple, modular way. Quickly understanding the customer state and taking action based on those insights.
It is customizable by account type and/or by team, allowing you to tailor the most important information to see for that account and that team.
Key Features
Customize a variety of cards to display the most important customer metrics.

Quickly understand the 'why' behind customer health.

See your top users, how they engage with your application, and how much they use it.

See customer statistics such as company description, number of employees, location, and link to all the customer social sites.

See Key Contacts and Account Assignment team members at a glance

See and manage all customer Touchpoints and manage your Tasks

Run SuccessPlays and save important Assets related to the account

Click on Recently Changed to see the recent changes on Account Profile
Account Profile Key Components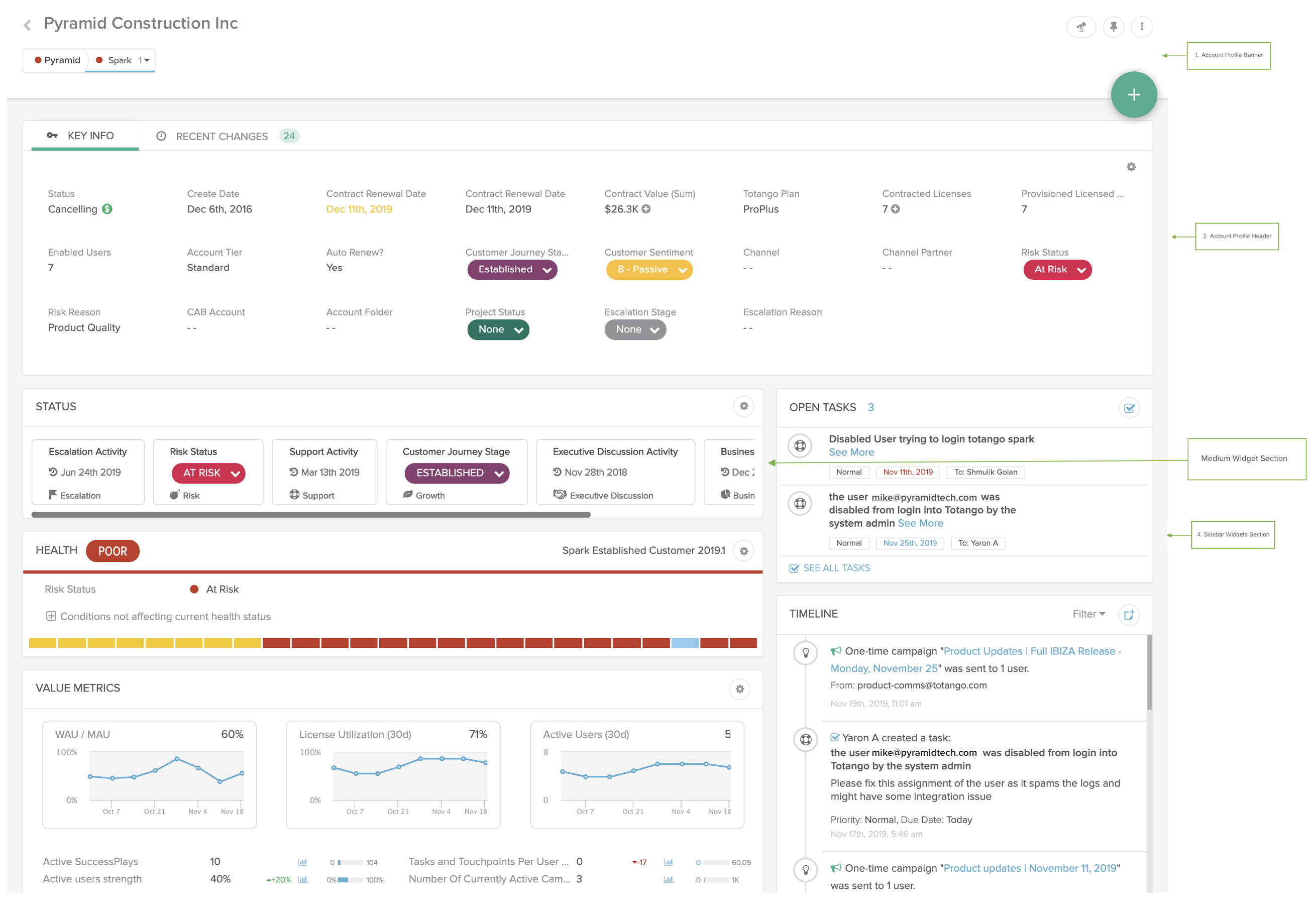 The Account Profile Banner displays the account name and level in the hierarchy, allowing the user to quickly access all related parent and sub-accounts.
The Account Profile Header - A customizable set of key information related to customer status, creation and renewal dates, contract value, etc.
Customizable set of Widgets section with cards detailing the Customer's Health , Totango Value Metrics, company information, User Leaderboards or any set of customized Collections
A set of

customizable

Sidebar Widgets to make accessing information faster, including

with work and action based cards such Growth Opportunities, Assets, Active Campaigns, account Timeline or Key Contact.

At

the bottom of every Account Profile is a complete and in depth look at the aggregate information seen in the widgets and cards. Here you can view all customer items related to User Activity Stream, Tasks and Timeline information, all current attribute values and historical trending, as well as Campaigns that have targeted the account.
Actions
Quickly add Tasks, Touchpoints, Assets, Request Information or Run SuccessPlays from the actions menu.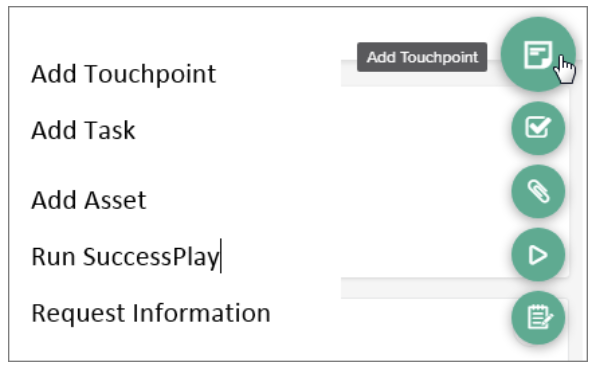 Learn more about how to customize the Account Profile.
Recently Updated Tab
The Recently Updated tab on Account Profile shows the changes to every Account Profile that happened in the Last 1 / 7 / 14 days. The default is "Last 7 days". The badge text shows the number of attributes that have changed for the specified period.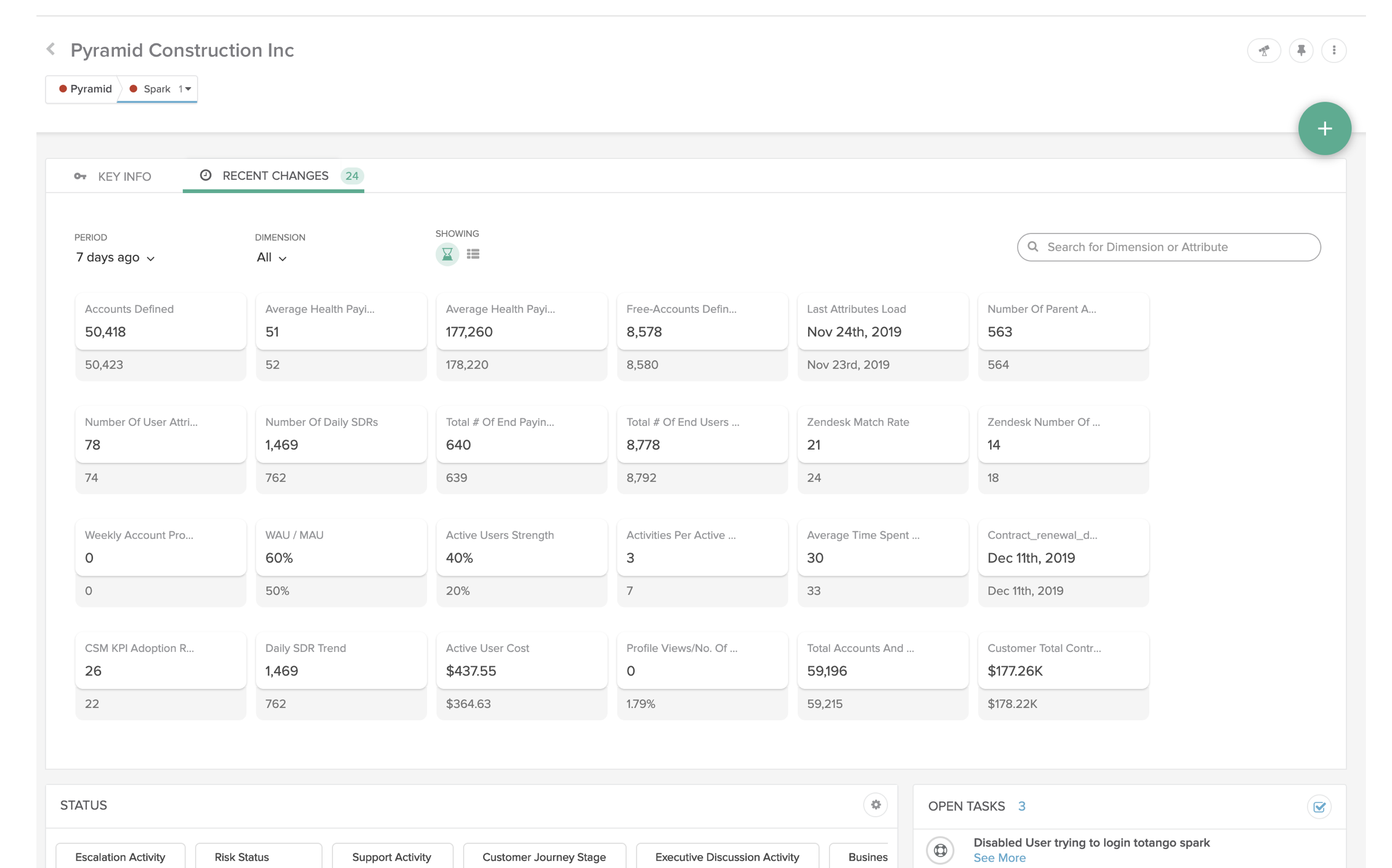 The system shows the attributes and metrics that changed on an account in the chosen period. The current and previous value are shown together.
This data is refreshed daily.