Note: This feature will be available on the ProPlus edition of Totango.
Summary
SuccessPlays are automatically triggered set of tasks that an organization can configure in order to improve team workflows so that CSMs are focused on the meaningful activities at the right time.
Feature Description
Organizations and team leads will benefit from being able to define their business processes within Totango and in order to implement consistent CS activities across their team so that fewer accounts can slip through the cracks.
Companies lose customers for many different reasons throughout the customer lifecycle. Often times a company can intervene and reduce losing a customer if the appropriate action is taken. These intervention efforts and business processes are typically defined within a customer success organization, however, without a system in place they are impossible to enforce.
Totango SuccessPlays will give organizations the ability to standardize the workflow and achieve consistent and effective delivery of services in order to both increase the scale of a team, as well as reduce churn.
Feature capabilities
Automatically assign tasks to team members. When accounts fit a pre-defined criteria, a set of tasks can be triggered and assigned to the right team members. Multiple tasks can be created within a SuccessPlay and have different due dates and owners. 
Use Totango provided best practices immediately. Totango has provided a few that we feel are best practices in Customer Success that you can begin with and edit in order to cater to your business needs.
Periodic Account Reviews -- More than 90 days since last Quarterly Business Review.
Post-Onboarding Training -- CS executive to reach out to sponsor 30 days after onboarding is complete.
Upsell Opportunity -- Identify accounts with high usage and license utilization in order to upsell.
Kick-Off Renewal Plan -- Identify any roadblocks or growth opportunities to present to the customer and secure the contract renewal.
Benefits
Get started immediately by leveraging Totango recommended CS best practices with pre-built SuccessPlays available out of the box.
Helps CSMs prioritize and focus attention on the right customers at the right time.
Allows companies to scale their customer success teams quickly.
Standardize adoption of business process across the CS organization. 
Getting Started
Create SuccessPlays.
Click on SuccessPlays in the main navigation on the left-hand side of the application.
Totango has provided some Recommended SuccessPlays that you should consider implementing as best practices.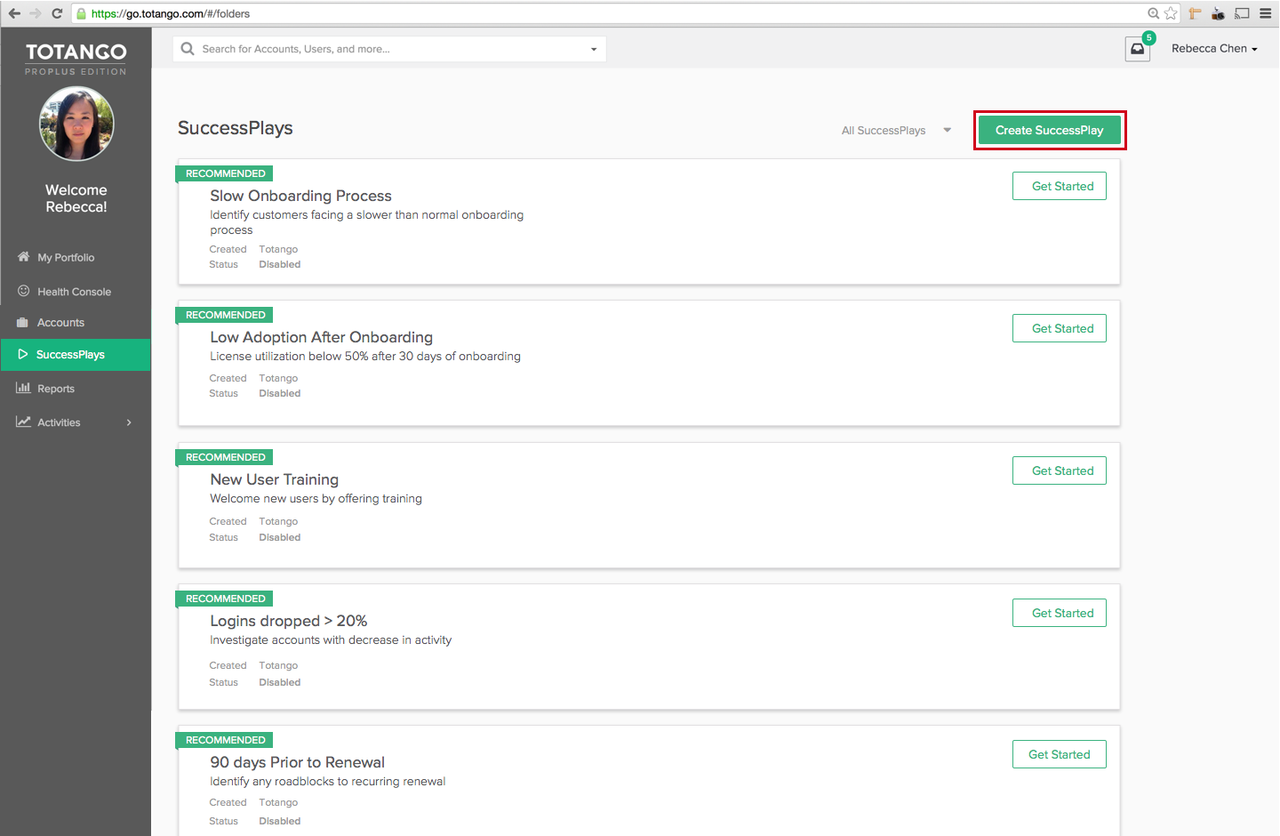 Segment your accounts using the new Segment Builder. 
Quick Filters make it easier to identify accounts that may be opportunities for upsell or at-risk for churn.
Watch Segment Summary Information such as health and contract value update in real-time as you add criteria.
Advanced Editor gives you the ability to segment your accounts similarly to Active Lists.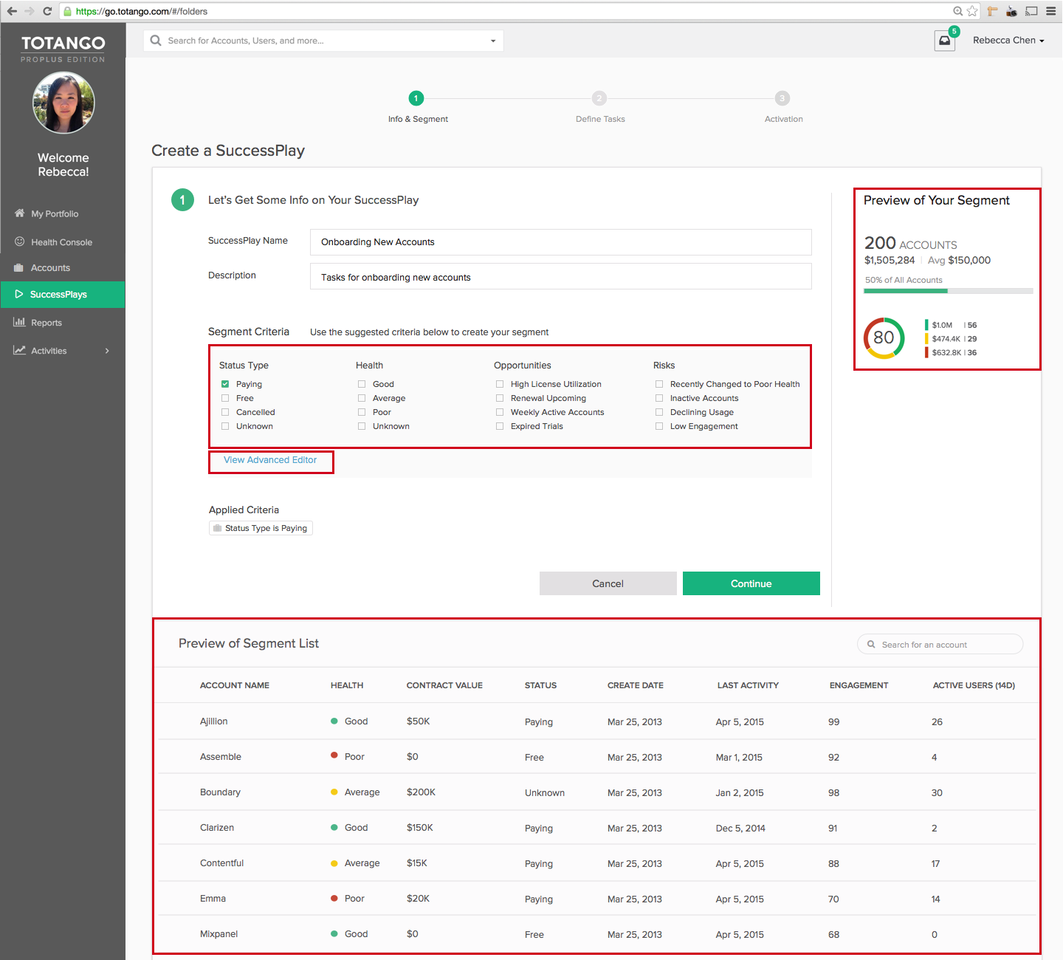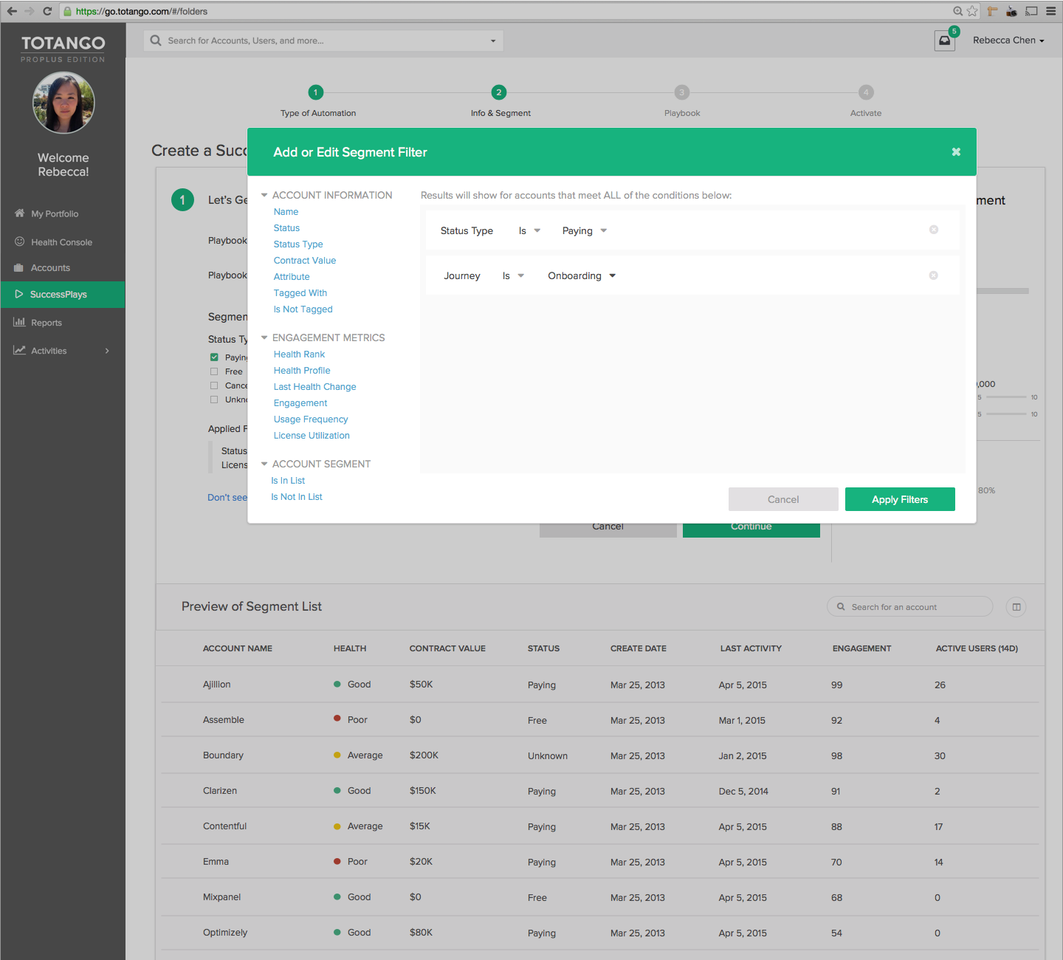 Task definition
Dynamic task assignment -- You will be able to create a series of tasks under a singleSuccessPlay. Task assignment can be set at the role (e.g. Success Manager) so that you can create a single SuccessPlay that would run for the entire team. If no Success Manager is assigned to the account, then the task will be assigned to the creator of the SuccessPlay.
Assign different tasks to different team members so that you can escalate accounts to multiple people.
Create multiple tasks within a SuccessPlay and define the # of days in which the tasks should be due after initial creation.
Tasks can be triggered on entry or exit of a Segment.
Retroactively create tasks for accounts already in the segment you've defined and not just new accounts that enter the segment.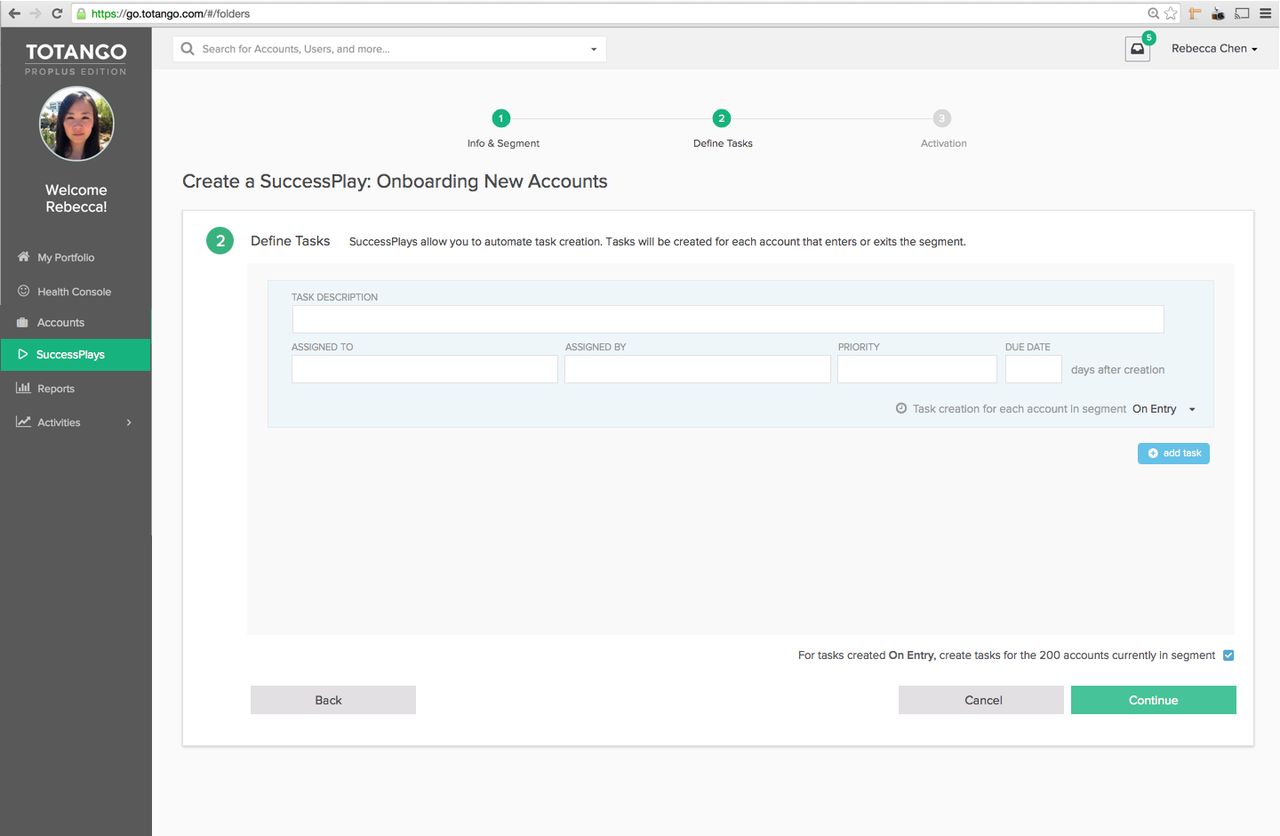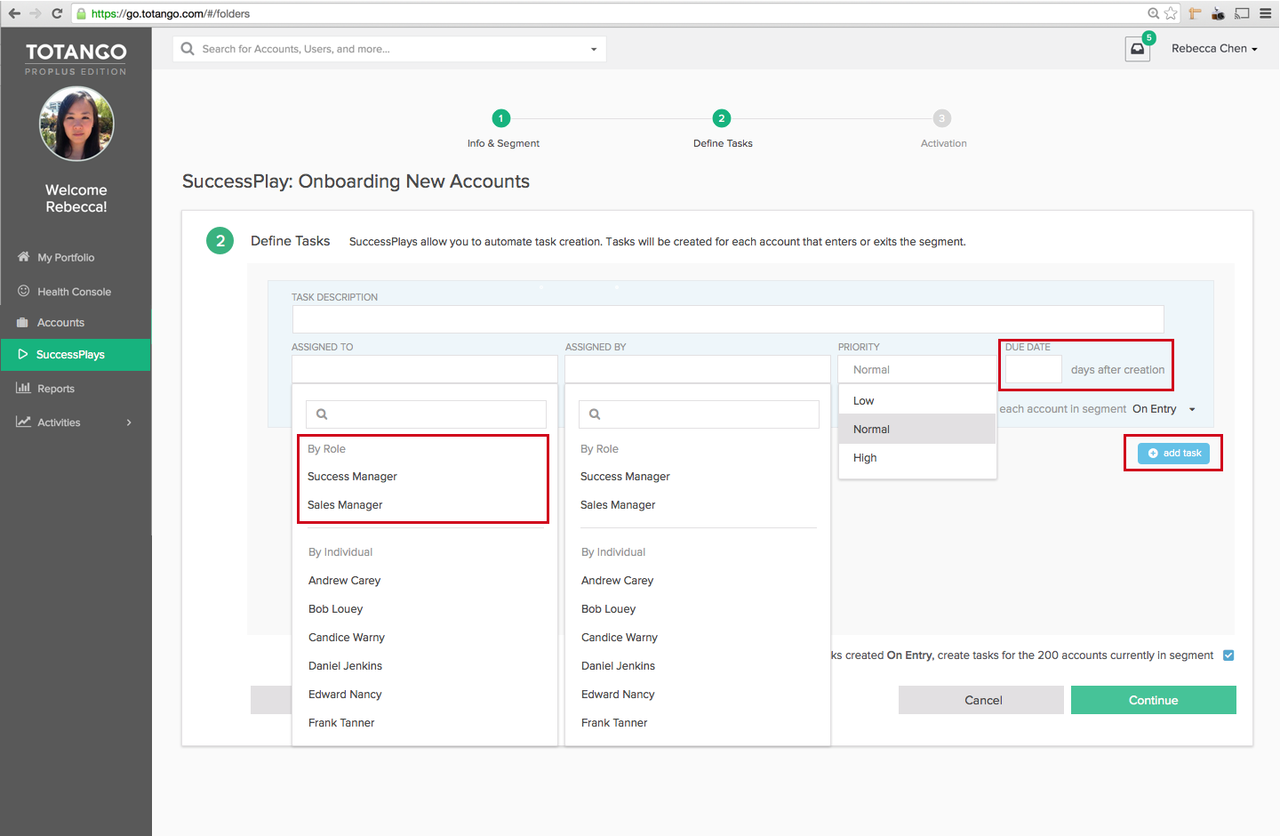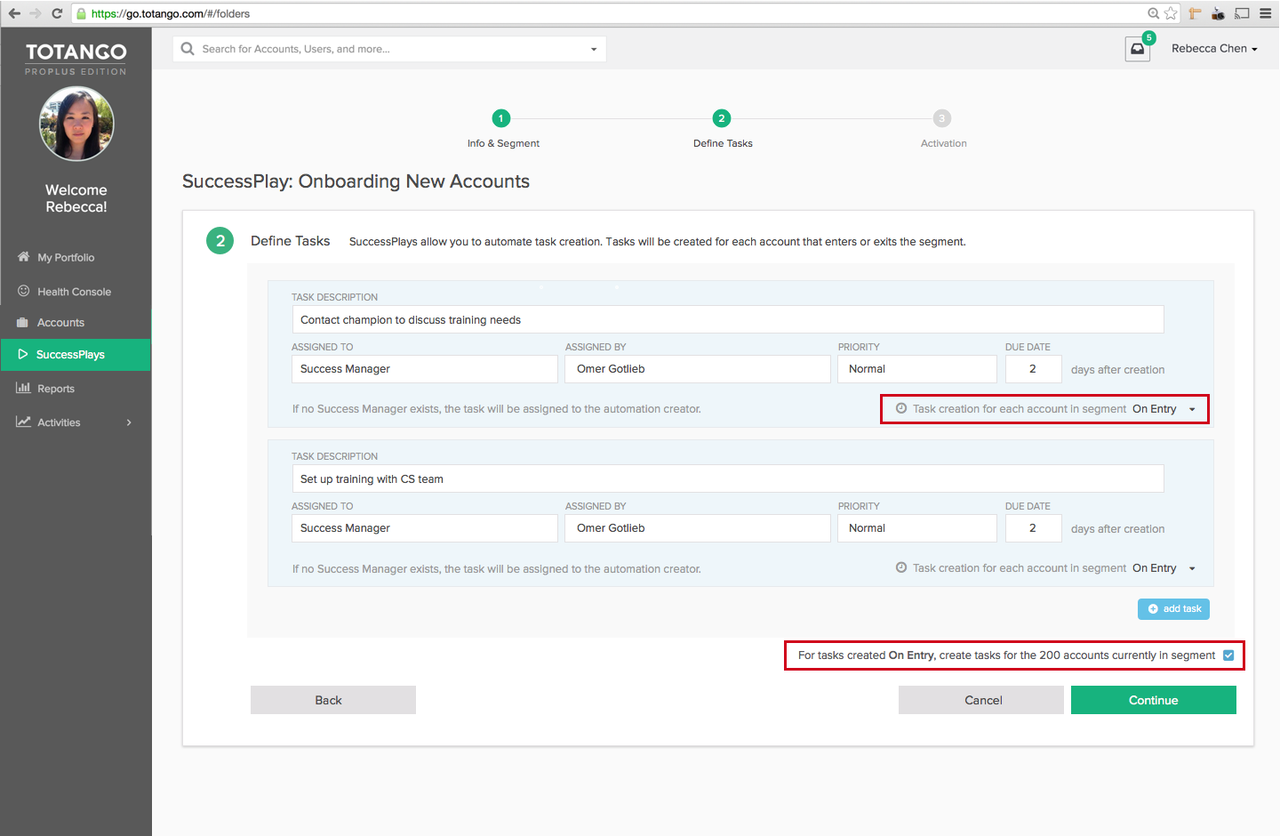 Review your SuccessPlay before you activate.
Lock a SuccessPlay so that only you and other admins will be able to edit/disable/enable your SuccessPlays. This will prevent any business processes from being edited.
If you Enable your SuccessPlays that will retroactively create tasks for accounts already in the segment, you will receive a warning. Please be sure that the SuccessPlay has been properly defined as we do not currently support batch editing/deleting of tasks.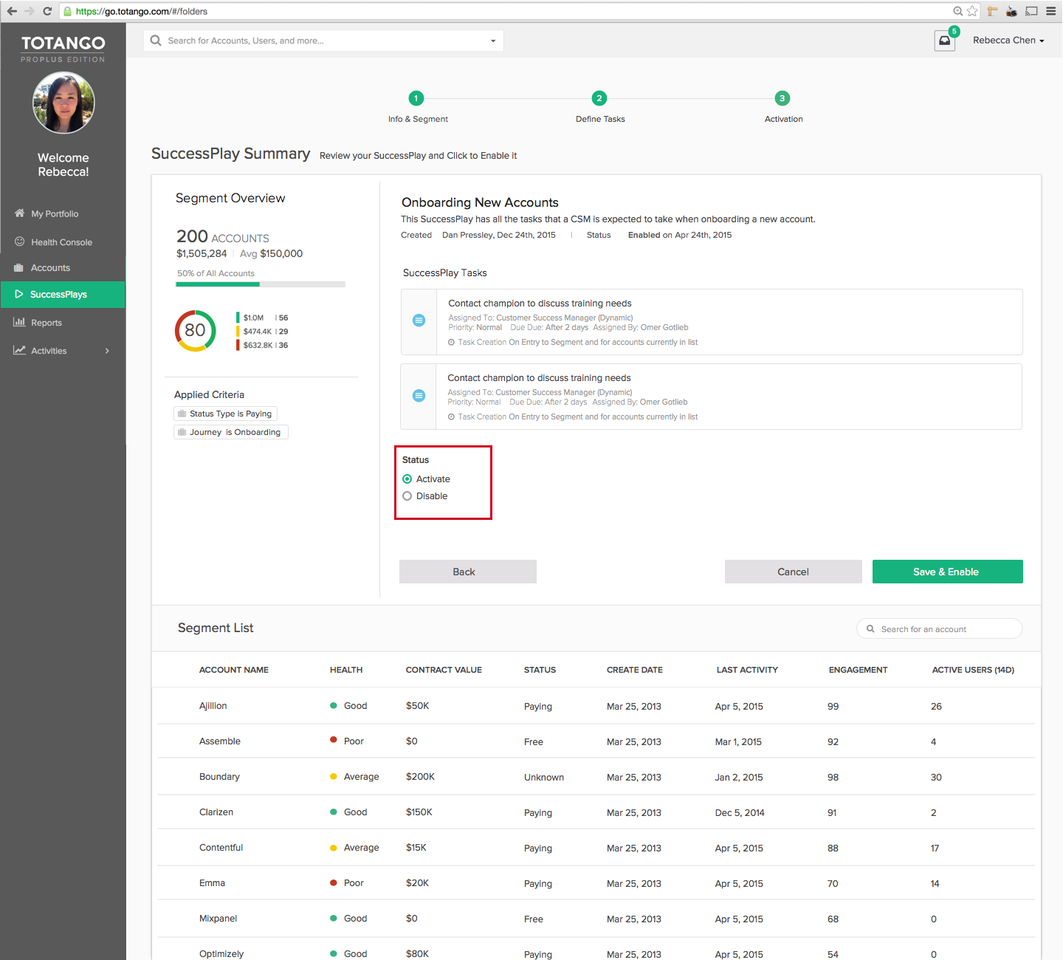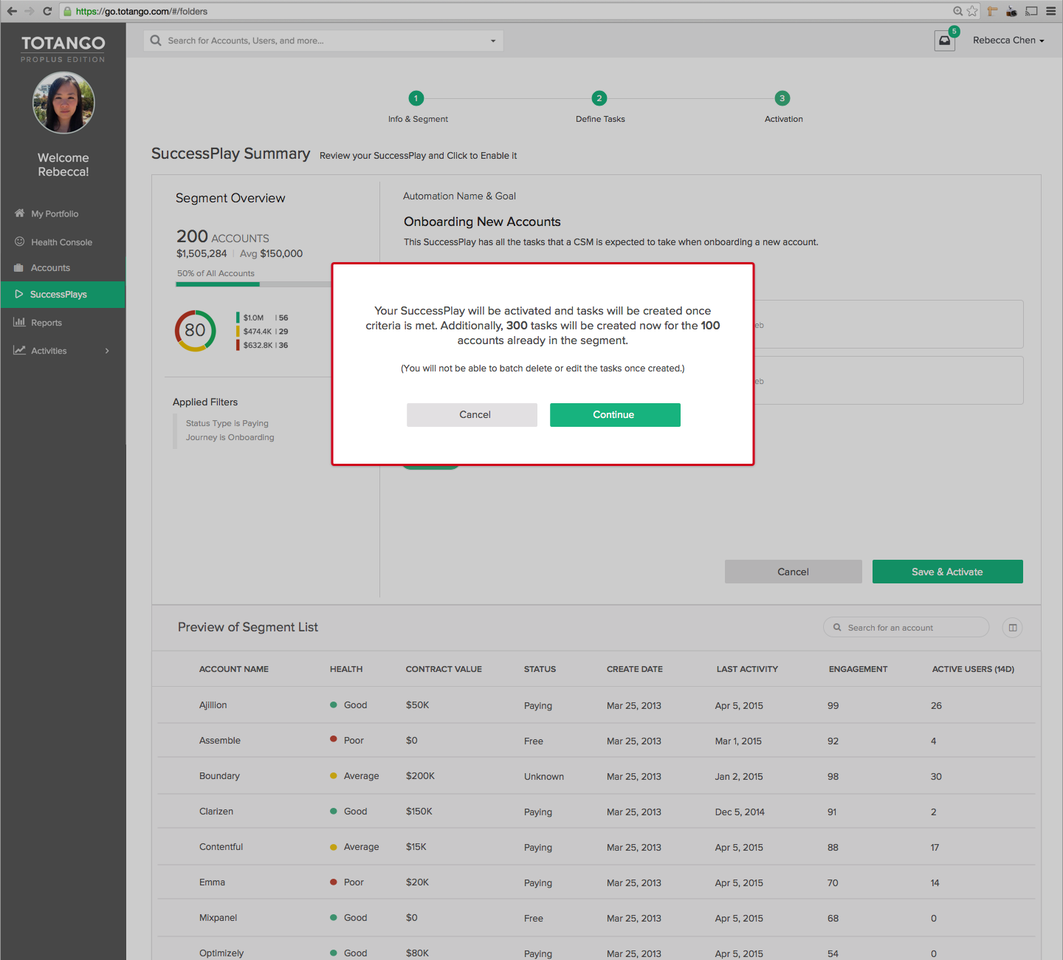 FAQs
---
When a SuccessPlay segment criteria is edited, do tasks get created again for the accounts that were in the segment originally?
No, tasks will be created for only those accounts that get added newly to the segment due to the criteria change.
---
When a task in a SuccessPlay is edited, do existing tasks get updated?
No, only the new tasks that get created going forward get updated. 


---
If an account exits and enters the segment of a SuccessPlay again, do tasks get created again?
Only if the previously created task is completed, a task is recreated on the account if it meets the segment criteria again. 
---