Overview
My Portfolio is your 'Home' for daily workflow & prioritization
Totango is focused on productivity and collaboration. We want to help busy CSMs and executives to prioritize and focus on the accounts within their portfolio that require their immediate attention (and by doing so manage a bigger portfolio of customers).
Totango monitors every account event and evaluates numerous signals of customer health to compute, interpret, and generate alerts that tell you what accounts you should focus on. You also have an intelligent workflow format that enables CSMs to manage their day in one screen and to turn insights into action with one click. Once notifications arrive in the inbox, you can create and assign a task to take care of it, pin it to your attention center if you need to do more research, or dismiss the notification if you don't need to do anything. We want a CSM to be able to prioritize his or her day in 10 minutes. Every action taken will be recorded and registered on the account timeline and all users who have that particular account in their portfolio or attention center will receive a notification.
Early warning system
Log in to find your personal notifications and updates in your notifications tab.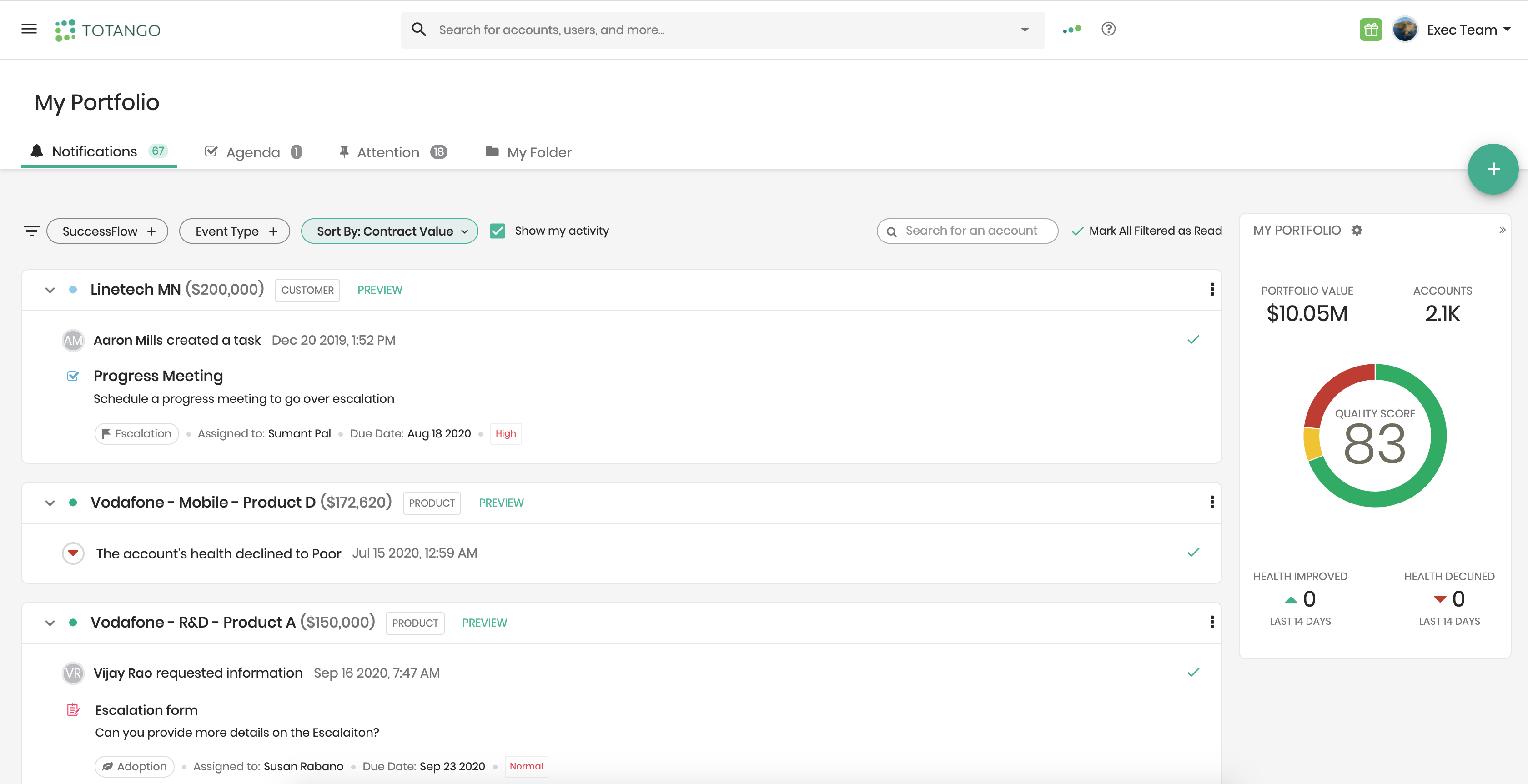 Get notified on all of your customer activity related to accounts in your portfolio and evaluate health changes, new tasks assigned to you (and when they are updated), and new touchpoints created by other users.
To make it easy to process we have built useful filters that allow you to choose to see only activity updates and/or negative or positive health alerts.
By Type - Choose by type of activity, such as Touchpoint, Task or Campaigns.

By Flow - Choose by specific Flow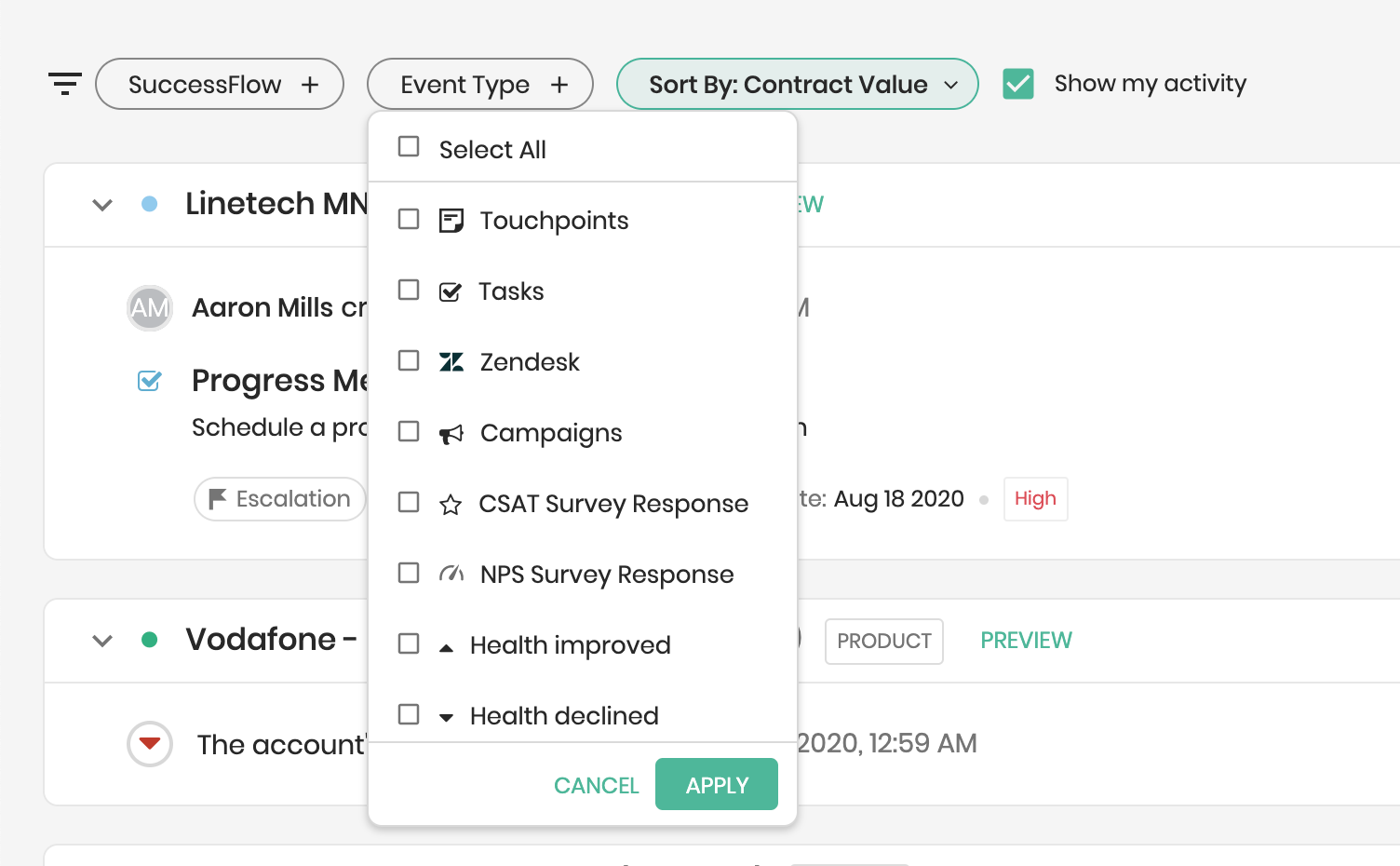 Processing notifications
You can process a notification in one of four ways:
1) Add a touchpoint or followup on a touchpoint to respond your team members or customer.
2) Create a task for yourself or assign a task to another user.
3) Pin the account to your attention center to follow up at a later day.
4) Dismiss the notification if it does not require any attention.
For example:
As a team leader, you can create and assign a task to a CSM.

As a CSM, you can add a touchpoint to the account to log customer interactions before you dismiss a notification.
Clicking on the "Preview" button on an account will open the account details expander which contains detailed information related to account timeline and health details. You can also document any additional activity via a touchpoint.
Managing your activity
Tasks can be created by the individual CSM or can be assigned to others. You can find all tasks assigned to you in the "Agenda Tab".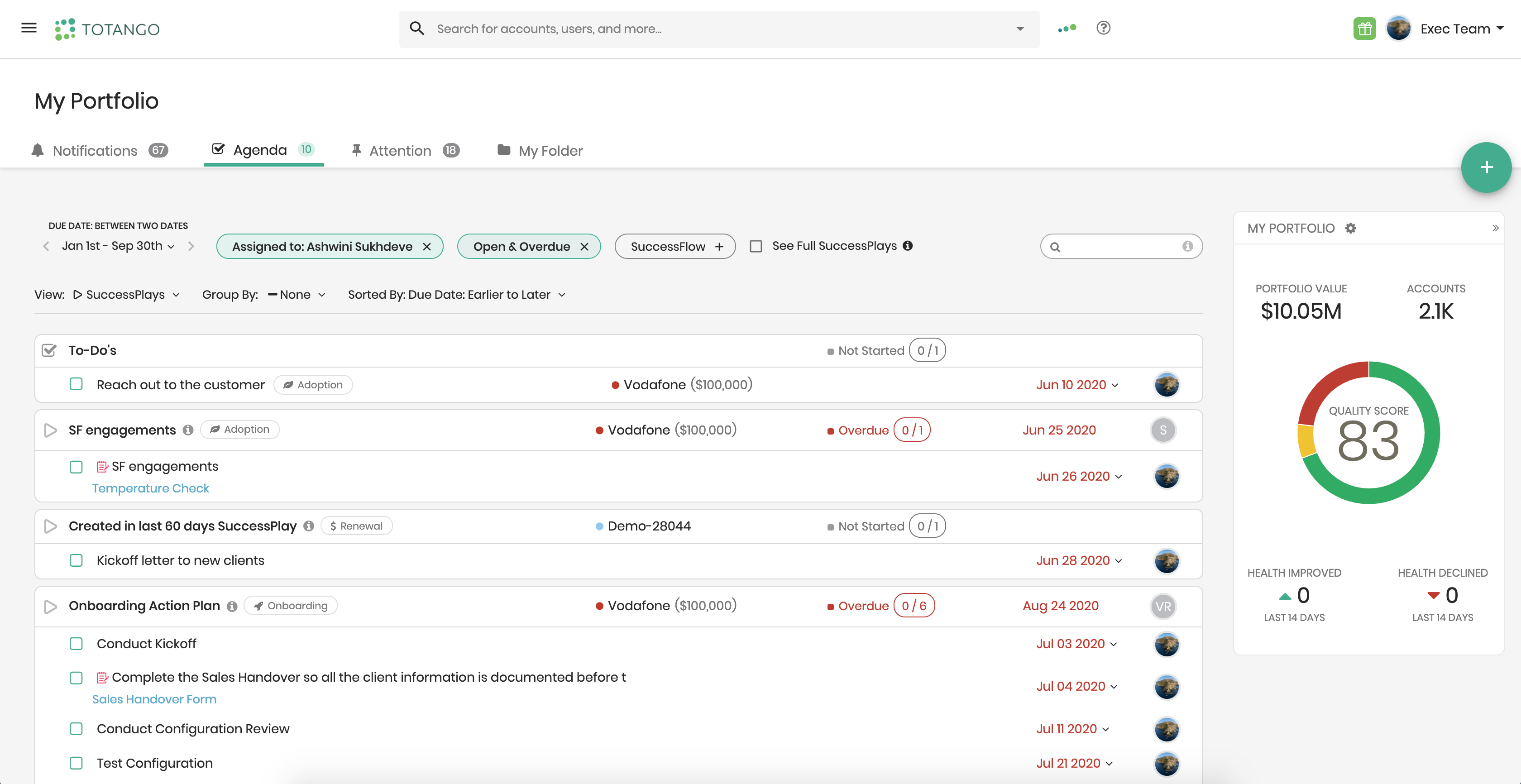 Completing a task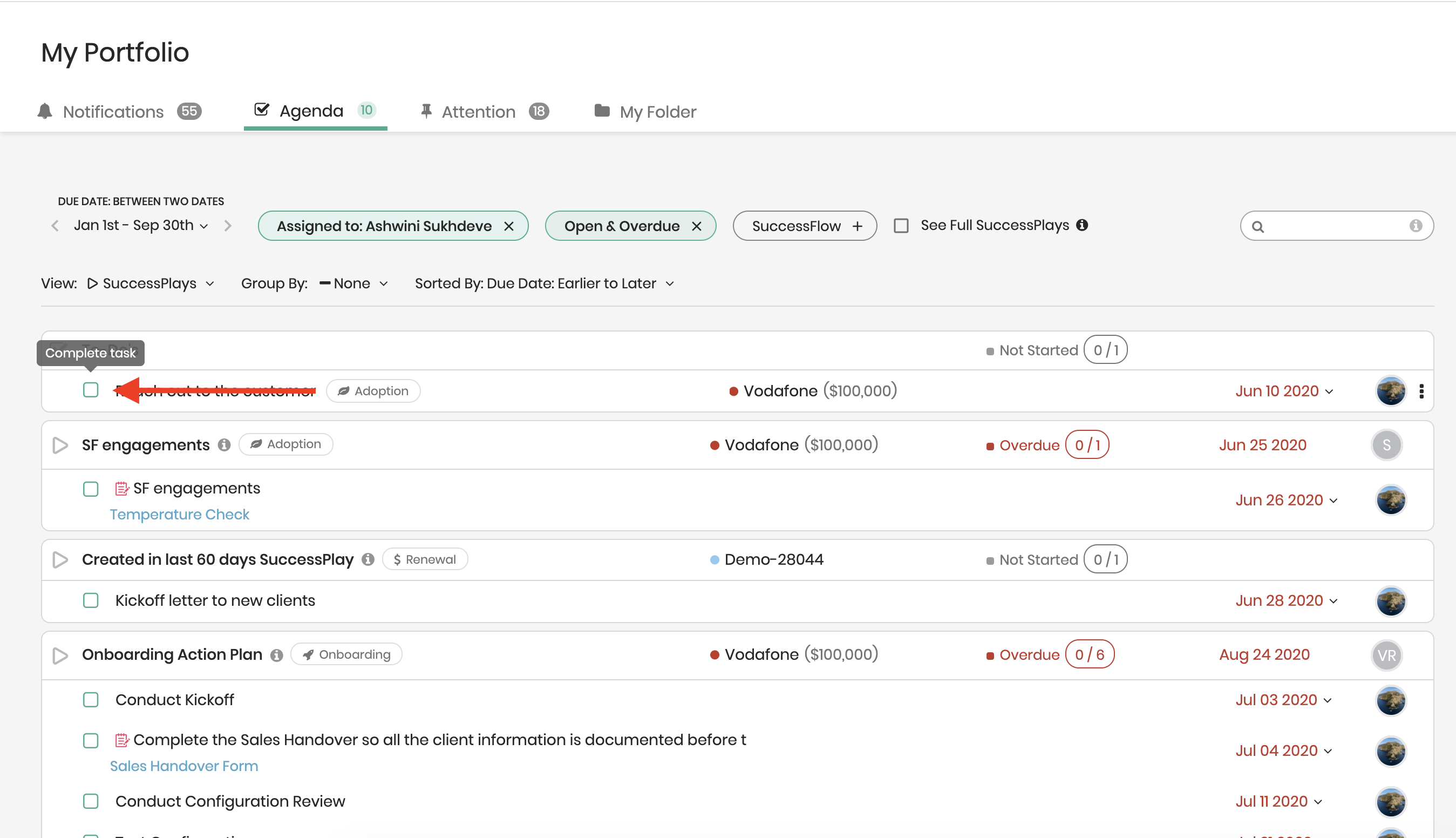 When you're done with the task Totango will ask you to add a touchpoint to summarize the task in the account timeline before marking the task as complete.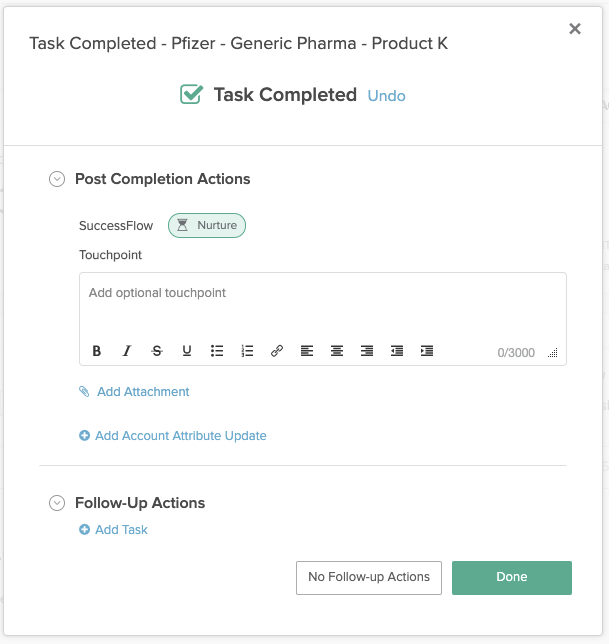 Deleting Tasks
If you a create a task by mistake and want to delete it, you can do so from the ellipsis icon on the right and the delete option under it.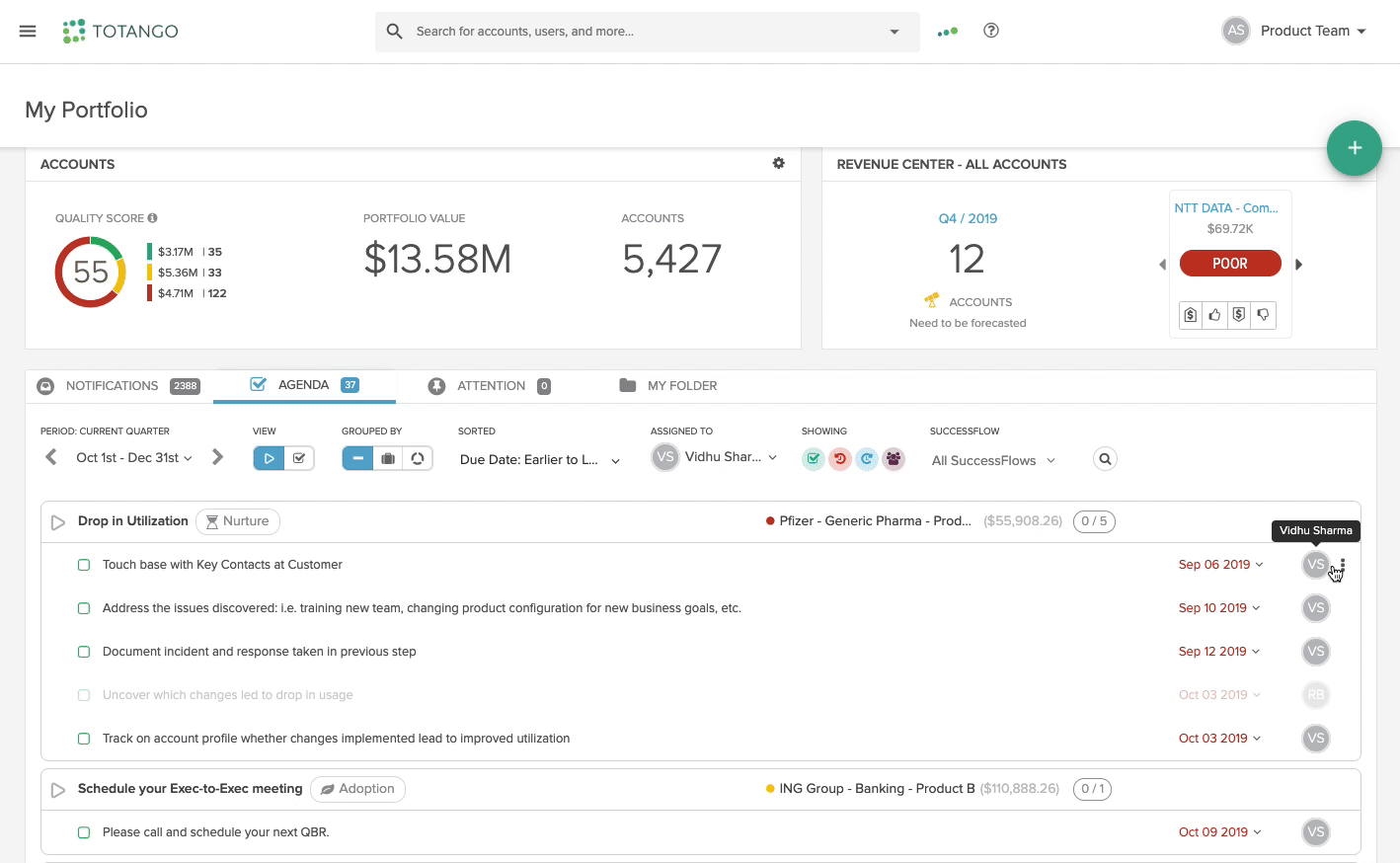 My Portfolio & My Overview


The My Portfolio box highlights the KPIs of your portfolio, keeping you in the know of your customers. You can see your portfolio quality score along with the number and value of accounts in good, average and poor health. You can also see the value of your portfolio along with the number of accounts that you are managing.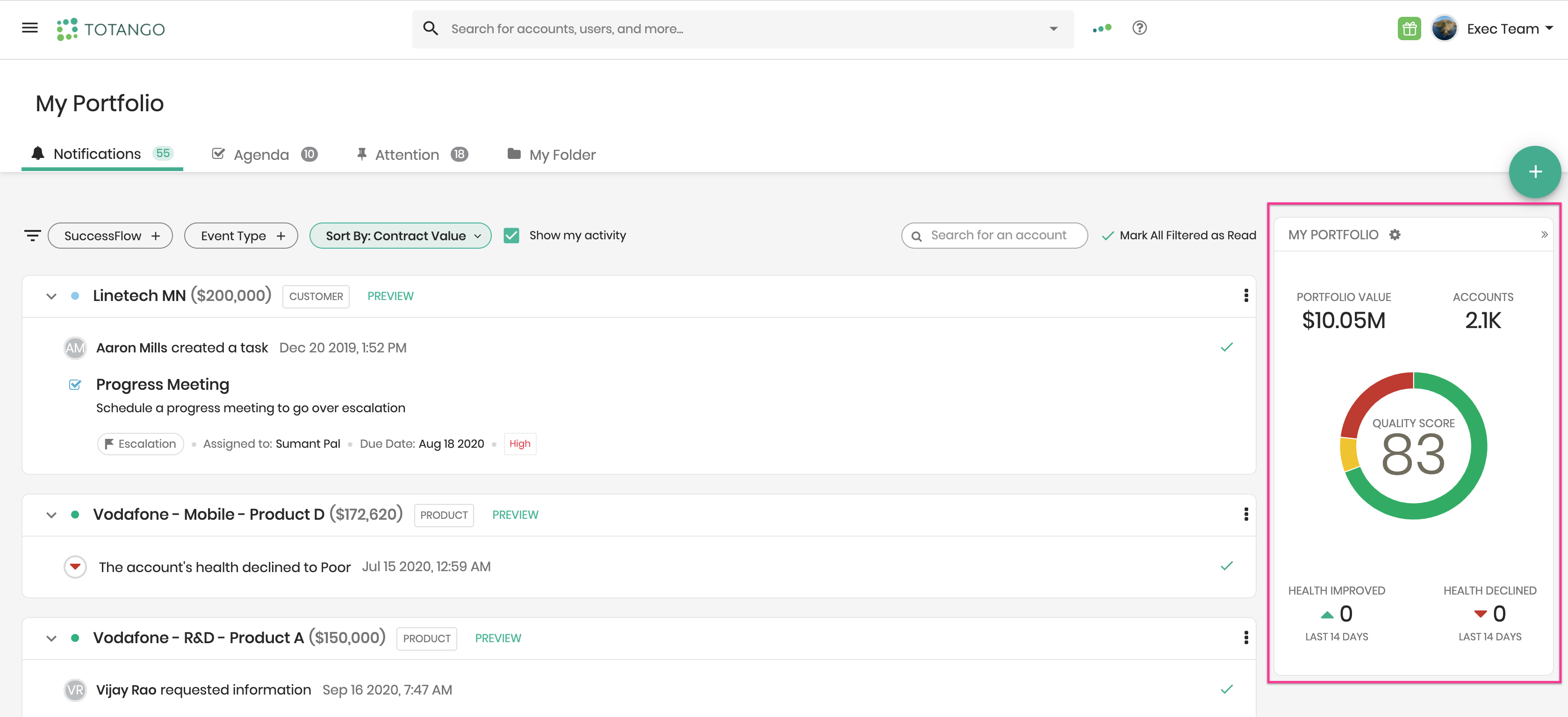 The side navigation
The side navigation bar is your anchor within the application and will always be on the left side of the screen.

The main search bar
You can search for anything in the main search bar - accounts, users, segments, reports, SucessPlays, Campaigns, SuccessBLOCs and navigation pages.