Overview
The Totango Zendesk Application is available in the Zendesk Marketplace. To install it, you must be a Zendesk admin user.
Installation
Follow these steps to install the Totango Insights App on Zendesk:
Log into your Zendesk account and click on the 'Admin' cog in the lower left of the page.
Under the 'Apps' section, click on 'Browse'. Locate the Totango app and click on the tile.
Once on the Totango app details page, click on the 'Install' button in the upper right-hand corner.
Copy your Totango API-token, into the appropriate field. To find your Totango API-token, login to Totango and click your email address on the top-right corner of the page.
Customize Totango Zendesk App
You can customize the App and control what fields are displayed.
Title (mandatory)- The widget title in Zendesk
Api Key (mandatory for saving)- Totango Token
Fallback Custom Field - the Value of a custom field in the ticket on Zendesk
Fallback Totango Attribute - Zendesk widget is looking for the user using his email. Use this to set up the User attribute contains the email (in case the users' ID, in Totango, is not an email)
Totango account attributes to show - Add a list of account attributes API names in sequence. The attributes will appear in the sequence you have entered. ["Attribute1 API name","Attribute2 API name"]
The Show Totango account tags controls if the tags on the account should appear or not.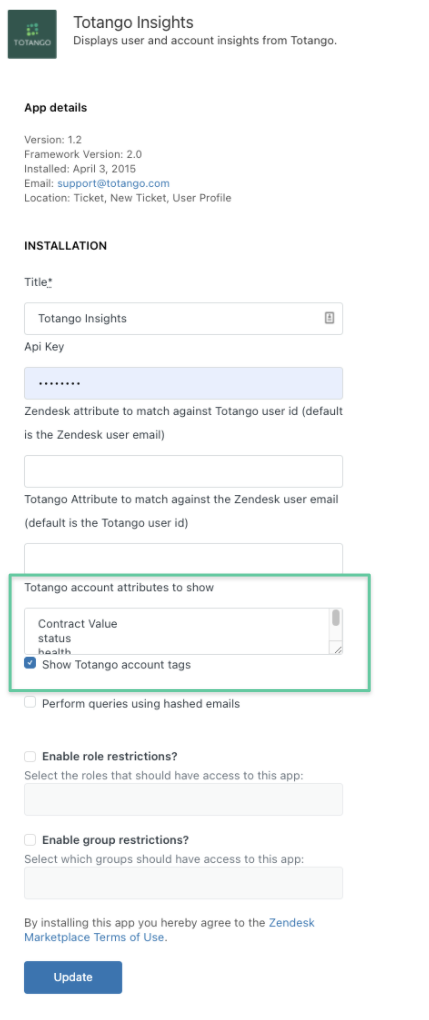 If your data center is located in EU, please make sure to submit your service_id in the below field: