Overview
Tags are used to automatically highlight important insights about accounts and users and play an important role in triggering automation like SuccessPlays and Campaigns.
For example, if an end-user is highly active with your mobile application on a daily basis, Totango can tag this end-user as a "mobile-power-user". Team members can then easily identify mobile power-users when reviewing a user's profile or searching through the user-base on Totango. Furthermore, these automatically detected users are the best audience for your next mobile experience survey.

Creating Tag Automation
You can create tags based on any account or user segment in Totango using list triggers as outlined below.
1) Create a new User Segment
2) Add filter-conditions to define the behavior you are looking for. For example: "Last activity was more than 30days ago"
3) Click on the 'Trigger' icon:
On Entry: Add Tag "inactive-user"
On Exit: Remove Tag "inactive-user"
4. Save the Trigger and Save the Segment - and give it a proper name. We recommend you place all segments with automatic triggers under the "Automation" folder.
5. Activate the Triggers
Once triggers are activated, any new user that meets the filter conditions automatically be added the tag. Likewise, when a user no-longer meets the conditions the tag will be removed.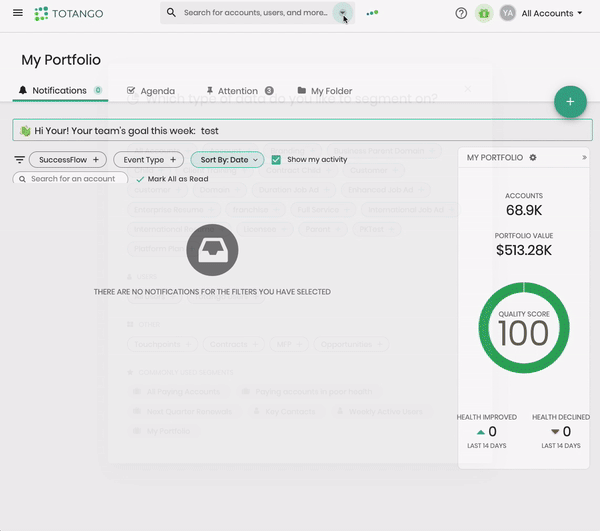 Notes:
- When creating an automated tag be sure to follow the instructions on baseline tagging, found here, to ensure tags are properly applied when you create the segment.
- You can also add/remove tags manually from an account or user profile. Simply click the Tag icon on the top-right of the profile page. Likewise, you can also add/remove tags in bulk when viewing any User/Account list on Totango
- Please allow up to 10 minutes for tags to fully apply on your account/user base
- You can create "sticky tags" that remain on the account/user even after the condition no longer applies. For example you can tag a user he/she first used a particular feature in your app, without removing it. To do that, simply do not add the "On Exit" trigger condition.
Common Tags
You can create many different tags that are specific to your application. The below is a set of common tags provided in the Totango default Early warning system configuration. You can customize or recreate them from the definitions below.
Tag: [new user]
Users during their first 30 days. These are new users that may require help with training or extra support.
Tag: [power users]
Users that are highly engaged on a daily basis with your app. By default, Totango looks for users that were active 20 of the last 30 days. You can add conditions to look for specific user-actions and modules used.
Power-users are great candidates for feedback questionnaires, testimonials, referrals and other types of advocates. Use Totango to identify them and target them with specific campaigns.
Tag: [inactive user]
Users that were not active in the application for the last 30 days. These users may need help to get back on track.
Tag: [new-account]
New accounts are accounts that were recently provisioned (within the last 30 days) and still in their onboarding phase. Customers during onboarding typically require more team attention to keep on track.
Target new accounts with onboarding campaigns to automate your onboarding processes.
Tag: [renewal-risk]
Renewal risks are paying customers with a renewal date in the next 90 days and a poor health score.
Baseline Tags
When you first create a segment in Totango that you plan to automate tags for you should baseline tag the list. To do so (follow the screenshots/steps below):
1. Select all entries in the segment.
2. Click Add Tags.
3. Type in the name of the tag and select it from the list.
4. Click Add Tags