Overview
By installing the Totango Application on your Salesforce.com, you will enable access to Totango data & UI directly from Salesforce.com, providing these key benefits:
Key Totango metrics (including Health Score, Engagement, Active Users and more) are available for use in standard Salesforce.com features such as Reports/Dashboards, Rules, Triggers etc. Totango syncs these metrics to a custom UI widget and customer fields in the account object to keep the data fresh. The custom fields are available also in the Lead and Opportunity objects. Other objects are possible as well. See below.


Team members can access the Totango's User Interface for CSMs directly from within Salesforce. Available as both a separate UI tab and embedded within the SFDC Account Layout. This enables your team to conveniently view alerts, mark accounts for attention and review account health and engagement information without leaving SFDC.


Totango Tags automatically propagate into SFDC field, which serves as the infrastructure for Customer Nurturing Automation.


Support for Totango login using SFDC credentials so the team doesn't need to maintain a separate username / password for Totango.
Prerequisites
Setup the Salesforce data connection (legacy connector) or (new connector) to enable data sharing between the two platforms.
Salesforce Enterprise license
A Salesforce.com admin user is required to complete this installation
Update Salesforce Organization ID in Totango:

Go to 'Company Information' in Salesforce (under Company Settings)

Copy the Salesforce.com Organization ID

In Totango, go to 'Authentication Settings' (in Global Settings / User Management)

Click 'Edit Settings' in the Salesforce line

Paste the Organization ID and click save

Note: it is optional to check the Salesforce single sign-on checkbox.
Installation Instructions
Step-1: Install the Totango Salesforce Managed Package
Please note: the latest version is "Spring 2021" (version 3.8)
Go to Global Settings>Customer Data Hub and click on 'Connect' under the Salesforce App. Login with your Salesforce Username (must be a Salesforce Admin), password and security token.
Salesforce Production customers: Follow the link under "Package Installation" to access the latest version of the package. You can also use this direct link to the latest package
Salesforce Sandbox customers: Use this link.
Click "Continue" on the Package Installation page and "Next" on the following approval page.
Make sure you select "Grant access to all users", under Security Settings and complete the installation procedure.
Classic Mode:

Step-2: Setup the Totango Salesforce Tab
This will enable access to the Totango UI for CSMs from within Salesforce. You can set permissions to allow access to all or some of your SFDC users.
In SFDC navigate to Manage Apps > Connected Apps -> TotangoApp
Change oAuth policy for the connected app from "All users may self-authorize" to "Admin approved users are pre-authorized"




Assign profiles whom you want to be able to access the Totango tab.
In the "Profiles" Section, click on "Manage Profiles" and pick the user profiles you would like to have access to Totango Tab.
If you would like to provide access to all SFDC users, select "Standard User"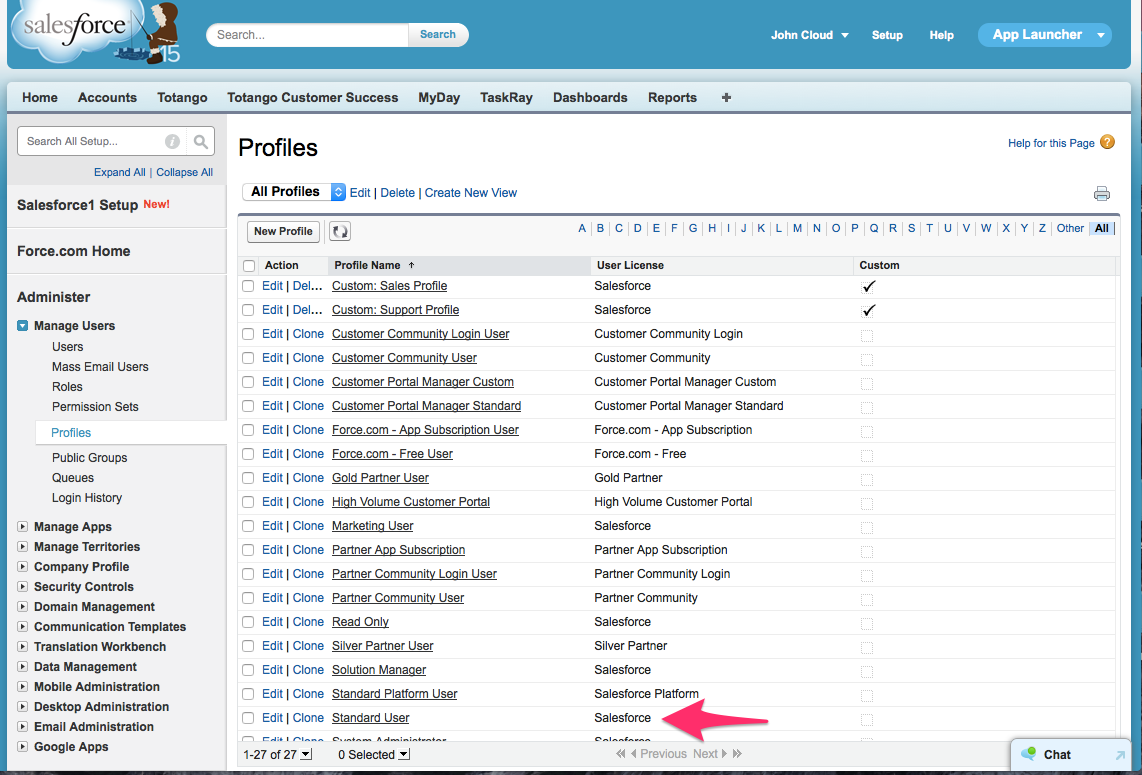 Your SFDC Users can now access Totango directly from within Salesforce.com by accessing the Totango Tab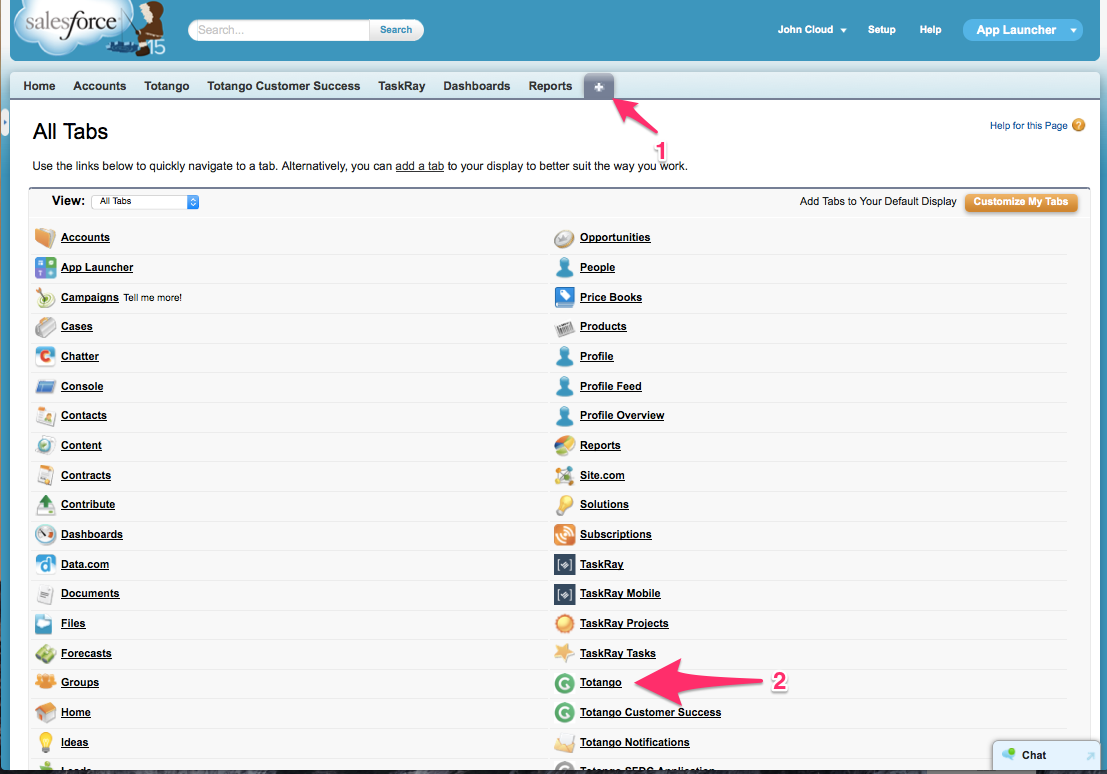 Step 3: Totango UI Widget: Add Totango data to your Account, Lead or Opportunity Layout
You can add Totango's custom UI Widget section and custom fields to the Salesforce Account object page Layout to make Totango metrics available for your Salesforce.com users.
The custom fields can be added to Lead and Opportunity objects as well. The UI widget is only available in the Account object. Follow the steps below.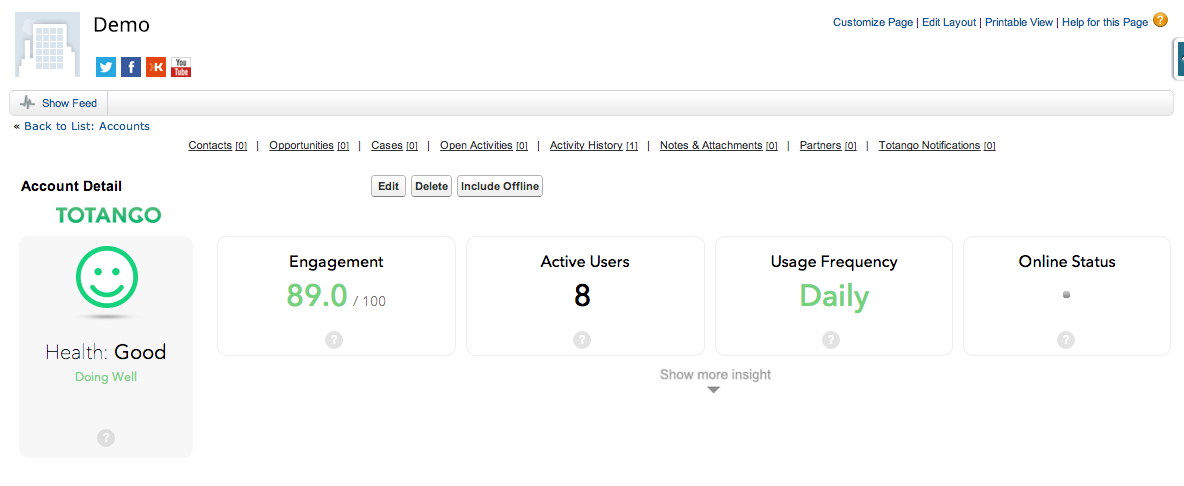 NOTE: See below if you want to use this feature with a different Salesforce object.
NOTE: Using the legacy SFDC connector, this feature is not supported if you are using custom objects to bind with Totango Accounts.
1) Login to Salesforce with an Administrator user. Click Setup, then select Customize->Accounts from the left navigation menu and select Page Layout. Select the appropriate Account Layout to edit (if you're not sure, you probably want the last one on the list)


2) Select & drag the "Section" field from the Toolbox to the place on the Layout you wish to put the Totango information. Name the section "Totango" and Choose "1 Column" as the layout. Then click OK.
3) Click "Visualforce Pages", locate "Totango Account Insights" and drag it to the section you just created. Click on the "Properties" icon on the top-right end of the new Visualforce section

4) Change Height to 290 and Save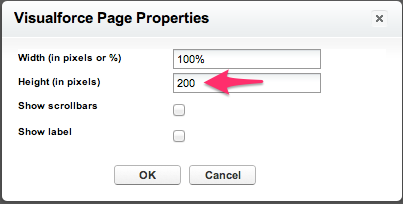 5) If you are using Totango to manage Leads or Opportunities, repeat this process for those objects as well.
6) If you want the Totango insights in a different SFDC object, it is possible. Use the mapping table to define the object and target fields in SFDC and make sure you create these custom fields in Salesforce
7) 'Show more' button in the widget opens an iFrame with part the Totango account profile page. This requires a login to the Totango app.
Create an integration job to send Totango insights to the SFDC widget
To create an integration job to send Totango insights to SFDC widget in the new SFDC connector, choose "Totango Insights Outbound" when creating a new SFDC integration job. Mapping will be filled using a default template to match the Totango widget fields. Settings and scheduling of this job is like in any other integration job
If you want the Totango insights in a different SFDC object, it is possible. Use the mapping table to define the object and target fields in SFDC and make sure you create these custom fields in Salesforce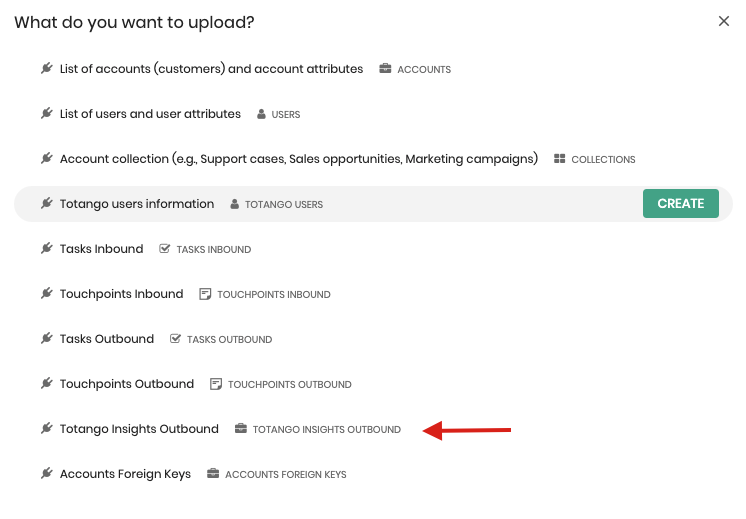 The default mapping (it is highly recommended not to change it):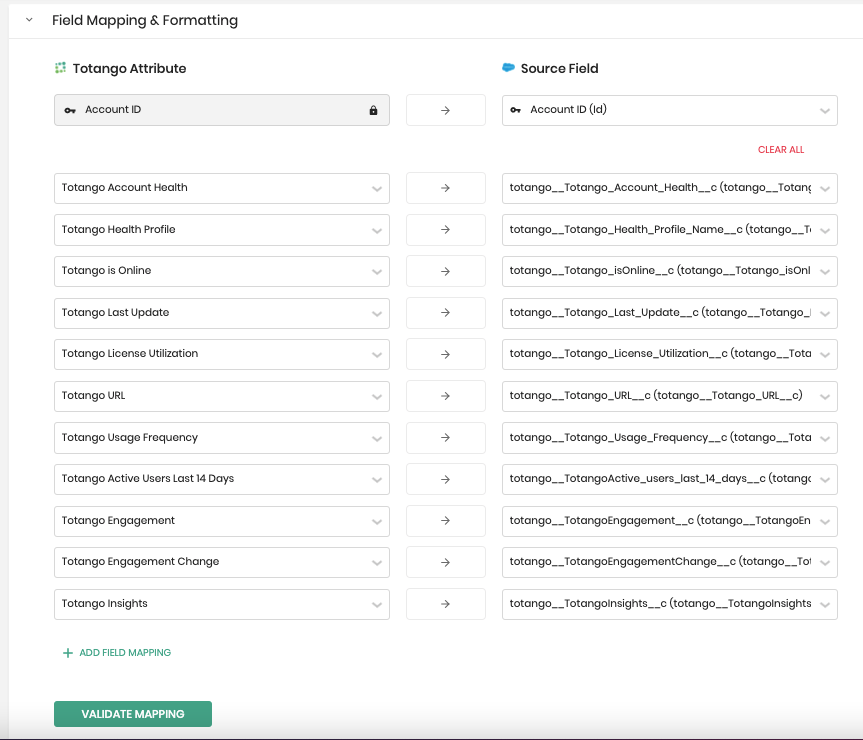 More details on the fields:
Totango Account Health - Current account health (Good, Poor, Average) and an icon with health color
Totango Health Profile - The health profile name that the account belongs to
​Totango is Online - The online status from the usage monitor. Green dot indicating the account is online
​Totango Last Update -
​Totango License Utilization - The rate between the number of active-users in an account and the total number of licenses purchased. Read more
​Totango URL - Link to the account in Totango
​Totango Usage Frequency - At-a-glance metric that helps you determine how often an account is used. Read more.
​Totango Active Users Last 14 Days - The total number of active users in an account. Read more.
​Totango Engagement - The account Engagement Score. Read more.
​Totango Engagement Change - Change in Totango Engagement Score.
​Totango Insights - Accounts Tags