Who can use this feature?
Global admins and users with advanced permissions can view, edit, and/or publish experiences
Totango In-App is a premium feature—contact sales to learn more
Not currently available on EU servers
Net Promoter Score (NPS) surveys are a type of experience that is pre-built with the following survey steps:
0-10 score: How likely are you to recommend us to a friend or colleague? (quantitative)
Short answer (optional): Why did you choose that score? (qualitative)
Building an NPS survey follows the same process as building any other experience, except that you cannot adjust the survey form options.
NPS is a standardized method among SaaS companies for measuring customer satisfaction, so we've already implemented the standardized content, design, and user experience of a typical NPS Survey, We recommend only making minimal changes, such as background and text color. The text should retain verbiage about likelihood to recommend.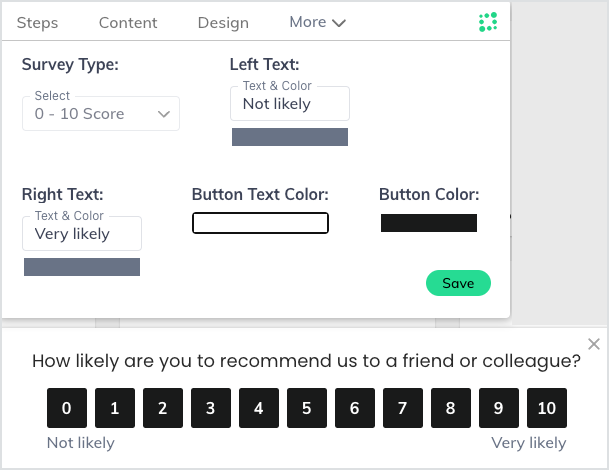 Once implemented, Totango collects responses from your users and generates a Net Promoter Score and NPS feedback.
Net Promoter Score
A Net Promoter Score (NPS) is a numerical value between -100 and +100 that represents the overall net promoter score of your company.
It is calculated using a simple formula based on the responses to a 0-10 score form. Users who respond to your 0-10 score form can fall into one of three categories: Promoters, Passives, and Detractors.
Promoters are users who respond with a score of 9 or 10.
Passives are users who respond with a score of 7 or 8.
Detractors are users who respond with any score between 0-6.
Once users have been categorized, the formula for calculating NPS is simple:
Total % of promoters – Total % of detractors = NPS Score
NPS feedback
In addition to quantitative results, you can also view qualitative NPS Feedback. These are the actual text-based responses submit by users after they select a score. This data can help you understand exactly why users are or are not satisfied with your product or service.