Who can use this feature?
Implementing the right renewal SuccessBLOC highly depends on how your company handles renewals, including definitions for the following:
Renewal types
Renewal roles
Renewal stages
Renewal standard engagements are designed to be followed when Renewal Risk is not present. If an account is at risk, we recommend that you follow a different risk playbook.
1. Define renewal types
Determine the types of renewals you use with your customers:
High Touch: No contractual mechanism for a renewal beyond the expiration date. Requires a manual renewal process that is typically dedicated to strategic accounts over a certain contract value. Examples include, expiration of a long-term contract, an auto renewal that has "opted out", 1st year pilot/prove-it type deals.

Manage Contract Renewals (recommended BLOC)

Auto: Standard auto renewal language, which allows for the renewal of said agreement without the execution of new paperwork. Auto renewals typically have opt out periods, such as a 30-day window. While these can be easy-to-manage renewals, there is the opportunity for an auto renewal to cancel or to turn into a non-auto renewal. The likelihood is higher for a re-paper event, the older the agreement is.

Automate Renewals (recommended BLOC)

Hybrid/Digital: A combination of auto with elements of high touch. Digitally alert a customer that a renewal is upcoming; based on their renewal intent, a Renewal Manager takes action. 

To support a hybrid renewal process you need one renewal event (account), one internal person assigned to that account to handle that renewal, and at least one contact for the customer that will receive communications.
2. Define renewal roles
Determine the different types of roles you need internally to execute on your renewal process. These roles may include:
Renewal Manager: Main point of contact for high touch renewals
Customer Success Manager: Manages the overall relationship with the customer
Account Manager: Supports the CSM during Business Reviews to communicate value delivered
Service Delivery Manager: Main point of contact for non-CSM accounts
Accounting/Finance: Supporting role for any billing-related questions
Renewal Managers
RMs work with CSM & leadership to determine overall renewal strategy, including:
Maintain contract drive
Project manage customer-base renewal events and strategy
Identify "focus" accounts for a particular cycle (e.g., quarter or half)
Partner with CSM team on ROI story and overall pulse of the customer to identify potential renewal risk
Point person on negotiations when they come up
Handle internal logistics, such as liaise w/ finance, review contracts, and draft renewal order forms
CSMs
A high touch CSM is typically responsible for the following:
Ensure the customer optimizes the tool to receive value from the investment
Work with customer on their customer journey and strategic vision
Maintain regular communication with customer
Manage escalations of support tickets
Communicate product roadmap requests and releases
Ensure customer KPIs are being met
Provide insights into key stakeholders
Maintain open line of communication w/ RM to keep them updated on any new risk factors
Customer-facing logistics, including scheduling initial renewal discussion call w/ customer and ensuring the customer to join the calls
A scale CSM is typically responsible for the following:
Manage escalations of support tickets
Communicate product roadmap requests and releases
Step in during escalations and provide human interaction when required
3. Define renewal stages
It is a Totango best practice to have standard stages of renewals across all your renewal types. We recommend the following stages, which may trigger related SuccessPlays (purple) and communications (yellow) outlined.
 
High Touch
Auto
Hybrid
1. Pre-renewal

Review current contract

Review goals and objectives

Review past risks and support issues

Prepare renewal proposal

Assess value received, identify expansion

Upcoming renewal notification

Payment method expiration notice

Upcoming renewal notification

2. Negotiation

Send proposal

Follow up

-

Follow up with customer's response

Prepare contract

3. Renewal Risks

Overdue renewal

Upcoming renewal at risk

Upcoming renewal in poor health

Missed payment reminder

Upcoming renewal at risk

Upcoming renewal in poor health

Upcoming renewal in poor health

4a. Closed - Won

Successful renewal celebration

Payment confirmation

Successful renewal celebration

4b. Closed - Lost

Post mortem

Lost customer win-back

Post mortem
Renewal stages are represented using a lifecycle status attribute type in Totango, which allows you to automatically track the time in each stage.
By tracking the time between each risk stage, you are able to create KPIs around your renewal cycle. Once an end stage is reached, the counting of days stops. Moving the account to another stage after the end stage restarts the clock and it starts counting the days in a stage again.
Action item
Once you have decided on your renewal stages for each type of renewal, ensure they are represented in Totango. Within Data Modeler, locate the Risk Status attribute and ensure the stages match your processes. 
4. Configure the SuccessBLOC(s)
Based on the renewal type(s) you need, add the SuccessBLOC and begin configuring your segments, canvas, SuccessPlays, and campaigns. The following is an example of a hybrid renewal type with parameters you might consider for each stage: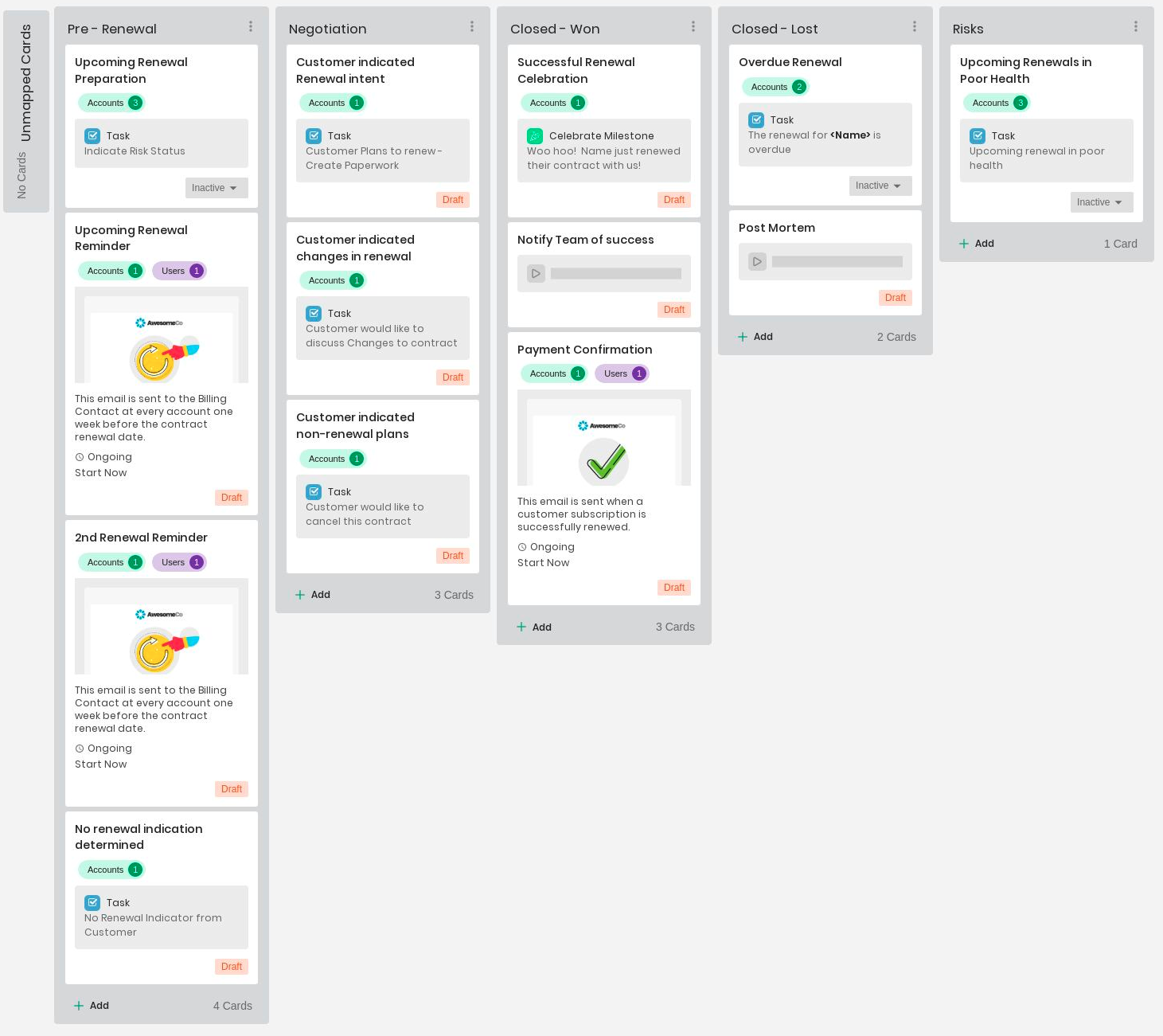 Pre-renewal: 90-days out trigger SuccessPlay to the Digital Segment CSM to review account for any risk or barriers to renewal that must be addressed prior to the send of the automated email, "Upcoming renewal reminder." 
Negotiation: Trigger the plays based on a customer response. If no response, prompt for human interaction.
Risk: Engage Executive Sponsor and Sales/Account Manager to collaborate on and create a plan. Exec Sponsor should reach out to the customer's Executive Sponsor to try to save the renewal.
Best practices to keep your renewal program running
Consider the following best practices to apply to the program:
Use Totango's native CRM connector for Salesforce.

Allows the fullest level of integration.

 

Each account (opportunity) must have an owner who will manage the process across all products.

Build a consolidated opportunity to bring into Totango, and have an owner assigned to that opportunity.


 

Co-term your contracts.

To eliminate over sending communications to a customer, a best practice would be to co-term contracts.


 

Align across regions and teams.

To reduce inconsistencies, align a standard process across your regions.