Totango Customer Success Campaigns are a powerful customer success engagement and customer success marketing tool that allows you to send real-time, automated, triggered communications based on user actions and behavior within your products. Campaigns help you drive adoption and training down to the user level. Learn more about creating Campaigns in this Totango Academy article.
In this article, we discuss several advanced topics that will allow you to fully customize emails the way you want and give more visibility to the customers your emails have touched.
Impactful Features
Additional Goodies
Campaign Enhancements
Use HTML to Send your Own Customized Email Campaign
Every company has its own unique look and feel, and it's own unique way of communicating with customers. With the custom HTML feature, you can now add your own font, images, colors, and new templates more easily.

There are 2 main ways to benefit from this feature:
Use Totango templates and edit the message and signature section using custom HTML.

Customize an HTML template and paste it into Totango's plain-text campaign template using the custom HTML feature.

Look for the source code icon to open the custom HTML dialog


This GIF will help you get started: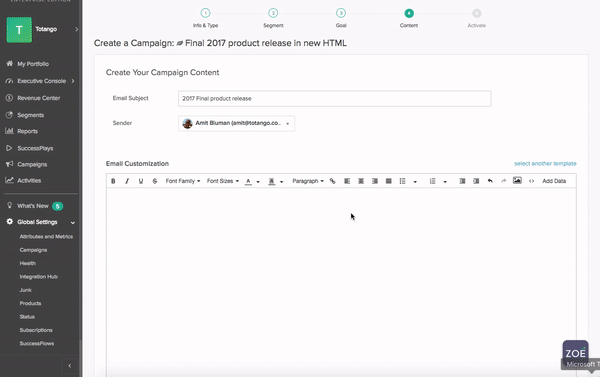 You can also add your own CTA buttons, unsubscribe links, etc.
Here are a few important things to note about pasting your own custom HTML:
Only use linked images. Do not attach images to the code

Only use in-line styling. Email campaign does not support header CSS

Do not include @media definitions

If you cannot see the preview it means that the HTML code cannot be parsed

A popular request is to customize Totango unsubscribe link.
The right way to configure it is to use "unsubscribe" id for an unsubscribe div in your custom HTML.
Example:
<div id="unsubscribe"><a href="#" target="_blank">Click here to unsubscribe</a></div>
Add Campaign Events to Account Timeline
A campaign sent to an account is just part of the larger customer picture. The ability to log campaign events to the account timeline will let everyone see the full customer picture including the emails they received.
A campaign event will be logged whenever a campaign is sent to the account users.

A campaign goal event will be logged when the first user of this account achieves the campaign goal.

Note, a notification will not be created based on a campaign event.
Logging the campaign event is "on" by default for every new campaign created. For any existing campaigns, logging the event is turned "off."

When creating a new campaign, in the first step, you can define if this campaign is considered a customer touch and if so, it will log campaign events.


Sync Campaign Events to Account Object Activity History in SFDC
Many people in your company would like to view customer activity. Now Salesforce users can view campaign touches in addition to tasks and touchpoints that are synced to the account object under activity history.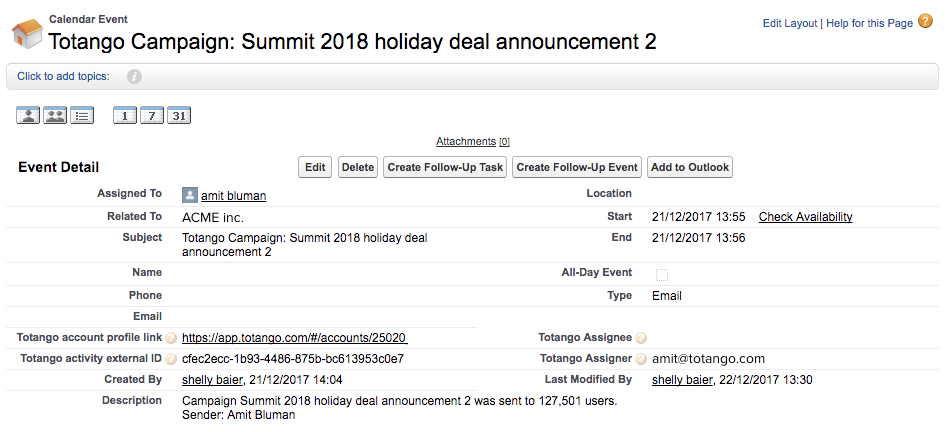 If you already installed Totango's touchpoint and task sync package, the campaign touch information will be synced as well (no need to do anything). Read here to see how to install the Totango touchpoint and task sync package.
Update Last Touch and Flow Dates Based on Campaign Events
Now the customer touchpoint of an email campaign will update the account last touch date and last touch under the specific Flow selected.
For example, I am a tech-touch CSM with a 10,000-account portfolio. I sent a training campaign to all my users who started using my mobile reporting feature. For me, this is considered a valid training customer touch, and I want Totango to log it as a Training Flow touch.

A few days later, I want to understand which customers were not touched this week for training. I created a Segment in Totango to include only users that did not receive the mobile reporting email campaign. I am able to do this because Totango updates the customer last touch and last Flow date for every campaign event logged. It is reflected in Account Profile and Account Segments (located in the WORK section).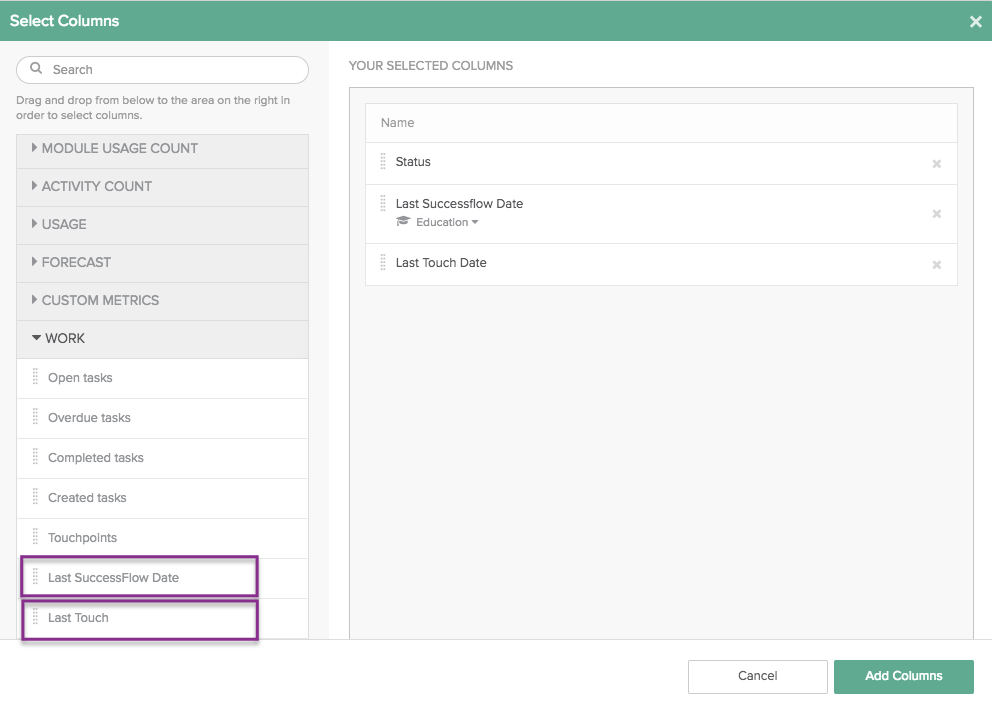 Add a BCC to the Campaign
When sending a campaign email, you can add a BCC address to help inform CSMs or other key stakeholders in your organization about the campaign.

Since BCC is sent for every email in the campaign, it is not recommended to use it in a campaign with a large audience, because the person added to BCC will receive a large number of emails.

A good use of the BCC feature will be BCC your CSMs on summary campaigns, like SuccessBeats, and monthly customer reviews sent to the customer champion.


Another good use case for BCC is an ongoing campaign which lets the customer champion know they are exceeding their monthly usage cap and informing them that they will be charged. The CSM is BCCed cause he must be in the loop, and he can start the discussion on the right package for this customer going forward.
Sign the Campaign with your Personal Signature

A personal message is highly valued in email communication. Studies have shown that an email with a personal signature increases conversion rates and adds a personal feel to the interaction.
You can customize Totango campaigns to include a personal signature, signed by the account's CSM by following the steps below.
Setting up personal signatures
1. Each CSM should define their personal signature as part of their Totango user profile
Each Totango user that acts as a CSM or an account owner should set up their Totango signature (you can use this text to email instructions to your team).
CSMs can take their standard email signature and copy it into Totango for use in future campaigns. The signature can include images and links or even custom HTML code.
2. Define a company default signature
As a Totango administrator, navigate to Global Settings | Campaigns and update the company default signature. This will be used as the default for outgoing campaign emails, in case the relevant sender did not define their signature yet. Typically, you would use a generic signature (such as "Your Friendly Success Manager @ Acme Inc.")
Configuring the signature in a campaigns
When you edit a campaign, you can select one of the following options for your signature. Look for this in the Campaign Wizard under the (4) Content stage

Select Sender Signature if you want Totango to use the Totango user signature, based on the role selected in the sender drop down. The most common practice is to select the Success Manager as the sender that signs the email. If the Totango user did not set up his/her personal signature when the campaign is issued, Totango will fall back to the Company default signature.
Select Company Signature if you would like to use the company-wide default and ignore personal signatures defined by the CSMs.
Select Custom Signature if you would like to define a signature specifically for this campaign.
An editor will popup where you can enter the text for this campaign's signature.

You can add your personal signature in a "Plain Text" campaign template as well, check the "Signature" option, and select company or sender's signature.



NOTE: Existing Ongoing and Recurring campaigns use the Custom Signature option by default. If you would like to update them to use personalized signatures, edit them and change the configuration accordingly.
The Ability to View and Export the Unsubscribed Users in a User Segment
With this feature, any CSM will be able to create a segment of unsubscribed users and even edit their email subscription settings.

Archived Campaigns
In order to keep the tab "Active Campaigns" clean for actively running Campaigns, the older campaigns that have successfully run have been moved to a new separate tab called "Archived."


New Campaign Information in the Campaign Stats Dialog
The campaign information presented in the campaign stats dialog is much more useful. It provides the user email, account name, and Account ID.

These dialogs are available only for global admin and appear when you click on delivered, viewed, engaged, and goal achieved values on the campaign's main page.
Improved Campaign Metrics for the Click-Through-Rate (CTR).
The campaign metric percentages are now aligned with the most accurate email marketing metrics.


Delivered percent - number of unique emails delivered / number of unique people targeted
Viewed percent - number of unique people viewed / number of unique emails delivered
Engaged percent - number of unique people engaged / number of unique people viewed
Goal achieved percent - number of users who achieved the goal / number of people targeted

Image and GIF Specifications Have Been Added
The image and GIF file sizes were added to Totango templates.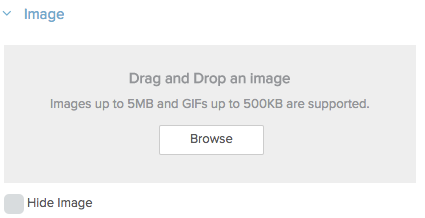 Preview and Send a Test Email With No Users
When preparing a campaign draft and defining a segment, you can preview the campaign even if the user segment is empty. It will allow you to create an email, send drafts and validate it before customizing your email recipient list.
Send Totango Campaigns from your own domain using CNAME
Totango now supports CNAME method for white-labeling your campaign emails.
Read more
Logging campaign information to external apps
Many applications support email logging method (AKA email-to-app), Totango uses this capability to log your campaign info to an external application. One classic use case is using email-to-salesforce capability to log the campaign information to the contact activity history.

You can find this setting, under Global setting -> Campaigns -> General tab.



Get your CSM team to update their Totango personal signature
You can use the following text as a template to reach out to your CSM team to update their signatures.
Hi all,
Totango has a new capability that can attach your personal signature to email campaigns sent to your users. This is where you can add your personal contact info and use the standard corporate signature.
We would like to start using it, so please take 2 minutes to update your Totango user accordingly. Until you do, emails from you will use a default signature without your contact information.
Follow these steps:
1. Login to Totango and navigate to your personal Totango profile (You can also access this by clicking your avatar on the Totango menu bar)
2. Add your signature ( you can cut & paste it from your email client)
Segment users based on Campaign bounces
When a user's email is incorrect or the user is not active, a campaign email bounces and does not deliver. You can now segment this information into a User Segment. The following fields on User are automatically updated every time a campaign bounces
Campaign Bounced Date
Campaign Bounced Reason
You can set up a SuccessPlay to trigger a task to the CSM to update the user information when these fields have a value. You should also clear these attributes once the information is corrected.
Once an email has bounced, our mail provider (Sendgrid) puts this email in a block list and you must raise a support ticket to have this list cleared so you can send a campaign to this user again.
Note: This only works for campaigns sent after the date this feature was introduced on January 10th, 2021.
Segment users based on Campaign emails opened
Segment users by querying for users who opened campaign emails. Use the following query terms
Opened Campaign Email
Did not Open Campaign Email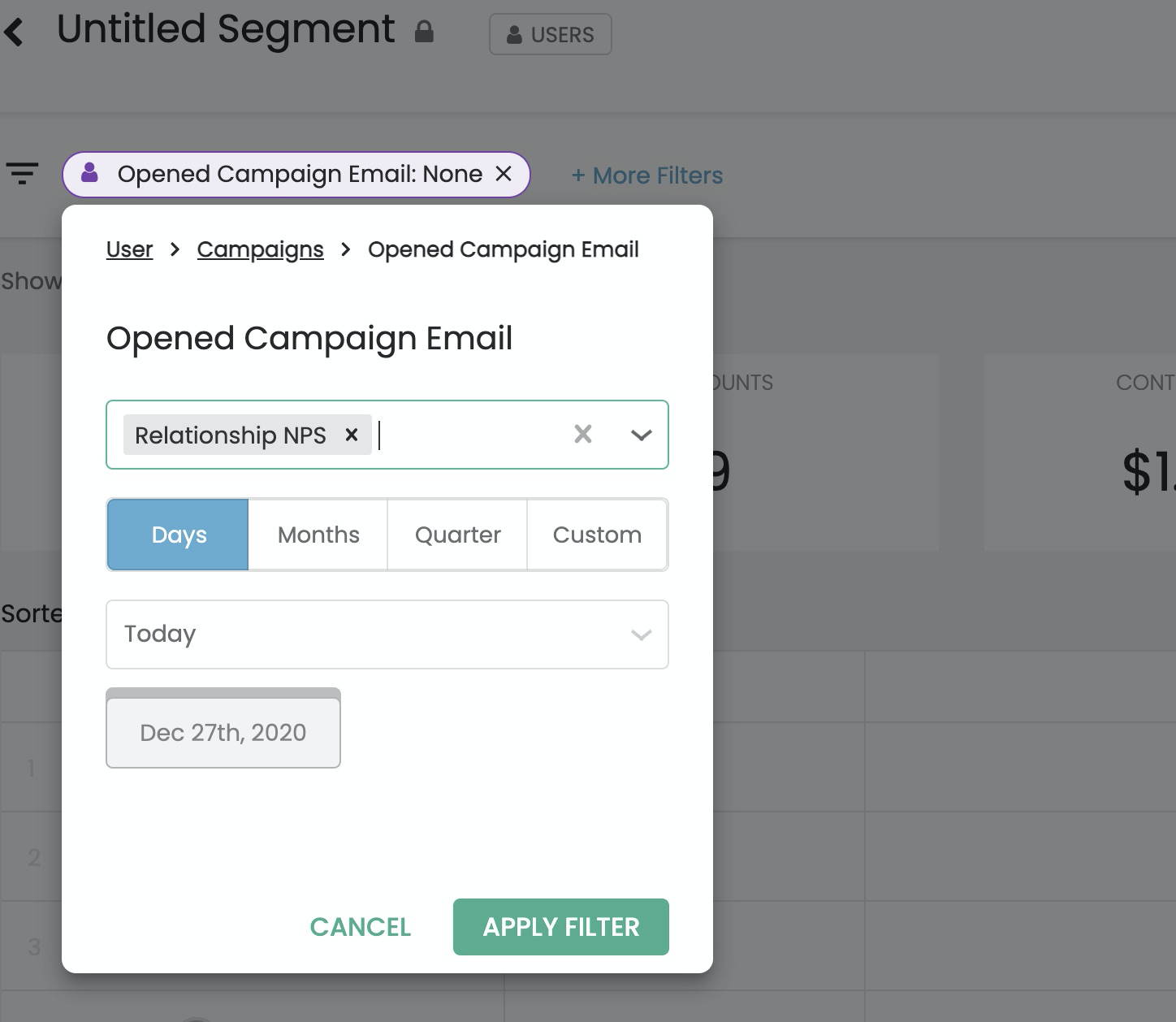 Note: This only works for campaigns created after the date this feature was introduced on December 28th, 2020.
Segment users based on Campaign email engagement
Segment on user engagement with Call To Action Buttons in Campaigns and target users based on campaign engagement. Users can segment on
Engagement with Primary Call to Action button in the email
Engagement with the Unsubscribe link
Note: This only works with campaigns that have been created after this feature was introduced on January 10th, 2021.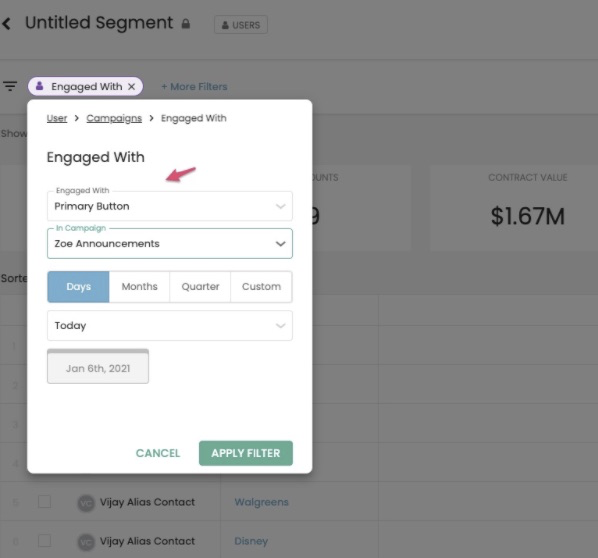 Other Campaign Resources:
For more information, contact your CSM.