Now CSMs and Sales Managers can easily view the critical data points they need anytime right on top of the Account Profile by adding Custom Metrics and Hierarchy Roll-Ups to it. If you have account hierarchy, you can easily get an account snapshot across multiple levels.
What's new
?
As a Customer Success Center (CSC) user, you can view Custom Metrics in the Account Profile header.

You will be able to view the rolled-up values of any attribute or Custom Metrics when navigating throughout the account hierarchy.

As a Zoe user, the Custom Metrics and Hierarchy Roll-Ups will appear in your search queries.

Your global admin has a new, intuitive configuration interface to make changes to the Account Profile header.

Example Use cases
As a multi-product company, every product has its own contract. At any level, we can see the rolled-up contract value of all customer contracts in the Account Profile header.

As a company with a consumption-based product, our most important KPI is Traffic Volume utilization. Reviewing this metric at-a-glance right from the Account Profile header lets us easily understand the real-time customer context.

Where can I find this feature
?
In any Account Profile, look at the header to find the information which is pulled from your attributes and Custom Metrics.

If you have account hierarchy in place, navigate to any parent account to view rolled-up information.

Please note, in case there is a roll-up and a parent attribute, Totango will display the right value per the admin configuration.



You can find these Custom Metrics and roll-ups in Zoe as well: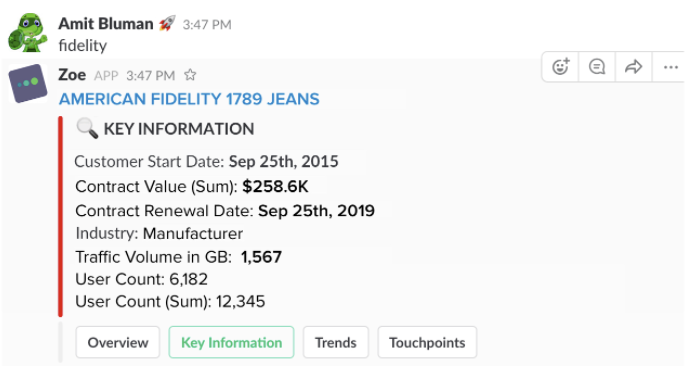 How to configure the header
?
In order to enable these new capabilities, a Global Admin can go to any Account Profile, click on the cogwheel on the right side of the header and the new configuration dialog will appear.
In the Account Profile header configuration dialog, you can select which attributes and Custom Metrics will be presented in the Account Profile header. If you have account hierarchy in place, and already defined your rolled-up metrics, you will be able to choose which metric to present for parent accounts: parent attribute/custom metric value, roll-up value as sum, roll-up value as average.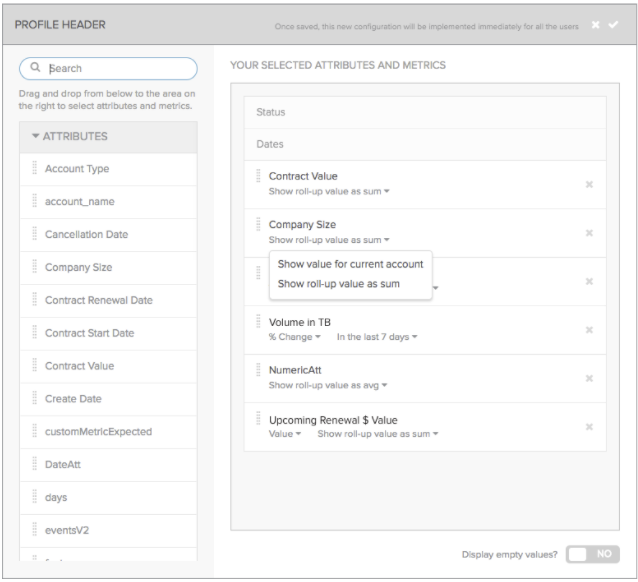 Note, the header configuration applies immediately to all users and to all accounts!
Every change made will immediately influence all the users.
If you have any questions, please feel free to reach out to your CSM directly.