Overview
Totango Teams is the perfect solution for any customer that wants to manage the scope of accounts for groups of team members to improve focus and productivity. Customer Success leaders are now able to create teams oriented around a particular line of business and specific team objectives, ultimately increasing the relevance of information available to each team.
Totango Teams is an intuitive and flexible way of giving your customer-facing professionals the work environment they've always wanted - a platform designed for their team, their accounts, and their prioritized tasks. In addition to increased focus, Teams also gives company leadership assurance that the right team members are accessing the right customer data.
Totango Editions with

Teams
Totango Pro/ProPlus Edition: Customers have 1 Team, the default team out-of-the-box. Click here for details on the default team and how to set up Zoe.
Totango Enterprise Edition: Customers have 1 default Team out-of-the-box. Enterprise customers can create up to 10 Teams. For details on setting up additional Teams and Best Practices.
Key Features
Totango Enterprise Edition customers can create up to 10

Teams

that align with their organizational structure, whether it's by geographical region, industry or vertical, security needs, or any other parameter that maps to their customer operations

Team admins can frequently post and update a team goal to motivate and align teammates on current priorities

Users with assigned team(s) are only able to view accounts associated with their team, one team at a time, no combined views of account data

Upon viewing the results of Segments, Reports, SuccessPlays, and Campaigns, team members will simply see their team's account set and related users

My Portfolio, Health Console and Revenue Center will display real-time information for each Team's account set

Team Spotlight will display the summary of work completed by the team's members across

Teams

Global Admins can create SuccessPlays and Campaigns across multiple

Teams

Companies can add their group of Zoe users to one or more

Teams
Switching Between
Teams
All Totango users regardless of roles can quickly switch between teams (upper left corner) if they are explicitly added as a Team Member to more than one Teams. Totango Global Administrators and Team Administrators must be added to a team (like any other users) if they want to switch into a team and access accounts in that team's context.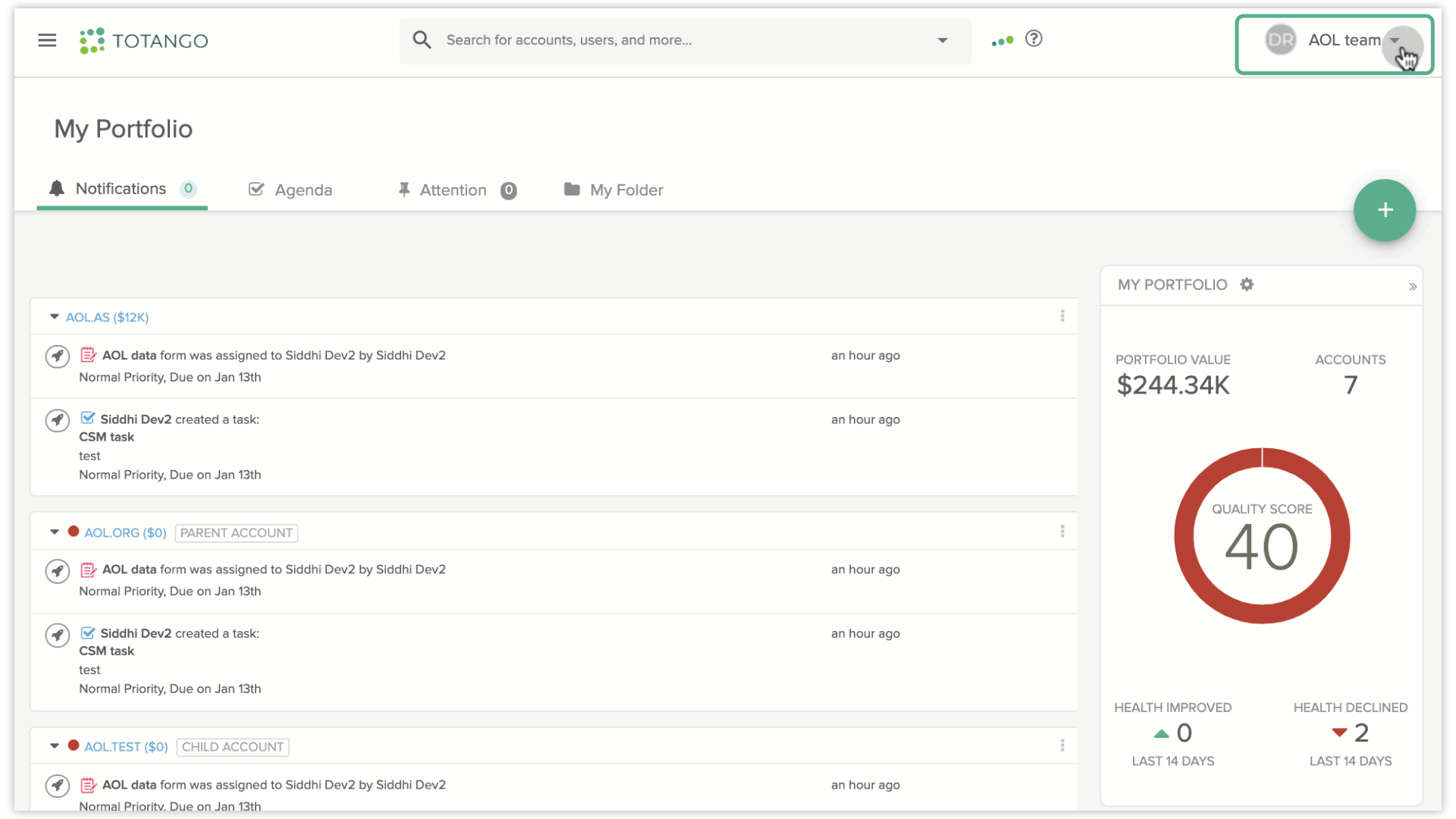 Totango Features with

Teams
1. Searching for Accounts
All Totango users can only search (via search bar) and access accounts - and their associated customer data - depending on the Team in which they are a member.
For example, as a CSM and Team Member in Team USA, I can only search for accounts that are in Team USA. The Global Administrator predefines the accounts accessible by Team USA. Click here for an advanced admin guide in setting up Teams.

2. Agenda and Tasks
All Totango users can view their tasks across all Teams they are members in, on My Portfolio, under the "Agenda" tab. This way, users will be able to focus on their priorities and have high productivity on work assigned to them at all times.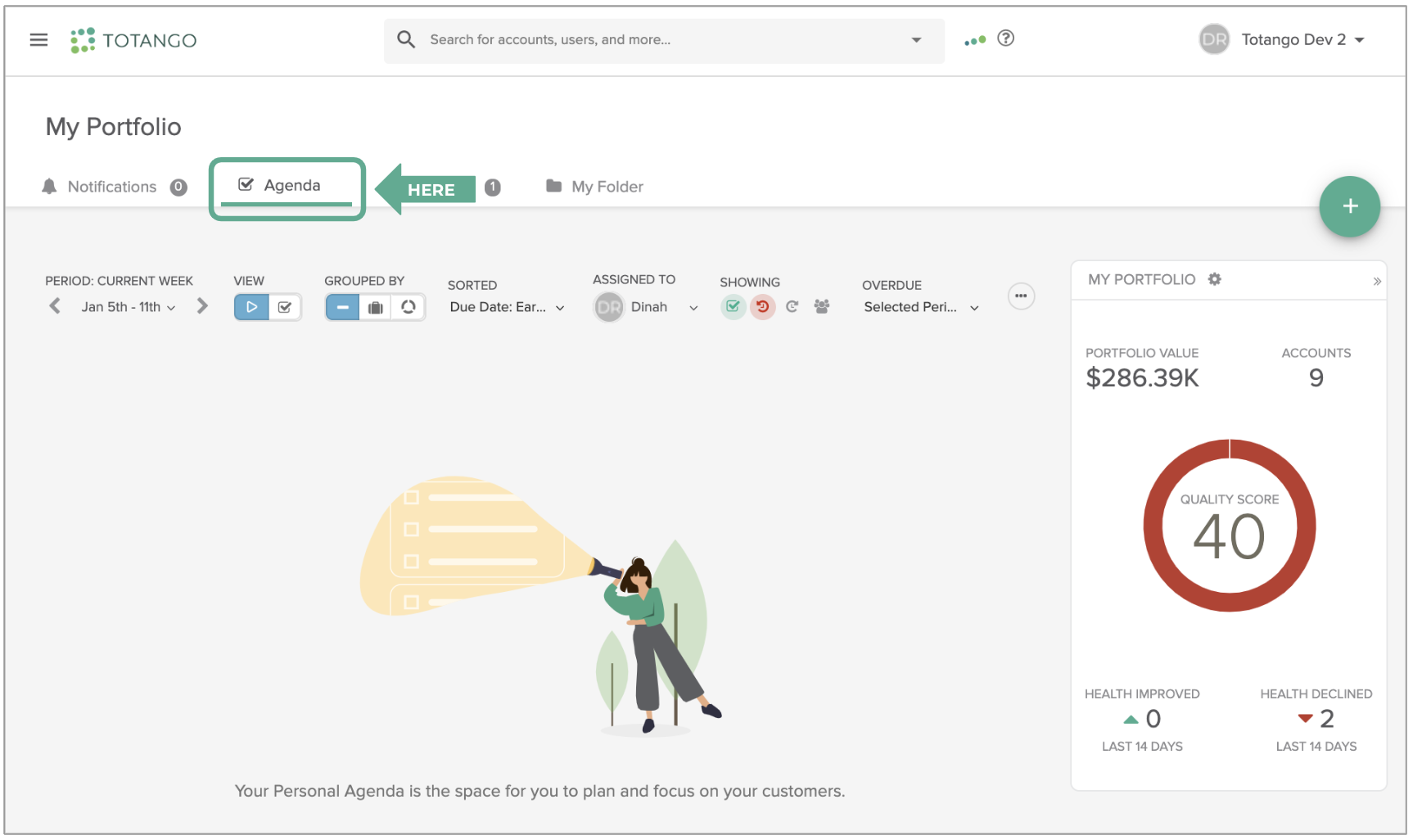 3. Segments, Reports, SuccessPlays, and Campaigns
Team members will only see results for accounts included in their team's account scope and related users.
Also note:
SuccessPlays: When using Teams, "View Tasks" is only accessible by Global Admins.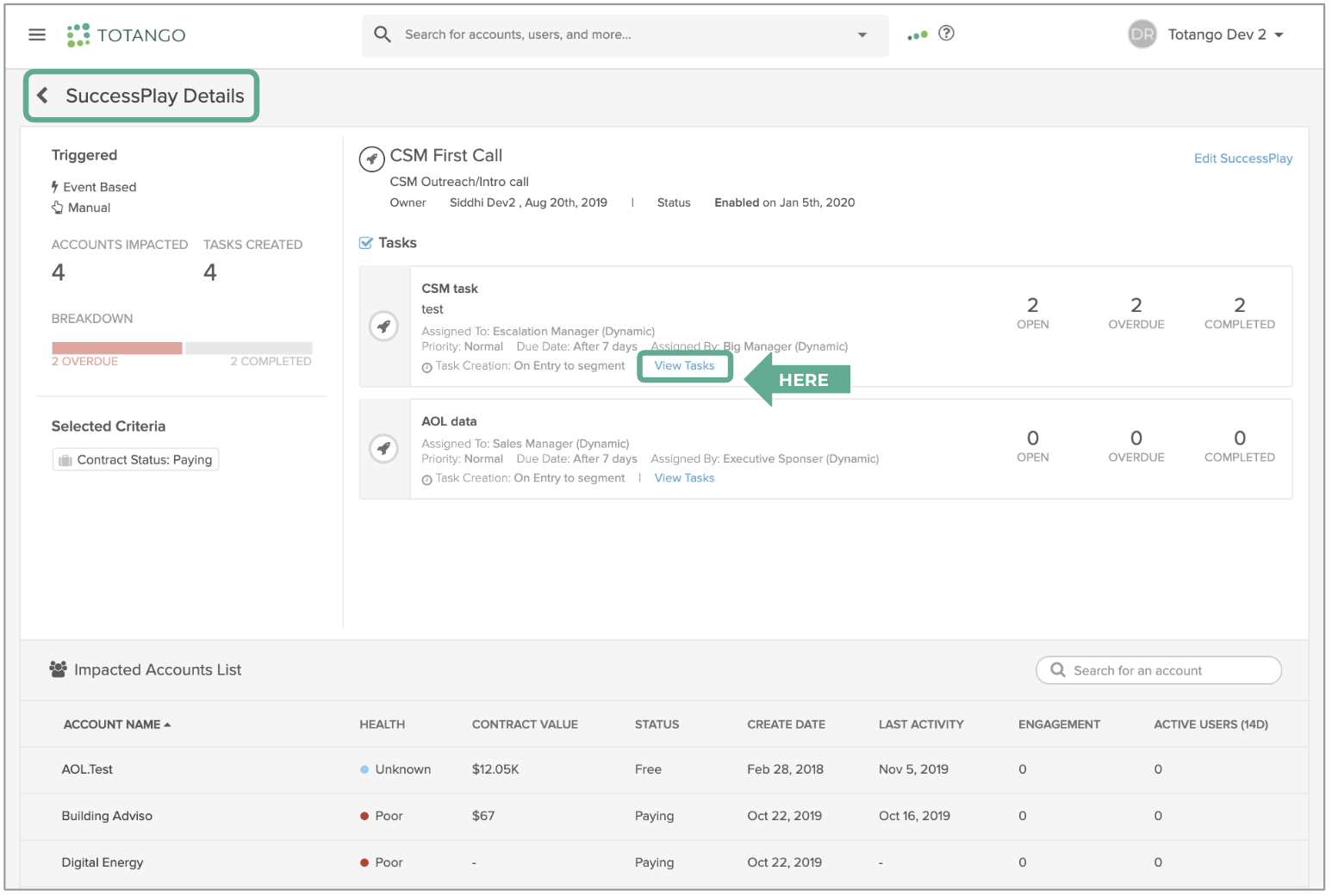 Campaigns: When using Teams, Campaign Summary metrics are only accessible by Global Admins.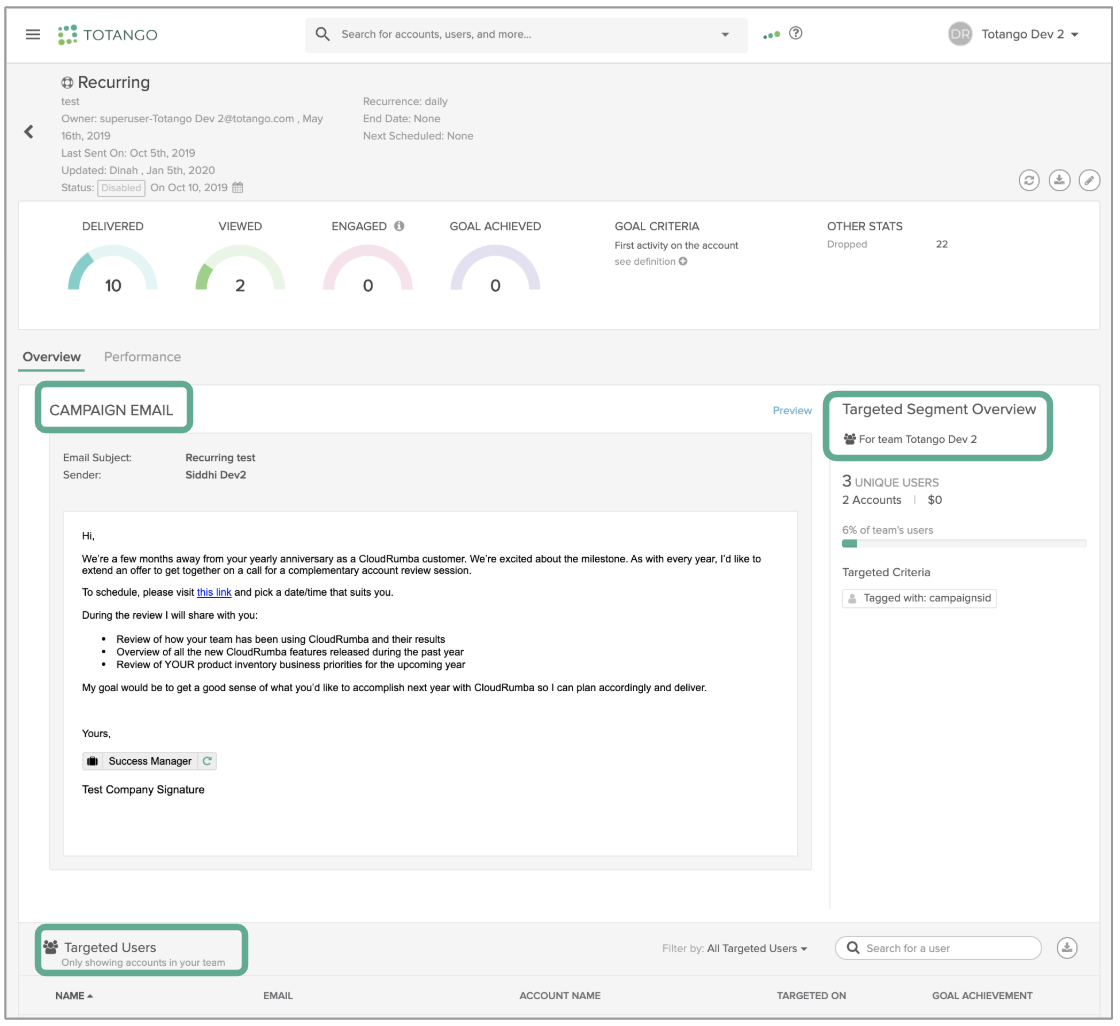 Team Spotlight will only display the summary of work completed only on the accounts within your Team's account scope.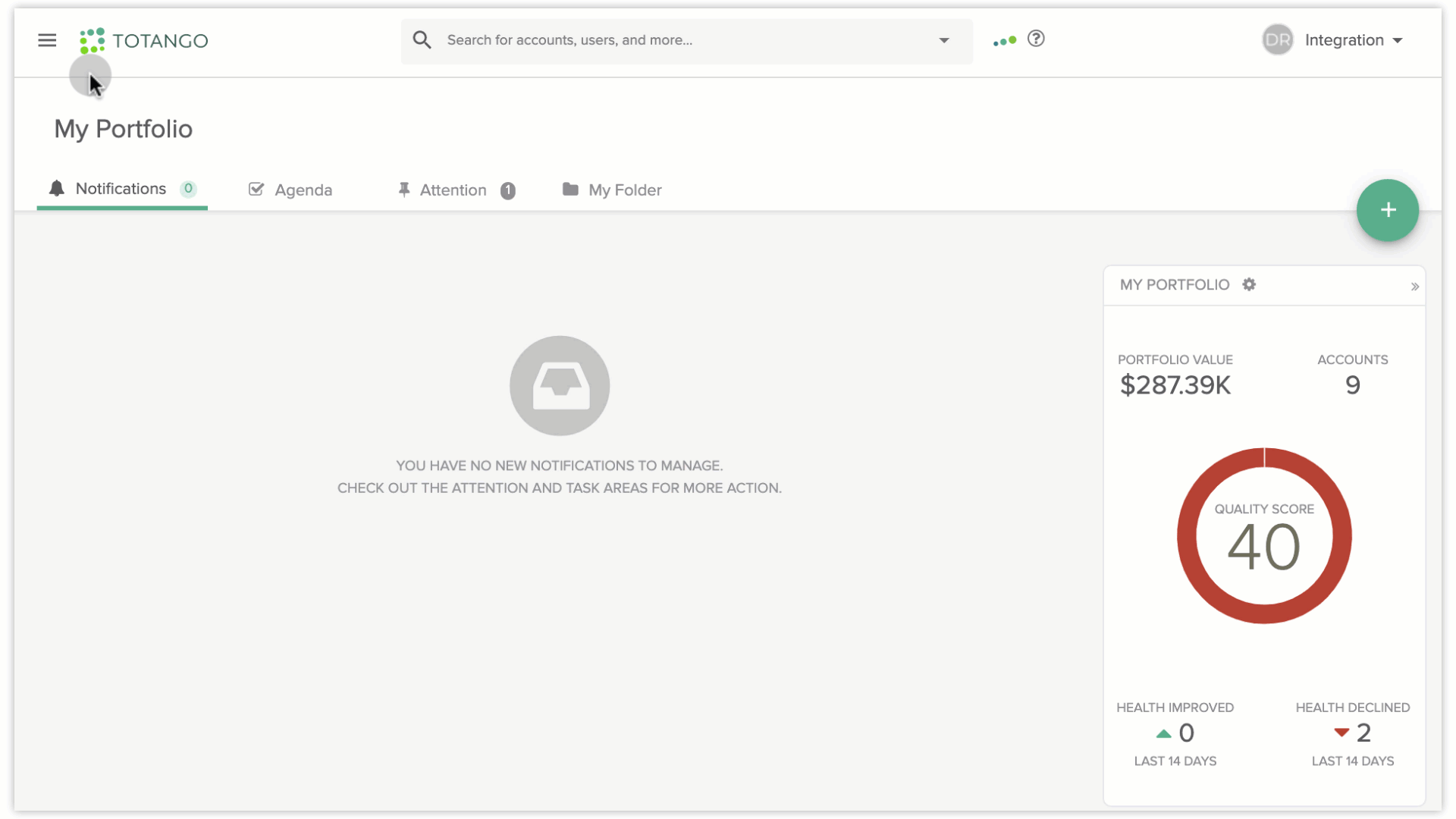 Revenue Center displays revenue metrics only on accounts in your Team's account scope. Revenue Goal is a company level goal. Only Global Admins can update the company level revenue goal.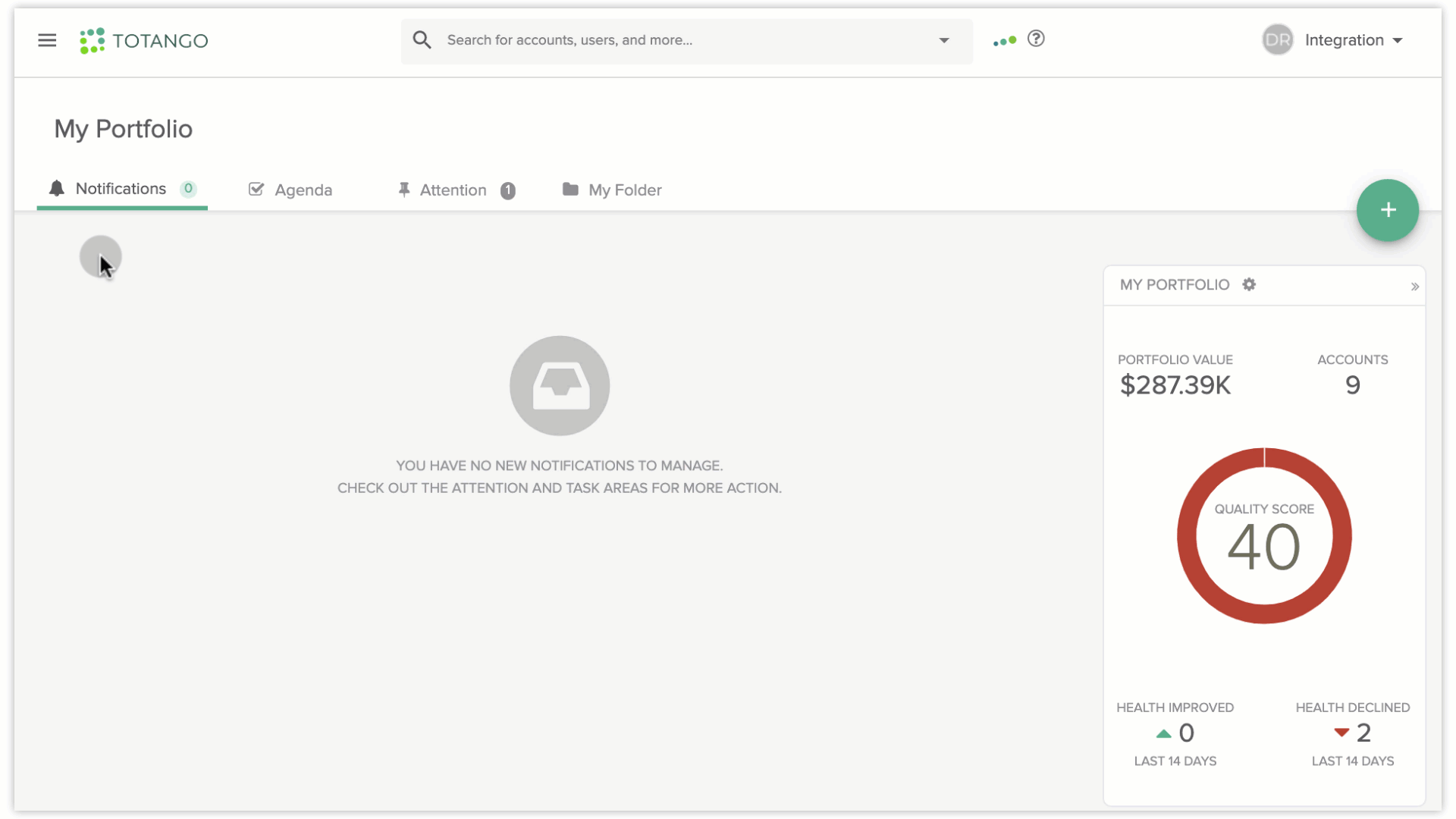 4. Usage Monitor
When using Teams, under "Executive Console">"Usage Monitor" the 'Today' tab is only accessible by Global Admins.

Getting Started
Before getting started, we recommend you review Best Practices Setting Up Teams and then when you're ready, follow the instructions in Creating & Configuring Teams.