Overview
SuccessTeams give admins the ability to structure visibility of account data and closely collaborate with their team members via SuccessBLOCs. Admins can create teams oriented around business divisions, team objectives, geographic regions and so on, ultimately increasing the relevance of information available to each user.
This article contains the following sections:
How to Switch Between SuccessTeams
To switch between SuccessTeams, click on the team name in the top-right corner of the app and choose the team you'd like to switch to from the dropdown menu.
Note: users will only see the teams that they are members of, regardless of role.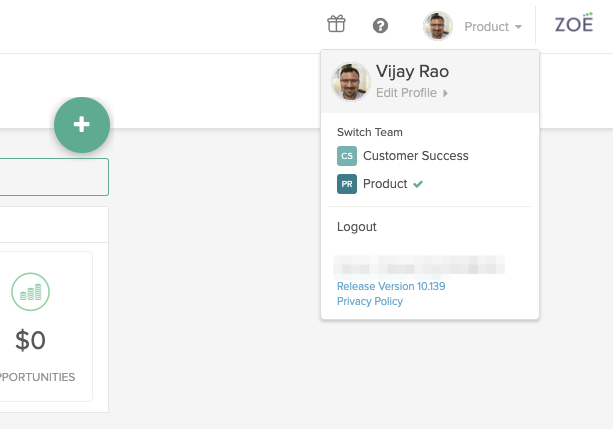 Administrative Roles
There are two out-of-the-box roles that can maintain SuccessTeam configurations:
Global Admin: Global Admin's primary role and function are to determine how Totango is configured and consumed. His/her role and capability is equivalent to today's Totango Admin role with the addition to managing the new team structure. The Global Admin is responsible for creating and configuring all SuccessTeams. Global Admin can define what account and data each SuccessTeam can access and manage. Global Setting is only available for Global Admins.

Team Admin: With the introduction of SuccessTeams, we are introducing a new role called Team Admin. The primary function of this role is to manage his/her own team's overview (team name, avatar, and goal) and manage team members (add/remove team members and add/remove team admins). Team Setting is available only for Global Admins and Team Admins. Team Setting shows only the selected team's settings. 
Administrative Roles and Capabilities
| | | |
| --- | --- | --- |
|   | Global Admin | Team admin |
| Create and Delete SuccessTeams  | Yes | No |
| Define SuccessTeam Account Set  | Yes | No |
| Add/Assign User to SuccessTeams | Yes | Yes |
| Add/Remove SuccessTeam Members | Yes, for all teams | Yes, but ONLY for his/her team |
| Create New Totango User | Yes | Yes by inviting them to his team |
| Deactivate Totango User | Yes | Yes, ONLY if the team member being removed belongs only to that one, single team |
| Edit Any Users' Profiles | Yes | No |
| View/Manage All Users | Yes, for all teams | No |
| Navigate to Any Team | No, only to his/her teams via the switcher | No, only to his/her team(s) via the switcher |
| Change Color, Avatar, and Goal of the Team | Yes | Yes  |

Managing all Totango users
Read this to understand how to manage Totango users
How to create a SuccessTeam
Global Admins can create a SuccessTeam following these steps
Under Global Settings, select SuccessTeams

Give your team a name, then add a team icon, type(s), description, and goal.

Choose a team type

Define the Account Set

Click "Save Team" and you're done
How to Add Team Members to a SuccessTeam
Both Global Admins and Team Admins are able to add members to SuccessTeams; however, Team Admins are only able to add members to their own SuccessTeam, while Global Admins can add members to any SuccessTeam.
There are three methods for adding members to SuccessTeams:
Members can be added one at a time in the SuccessTeam's settings.

Members can be added dynamically by leveraging your Employee Hierarchy settings.

Note

: Once added, team members cannot be removed manually and must be removed by updating their manager or removing the criteria of the SuccessTeam.

Members can be added via bulk upload through the integration hub.
How to remove Team Members from a SuccessTeam
Global Admins and Team Admins can remove a user from a SuccessTeam using one of the following methods (Note: Team Admins are only able to remove members from their own team):
Remove individual members manually in SuccessTeam's settings.

If you are using the Employee Hierarchy feature, you can remove members dynamically by updating their manager.

 
Adding or Removing Zoe Slack Bot from a SuccessTeam
The option to add the Zoe Slackbot to a SuccessTeam exists within the Team Members section of the SuccessTeam's settings.
To remove Zoe from a SuccessTeam, simply search for it in the list of team members and click the x icon.
Note: Adding Zoe to a SuccessTeam will allow all Zoe users access to accounts defined in the SuccessTeams account set.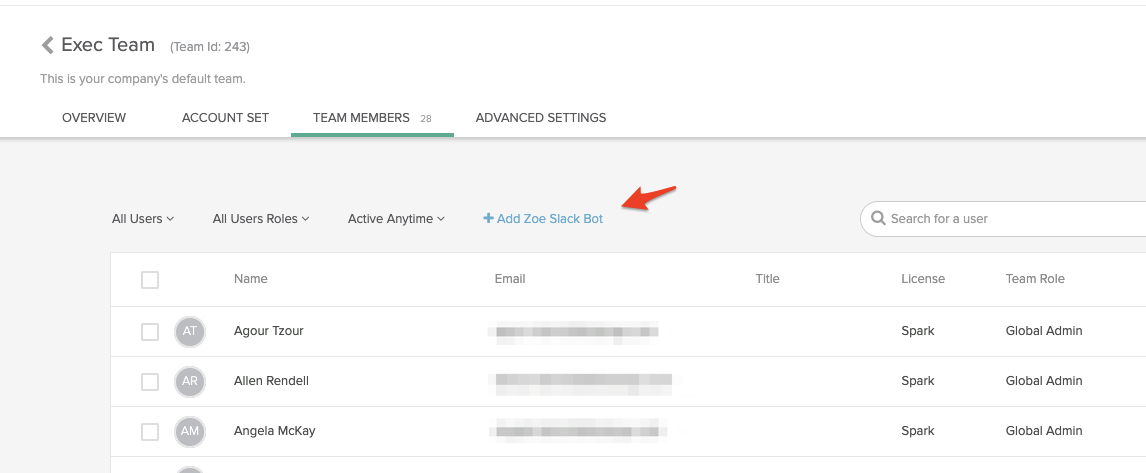 FAQ
Question : What is extended search scope and what is it used for?
Answer:  Extended Search scope in SuccessTeams is a feature that allows admins to extend the scope of accounts beyond the core account set. For e.g. North America SuccessTeam can have an extended scope access to EMEA accounts so they can follow the activity and stay up to date on the EMEA accounts.
Question : What is SuccessTeam team type?
Answer:  Success Team Type is a field on SuccessTeam that groups teams of a similar type. For e.g. applying "North America" team type to all teams that focus on North American accounts.