Overview
Totango Spark has analytics capabilities that are unparalleled in the marketplace. Specifically, the Reports module offers invaluable views of patterns over time for metrics such as user behavior, customer renewal, and churn. Reports help you make business-critical decisions with visibility into inflection points and patterns, and monitor the results of your chosen course of action.
With the ability to see trends for any metric, you can select and analyze metrics in your usage reports (e.g. active users, license utilization), revenue reports, make-your-execs-happy reports, to now see the past 365 day trend. This enables you and your team to make the most informed decisions possible, in an easy to use way.
Example Use Cases
As a VP of Customer Success, I would like to analyze the trend of Contract Value at risk. In the past month, I created a task force to mitigate the risk, and now I want to monitor their progress to determine next steps.
I can create a Report showing the Contract Value trend for my customers in poor health.





As a Customer Success Manager, I would like to see how my users are using the sticky features within my product.
I can create a report with five distinct trend lines (one for each sticky feature) and use Weekly Active Users as the metric.




Getting Started
To get started, click the green '+' button to create a new reports under the "Reports" tab of any SuccessBloc. Now you will define the segment metric in the "Segment Settings" dialog. Watch the animation below to see how to select a segment metric:

Limitations:
You cannot select User Segments (so they will not appear in the search or selection), only Account Segments.
Revenue attributes (Renewable/Renewed/Churned) are not supported to use as filters in reports. If you have a segment that includes a revenue attribute, that segment will not be available as an option in your report either.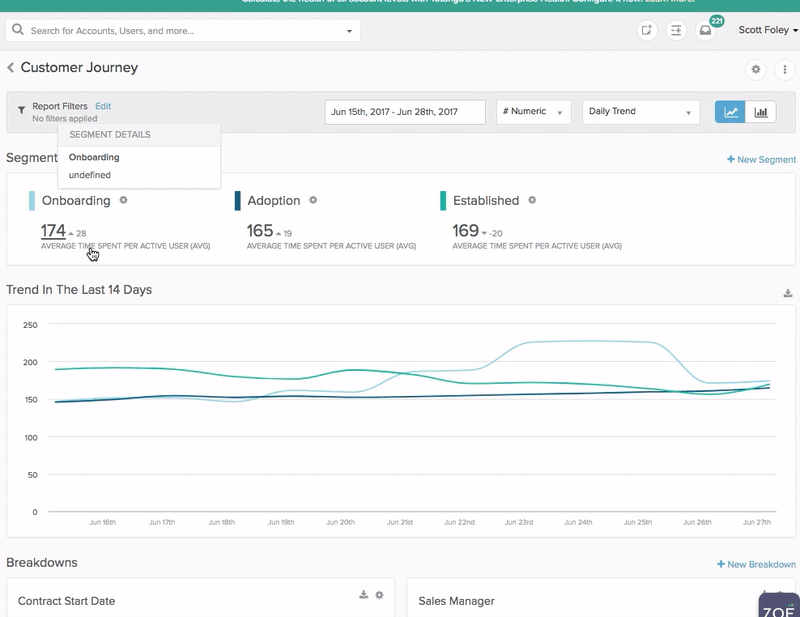 Then select any usage, numeric attribute, support ticket, rollup or custom metric under 'Metric' and define the aggregation (Sum or Avg) and the timeframe you would like to see.
You can also select the main chart x-axis magnitude to display daily trend, weekly trend or monthly trend.



Reading the Results:

As demonstrated in the example below, you can see the last day Contract Value sum for accounts in poor health in the top section, and trend since the beginning of the year in the graph section. Each data point in the graph represents the daily sum of Contract Value for all accounts in poor health on that particular day.


The graph below shows the sum and trend of Weekly Active Users. Each data point represents the sum of active users for the past 7 days for each feature. For example, on June 26th, you see the sum of users who were active in the past 7 days.



Learn more about diving deep into Reports!
FAQs
Question: Why does the "Quarterly trend" option not appear in the drop-down?
Answer: The time period range selected should at least be 90 days like "Last 90 days" or "Current Quarter" or "Current Year"