We are pleased to release the May 7th version with a number of key improvements to our Campaigns management dashboard, available for Totango Administrators in the Customer Success Center. 
Navigation
We reimplemented the campaigns-list panel for easier navigation. You can now now filter the list of campaigns to:
Recently sent:  Use this filter if you are reviewing the performance of your latest campaigns. Shows campaigns executed in the last 90 days.


Upcoming: Campaigns with a future delivery date (including recurring and active ongoing campaigns). This is where you can see the scheduled communications with your users


Drafts: Campaigns currently in draft mode (including ongoing campaigns previously disabled). Go here to work on future campaigns


You can also use the [Filter ˅] button to further filter campaigns based on the SuccessFlow associated with the campaign.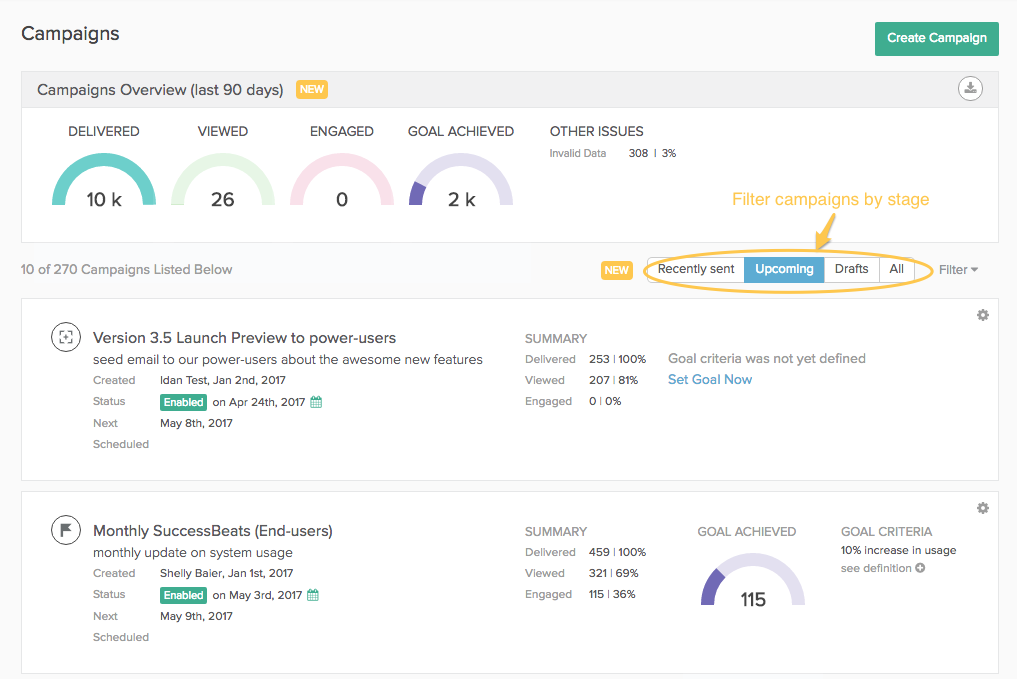 Summary Metrics
Based on user-feedback, we changes the statistics shown on the top panel to reflect recent campaign activity. Previous versions showed all-time stats which became stagnant and less relevant over time.
The new version shows campaign statistics for a rolling window of the past 90 days, so you can more easily see how recent efforts are affecting your ability to engage with the user base. 

Performance
We upgraded the campaign's module infrastructure with several performance optimizations. Page load times are now significantly improved and the overall navigation experience is smoother and faster.  
Summary
If you're one of the growing number of users of Totango Campaigns we are sure you'll like this new release. It should be a much faster and productive experience. 
We would love to get your feedback on these recent improvements. We also know we can do more to make Campaigns even more productive for you.
Please feel free to comment below or chat with us directly on our exclusive Slack customer community (email us at product@totango.com to request access).