📊
Zoe can answer segment based questions and reply with the segment summary and even let you drill down to the customer information.
Zoe segments are based on the Totango segment engine. It enables you to quickly add and edit segments, which will be shared by Zoe.
How to add/edit segments
The segments shared by Zoe are located in a specific folder in Totango segments called "Zoe Segments".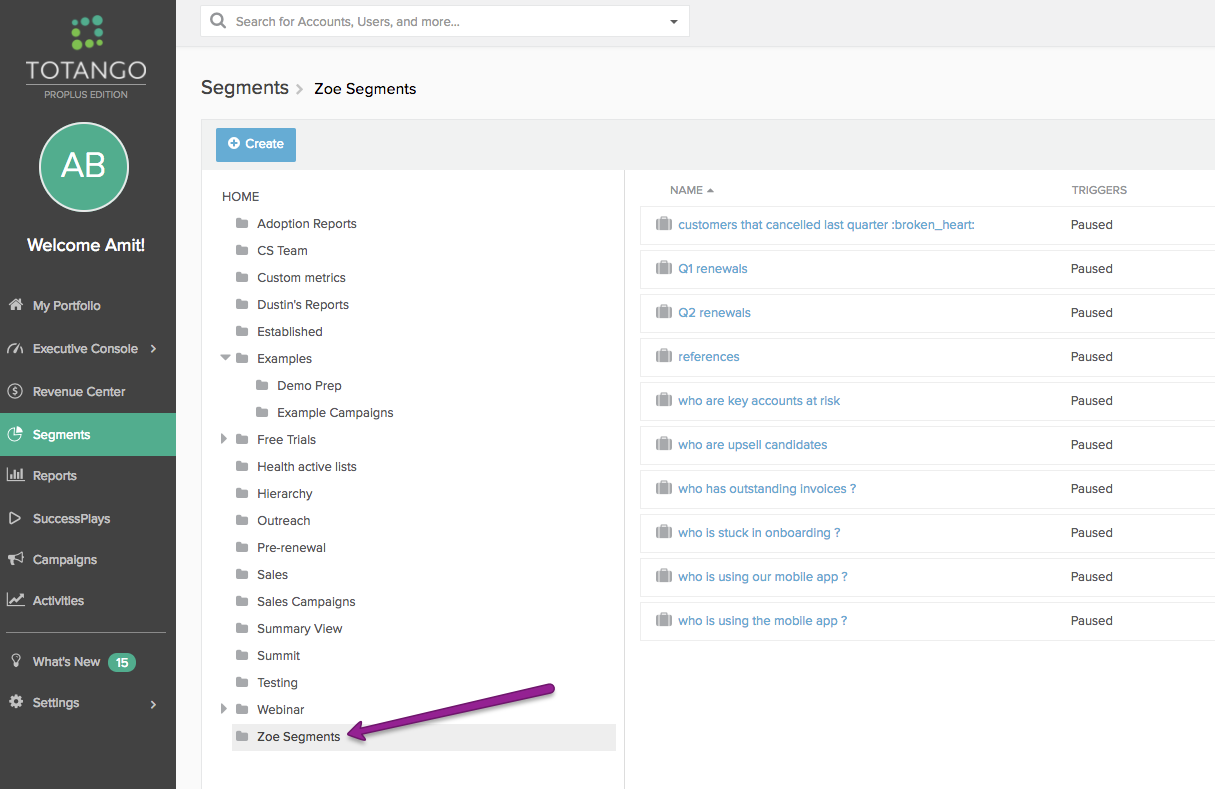 The "Zoe Segments" folder contains a default set of segments; every Totango user can edit these segments (change the segment name, description, filter, and columns) and these changes will be immediately reflected in Slack.

Any Totango user can add more segments to this folder. Simply save a segment as "public" in this folder to make it immediately available to every Slack team user.
Best practices using Zoe segments
People will use the segment name to expose the segment data, use a meaningful and clear segment name so everyone in your company can easily understand the segment essence.
For example: "Customers at risk", "Next quarter renewals". 
People use the segment name when asking Zoe about it, phrase the segment name to align with the syntax: "@zoe show me ..." and use lowercase.
For example:
        - Instead of "customers with a renewal date in the next 90 days" name it
          "upcoming renewals" or "who is up for renewal"
        - "who is stuck in onboarding?"
        - "who is using mobile app?
        - "canceled customers" or "recently canceled"
The segment description is displayed when asking @zoe show me all segments, use the segment description to explain the segment or to guide users on how to take action.
You can add emojis to the segment name or description to liven things up for users in Slack.
For example, ❤️ :heart: or 📊 :bar_chart:
Use slack to find your desired emoji's short-code.
Zoe displays all columns defined in the segment when displaying the account information, choose only the relevant columns per each segment.


Segments Clarifications
Any user can change or delete segments shared by Zoe, a good practice will be to create an internal process to verify and deploy these segments.
"Zoe Segments" folder is a protected folder, you cannot change the folder name, delete it, or create subfolders in it.
Only account segments are eligible to be shared via Slack, Zoe does not show user segments.
Zoe will show shared segments and your private segments.