How can Zoe help me?
Zoe enables anyone in your company to safely, frictionlessly access customer data and to volunteer and participate in customer-oriented impacts. Zoe expands the customer success mission beyond the customer success team and taps into the potential of the entire organization.
Ask Zoe any question about a customer and get the information you need, without ever leaving Slack. No additional tool or login is required to gain access to the customer information needed for anyone in the organization to be successful.
Even more critical, Zoe facilitates engaging anyone in activities to benefit the customer. Employees can self-organize and swarm around the customer in order to make a positive impact.
Zoe makes it possible for everyone in the company to participate in customer success.
Some sample use cases
As someone in marketing, I'm organizing my company's annual conference and I want to find referenceable customers to participate as keynote speakers or sponsors. With Zoe, I can ask @zoe show me referenceable customers, and I'll get a list of all customers who have been designated as referenceable.
As an AE, I have a new prospect in the mobile industry and I want to use Verizon as a reference. I just ask @zoe tell me about Verizon to see what state the Verizon account is in, and now I'm ready to call and make my request.
As a CEO, I would like to quickly find out how much ARR is up for renewals in the upcoming quarter. I can ask @zoe show me Q2 renewals, and Zoe will show me the summary of Q2 renewals. Even more, I can go even deeper and review the details of each customer one at a time.
As a product manager, I am preparing for a weekly meeting with a customer in my beta program. By asking @zoe tell me about Zoom, I can easily see the customer's recent behavior, activity, and usage of the product we're testing.
Zoe interactions 👌
Zoe can help anyone on your team access your customer data whenever you need it, instantly.
You can also add Zoe to any channel you want, and if you need Zoe mid-conversation with a coworker, just type "@zoe" and your question.


Say @zoe hello to start your day ;)
Zoe will guide you to get all the answers.




Zoe can show you around, just ask

@zoe help

.




Explore data on a specific customer by asking Zoe to share key customer information. Ask @zoe tell me about olivia pope.




You can ask Zoe to show you customers that fit a specific behavior or criteria. For example, @zoe show me upcoming renewals or @zoe show me customers at risk.
To see all available segments, use @zoe show me all segments.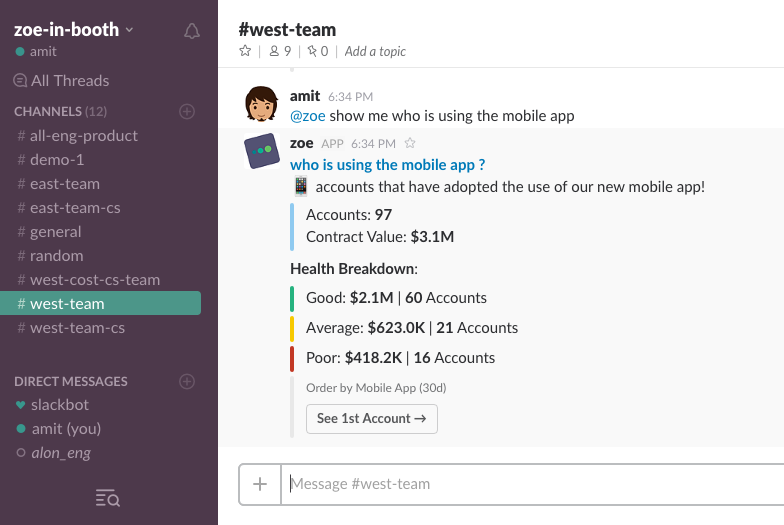 To add a Touchpoint to a customer account directly from Slack, anyone in your company can simply say

@zoe add a touchpoint to olivia pope

to start the process.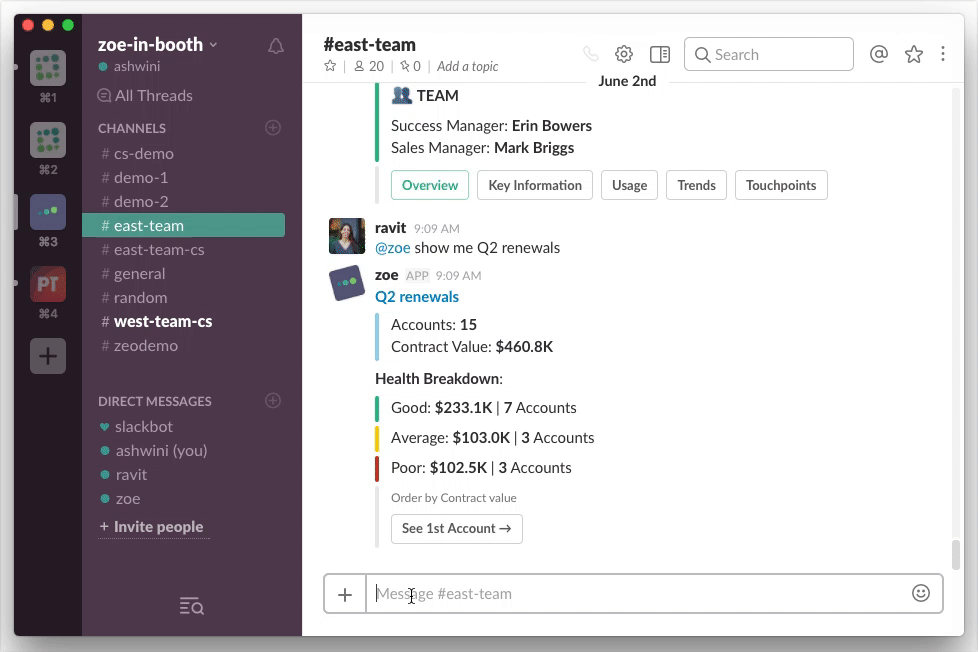 Note, when talking to Zoe in a direct message, there is no need to add @zoe at the beginning of the question, the same way you'd do with other humans.
Zoe is evolving and will be able to answer more sophisticated questions in the near future!


Contract Value Advanced Settings
Zoe understands that for some customers contract value can be sensitive information which you might want not to expose to your team and the entire company. In this case, if the contract value information does not exist at the account profile header- it will not be shown via Zoe.