How can Zoe help me?
Zoe enables anyone in your company to safely, frictionlessly access customer data and to volunteer and participate in customer-oriented impacts. Zoe expands the customer success mission beyond the customer success team and taps into the potential of the entire organization.
Ask Zoe any question about a customer and get the information you need, without ever leaving Slack. No additional tool or login is required to gain access to the customer information needed for anyone in the organization to be successful.
Even more critical, Zoe facilitates engaging anyone in activities to benefit the customer. Employees can self-organize and swarm around the customer in order to make a positive impact.
Zoe makes it possible for everyone in the company to participate in customer success.
Some sample use cases
As someone in marketing, I'm organizing my company's annual conference and I want to find referenceable customers to participate as keynote speakers or sponsors.
With Zoe, I can ask @zoe show me referenceable customers, and I'll get a list of all customers who have been designated as referenceable.


As an AE, I have a new prospect in the mobile industry and I want to use Verizon as a reference. I just ask

@zoe tell me about Verizon

to see what state the Verizon account is in, and now I'm ready to call and make my request.

As a CEO, I would like to quickly find out how much ARR is up for renewals in the upcoming quarter. I can ask @zoe show me upcoming renewals, and Zoe will show me the summary of upcoming quarter renewals. Even more, I can go even deeper and review the details of each customer one at a time.

As a product manager, I am preparing for a weekly meeting with a customer in my beta program. By asking

@zoe tell me about Zoom

, I can easily see the customer's recent behavior, activity, and usage of the product we're testing.
How to install Zoe?
Installing Zoe is super quick and straightforward.
In order to have a successful installation, please have your admin credentials ready for both

Totango

and

Slack.

If you are not an admin in Totango, please see below for instructions on how to get the necessary credentials

Make sure you are logged into Slack, either through the Slack app or the web app

Go to the Zoe app page, and click the "Visit site to install" button.




Click the "Install Zoe" button, which will direct you to the authentication flow in Totango - if you are not already logged-in, you will just need to enter your Totango admin credentials





Complete the short, guided authentication flow

Once the installation is complete, you'll see a "Success!" message, and you'll get your first message from Zoe!




The last step is to open the Team to which Zoe should belong and click on '+Add Zoe Slack bot' as appears in the below image:









You can immediately ask Zoe questions in any channel or direct message by typing

@zoe tell me about <account name>

You can read about more Zoe capabilities here.
Credentials specifications
* You must be an admin or owner-user in Slack
* You must be an admin user in Totango
In enterprise organizations, the IT team typically has a Slack admin user but does not have a Totango admin user. The simplest way to verify without sharing Totango admin credentials is:
Create a Totango admin user for IT

IT completes the Zoe installation process

Post-installation, remove the IT user from Totango completely
To invite a user to Totango:
Go to the

Totango Users page

Click "Invite user"

Specify the user details and make sure the admin checkbox is selected

The user will get an email invitation to Totango
Please note, in some email clients, this invitation can be marked as spam - so be sure to check that folder too.
How to let your users use segments in Zoe for Slack?
As a Global Admin, you can define account segments to used in Slack, by adding them to the 'Zoe Segments' folder under the Global SuccessBLOC (make sure the segment is public).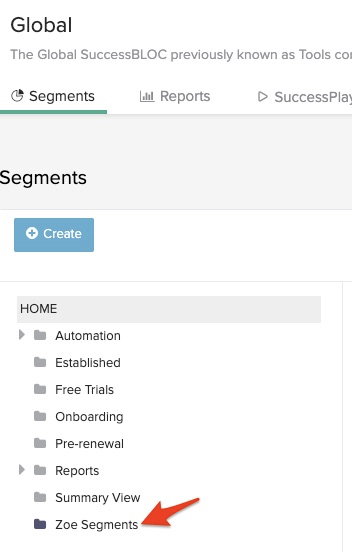 For more information, contact your CSM.