Overview
We added the ability to export segments data directly to Google Applications, excluding the intermediary necessity to deal with CSV files
Interface and limitations
One of the options in the kebab menu in Segment is "Open in Google Drive":

When clicked, the system will export the data and open the preview powered by Google.Drive. Based on your account preferences and connected applications, the list of available actions might be different. The most popular default options are "Save to Drive" and "Google Sheets":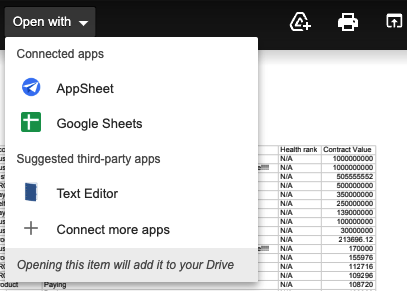 Note: the exported data is cached an available for 5 minutes form the moment you click "Open in Google Drive". For security reasons the data will be removed after the 5 minutes timeout.
When this happens, the preview and actions within it will become unavailable:

You can simply close the tab and export the same segment again